Yamaha CSF-TA TransAcoustic parlor guitars transport you to new creative spaces with immersive reverb and lush chorus effects, without needing an amp or other external gear.
Compact body
Solid spruce top
Mahogany back & sides
Built-in reverb and chorus effects – no need for an amp or other external gear
Durable hard bag included
Actuator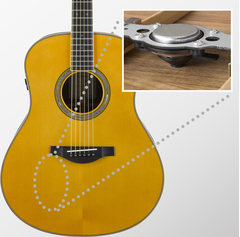 An actuator installed on the inner surface of the guitar back resonates in response to the vibrations of the strings. The vibrations generated by the actuator are then transmitted to the body of the guitar and to the air in and around it, resulting in authentic reverb and chorus sounds that actually radiate from within the body.

Simple Controls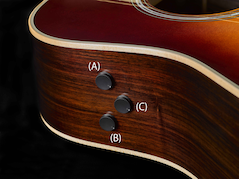 Three simple controls adjust the effects levels and line out volume level. The small knobs occupy less space, reducing the acoustic sound loss that results from removing body wood.
(A) Chorus Control
(B) Reverb Control (Room / Hall)
(C) TA Switch / Line Out Volume Control
* Pressing the TA Switch for longer than 0.3 seconds activates the TA function.
* When a cable is connected to the Line Out jack, the volume can be adjusted by rotating knob (C).
* The reverb type switches from Room to Hall around the 12:00 position.

Designed to Provide Superb Acoustic Guitar Sound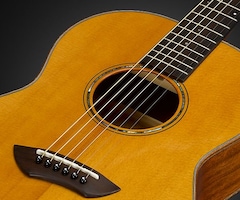 The design of the CSF series utilizes newly-designed scalloped bracing that delivers rich, full-bodied resonance. The use of a forward shifted construction maintains the strength of the body while maximizing the vibration of the guitar's top.

Battery Box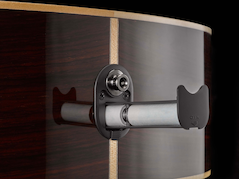 The battery box is integrated into the end-pin jack, requiring fewer holes in the body and thus reducing acoustic sound loss. Connect a cable from the jack to a PA or amp to use the TA instrument as an acoustic-electric guitar.