10-Gigabit/Multi-Gigabit switches that can be employed flexibly to meet the varied needs of high-capacity networks
Strengthening backbone networks has recently become a critical concern for businesses, concert halls and other installations as the demand for ability to handle high-quality video and audio with low latency increases. As our first switches to support 10-Gigabit/Multi-Gigabit Ethernet, these new models in our lineup are ideal for strengthening backbone networks that require high speed and capacity. The new L3 intelligent switches allow the construction of systems capable of handling increased traffic of media that spans multiple segments, while our L2 switches are perfect for transmitting single-segment audio and video media. These new additions to our lineup support Yamaha LAN Monitor and come with a range of features optimal for Dante systems, expanding on the Dante optimization functions of our existing products.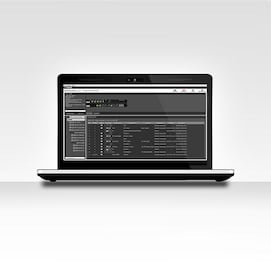 The Yamaha LAN Monitor makes overall network topology clearly visible, giving the user a comprehensive overview of how multiple switches and Dante network devices are interconnected. Simply connect a computer to the nearest SWX/SWP/SWR series switch and launch the Yamaha LAN Monitor software.
The colours and finishes shown may vary from those on the actual products.