Francesco Tristano
The AvantGrand is the next step in the evolution of piano
How did you feel when you first sat down and played the AvantGrand?
The first thing I noticed was the richness of the overtones. I could see that the technology has really advanced in the past few years. I was curious about how the piano works in terms of the overtones, and what makes it seem so natural, so acoustic, and so organic. The sound comes from within. It's not a superficial sound—it's a very deep sound.
The first time I actually played the AvantGrand, my immediate sensation was that I knew this touch—it was the piano I've been playing all my life. Over the years, I've always been struck by the quality of Yamaha pianos. So it was no surprise to me that Yamaha would make something so perfect.
Imagine you had an AvantGrand. Where would you like to play it and how would you like to use it?
I could find lots of ways to use it. I'd definitely use it as a practice instrument, because it's really incredible. But I don't want to say it's just a substitute, because it's really much more than that.
I'd put it in the living room so that family and guests could play it, and so we could have live music in the house.
At live shows, when you put a piano through a P.A. system to be amplified, there's a lot of feedback. But this instrument would be ideal in situations where you can't control the environment—for example, in large halls or open-air spaces.
I'd also like to try recording with it in a studio. Normally, when you record with an acoustic piano and you want to get the overall sound of the instrument, you have to set up microphones both near and far from the piano. But you don't need to do that with this piano, since you have a direct line out.
Lastly, what kind of potential do you feel the AvantGrand has?
This instrument would be great for my creativity. It would encourage me to find new harmonies, new sounds, and new rhythms, because it's a piano that just makes me want to play it. A wonderful thing about pianos is that they have continued to evolve over the centuries.
I'm fascinated with all things piano-related, and this instrument is another step in the evolution of the piano. The AvantGrand reconciles both the acoustic world and the digital world—or the sampled piano world—in a very convincing and refreshing way. A new form of piano has come to us from the future. Twenty years ago, this would have been the talk of science fiction. But the future is here now. It's got a futuristic edge to it, which I like.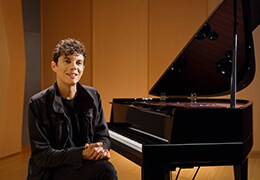 Francesco Tristano Profile
A young musician and composer causing a stir on the club scene as well as in classical concert venues is probably...
A young musician and composer causing a stir on the club scene as well as in classical concert venues is probably a world-first. It may also be the first time that purists from the classical and techno camps actually agree on something - That they don't know quite what to make of this young musician who refuses to stick to the rules.
Tristano, born in 1981, discovered the piano at the age of five. Aged 13, he played his first concert, presenting his own compositions. He later toured both as a soloist and with renowned orchestras, such as the Russian National Orchestra, the Deutsches Symphonie-Orchester Berlin, and the Hanoi Philharmonic Orchestra among others. Tristano founded his chamber ensemble, The New Bach Players which he also conducts. This ensemble consciously breaks with conventions, using a modern grand piano and old, vibratoless bows on contemporary string instruments.
Tristano visited New York's Juilliard School during five years. The city of New York opened his ears to electronic and club music. to complete Bach legend Rosalyn Tureck's master class. In 2004, he won the first prize at the International piano competition for contemporary music in Orleans, France. Tristano has released twelve albums, among them recordings of Bach Goldberg Variations and complete keyboard concertos, Luciano Berio complete piano works, and Girolamo Frescobaldi Toccatas. "Not for Piano" (inFine, 2007), presented his own compositions as well as versions of techno classics at the piano. "Idiosynkrasia" (inFine, 2010), recorded at Carl Craig's Planet E-communications in Detroit, was released to critical acclaim in 2010. Tristano is a Deutsche Grammophon artist and is about to release his third album on that label. His 'bachCage', produced by Moritz von Oswald, was released on DGG in 2011. His collaborative tracks and remixes have been released on labels such as Innervisions, CLR, Visionquest, PIAS and Inflyte.
Cyprien Katsaris
The AvantGrand is the best practice piano for any pianist,
something never before achieved with a Digital piano.
My history with the piano began when I was about three and a half years old. I started by playing with one finger on a piano bought for my sister. Much later I entered the Paris Conservatoire, and even now, I still sit at the piano every day, and devote myself to hours of concentrated practice. Piano practice takes an extremely long time, but has absolutely no meaning if you don't practice with the correct technique. Likewise, I think that it is also important to choose a good piano. And from that standpoint, I believe that this instrument is an appropriate choice. This time I chose to play Gottschalk's "Banjo", one of the most technically demanding pieces in my repertoire, along with other pieces by Chopin and Schumann that require a rich, profound expressive ability. The fact that I was willing to attempt such pieces on this piano should give you an understanding of just how capable an instrument it is. Of course the action and the touch of the keyboard are both good, but I was very surprised by the depth of its pedaling. It responds well to subtle changes when depressing and releasing the pedals. Of course, the sound quality of the instrument almost go without saying.
You can discern exactly where the sound is coming from for the entire range from bass right through to treble, just as you can in a grand piano. The design itself is elegant, and lets you feel the sound; a "musical" design if you will. This piano possesses qualities not present in any digital piano thus far, and it would be no exaggeration to say that it has in itself created a new genre of pianos. I would like to advise all of you studying the piano, please, try to play an excellent instrument, and don't waste your time practicing the wrong way.
I firmly believe that playing the piano is an artistic act that lifts the spirits of all those who hear you; and an act made possible by the communicative abilities of us as human beings. I think that when I play the piano in front of an audience, more than demonstrating technical perfection, I am communicating with those watching and listening, in a musical, artistic way. For me, the piano is an irreplaceable partner. Music is like my wife, and the pianos my girlfriends. I believe that the piano can become your lover too.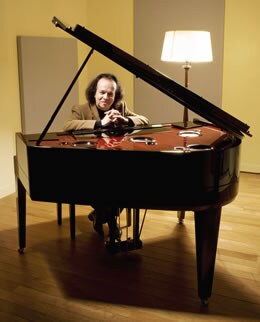 Cyprien Katsaris Profile
Cyprien Katsaris, the French-Cypriot pianist and composer, was born in Marseilles in 1951. He first began to play the piano in Cameroon...
Cyprien Katsaris, the French-Cypriot pianist and composer, was born in Marseilles in 1951. He first began to play the piano in Cameroon where he spent his childhood, at the age of four, with Marie-Gabrielle Louwerse.
A graduate of the Paris Conservatoire where he studied piano with Aline van Barentzen, Monique de la Bruchollerie, and chamber music with Rene Leroy and Jean Hubeau, he won the International Young Interpreters Rostrum-Unesco (Bratislava 1977), the First Prize in the International Cziffra Competition (Versailles 1974) and he was the only western-European prize-winner at the 1972 Queen Elisabeth of Belgium International Competition.
His major international career includes performances with the world's greatest orchestras: The Berlin Philharmonic, Staatskapelle Dresden, The Leipzig Gewandhaus Orchestra, Cleveland Orchestra, The Royal Concertgebouw Orchestra Amsterdam, The Philharmonia (London), The NHK Symphony Orchestra (Tokyo), Moscow Philharmonic Orchestra... He has collaborated with conductors such as Leonard Bernstein, Kurt Masur, Myung Whun Chung, Sir Simon Rattle, Mstslav Rostropovich, Charles Dutoit, Nikolaus Harnoncourt, Christoph von Dohnanyi… and Karl Munchinger, who on the festive occasion of his farewell concert in 1986, with the Stuttgart Chamber Orchestra, personally invited Mr. Katsaris to perform the Haydn D major Concerto.
Mr. Katsaris has recorded extensively for Teldec (Grand Prix du Disque Frederic Chopin, Warsaw 1985; Grand Prix du Disque Franz Liszt, Budapest 1984 and 1989; British Music Retailer's Association's Award 1986; Record of the Year 1984, Germany, for the 9th Symphony of Beethoven/Liszt), Sony Classical, EMI, Deutsche Grammophon, BMG-RCA, Decca, Pavane, and now on his own label, PIANO 21.
In addition to the standard repertory, such as the complete Concertos by Mozart, recorded live and performed in Salzburg and Vienna with Yoon K. Lee and the Salzburger Kammerphilharmonie, he has revived long lost works such as the Liszt/Tchaikovsky's Concerto in the Hungarian style which he has recorded with Eugene Ormandy and the Philadelphia Orchestra.
In 1992, the Japanese NHK TV produced with Cyprien Katsaris a thirteen-program series on Frederic Chopin which included masterclasses and his own performance. On 17 October 1999, the New York concertgoers offered Mr. Katsaris a standing-ovation in Carnegie Hall for his recital dedicated to Frederic Chopin, performed on the day of his 150th death Anniversary.
He has been a member of the jury of the following International Competitions: Chopin (Warsaw 1990), Liszt (Utrecht 1996), Vendome Prize (Paris 2000), Marguerite Long-Jacques Thibaud Ville de Paris (2001) and Beethoven (Bonn 2005).
Appointed in 1977 Artistic Director of the International Festival of Echternach in Luxembourg, Cyprien Katsaris is "Knight of Merit of Cameroon" (1977), "Artist of Unesco for Peace" (1997), "Knight of the Order of Arts and Letters" (France 2000). He also received the "Vermeil Medal of the City of Paris" (2001).
In March 2006 Cyprien Katsaris was the first pianist ever to give masterclasses in Franz Liszt's house in Weimar since Liszt, who taught there for the very last time in 1886, the year of his death.
Alexander Kobrin
The AvantGrand offers broader horizons for the piano and the pianist.
To be honest, when I first saw the AvantGrand in Hamamatsu I didn't really have any great expectations for the instrument. I just thought... "OK, so they've released another digital piano." That changed completely when I actually played it - I could see that this was something very special.
It possesses enough potential to be called a real piano. The touch, the sound... even though it's a digital piano it actually feels closer to a grand piano; that is, you can really feel a connection to it as an instrument.
A key aspect of playing the piano is that getting the sound you desire requires a certain amount of practice.
To put it another way, with practice, the piano allows you to create a certain level of expression.
This is just my personal opinion, but generally speaking, acoustic instruments are destined to have individual differences, and, for pianists the first piano they encounter will affect them significantly.
That's why I would suggest that this piano, with its fixed, constant standards, might be a better choice when starting out than an acoustic grand piano in anything but perfect condition. I believe the AvantGrand just has that much potential for performance. The fact that such an instrument has emerged means that more people will be blessed with the chance to play the piano. The AvantGrand offers the pianist a truly broader canvas...
With a piano, there are always the concerns of where to put it, its surrounding environment, and the instrument's expressive capabilities as a piano. I hope that when this piano is released to the world and especially to my home city of Moscow, more people will be lucky enough to take the opportunity to experience the piano. Since my father was a piano teacher, I began to learn the piano at the age of five. And before I knew it, it had become a part of my life. I really began to take it seriously when I was about seventeen.
It's no exaggeration to say that becoming a pianist was a true gift from god, but I chose to play for much more than just this gift. Playing the piano well is not like a game; it is not something that offers you quick results. Even so, I believe that any rewards gained become an invaluable part of your life. This is not so much performing on stage but sitting at your piano by yourself at home. Even now, I think that such moments are when I am happiest.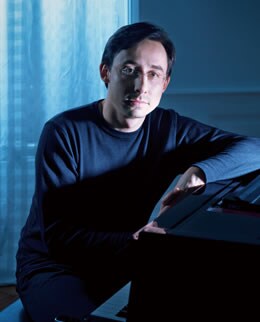 Alexander Kobrin Profile
In June 2005, Alexander Kobrin was awarded the prestigious Nancy Lee and Perry R. Bass Gold Medal at the Twelfth Van Cliburn International Piano...
In June 2005, Alexander Kobrin was awarded the prestigious Nancy Lee and Perry R. Bass Gold Medal at the Twelfth Van Cliburn International Piano Competition. Immediately following this announcement, Kobrin began his first tour to the United States including recitals at Bass Hall for the Cliburn Series, the Washington Performing Arts Society, and further debuts at La Roque d'Antheron, Ravinia Festival, Beethoven Easter Festival, Hannover Prize Winners Series, Turner Sims and at the renowned Klavier-Festival Ruhr. This season, Kobrin returns to the United States for a following fifty-date tour.
Last season, Kobrin made his debut with the New York Philharmonic at both Avery Fisher Hall and for the inaugural concert of the Bethel Woods Arts Centre. He was also invited to open the 06/07 season concerts with both Dallas Symphony Orchestra and Royal Liverpool Philharmonic Orchestra.
Present and forthcoming engagements include debuts with the Deutsches Symphonie Orchester Berlin, Louvre, Wigmore Hall, Esplanade Concert Hall Singapore, Sheung Wan Civic Centre Hong Kong, and recital tours in Italy including Palermo, Verona, Trieste, and Savona. Other appearances worldwide include Aspen Music Festival, Daytona Beach, Nashville Symphony, and his seasonal tour to Japan, the International Chopin Piano Festival in Duszniki Zdroj (opening the Festival), Orchestre de Bretagne, Orchestra Sinfonica di Roma, and an eleven-date tour of the United Kingdom with the Moscow State Symphony Orchestra under the baton of Paval Kogan. In addition, he made his Boston debut in March 2007 giving a recital as part of the prestigious Celebrity Series of Boston.
Born in Moscow in 1980, Alexander Kobrin began piano studies with Professor Tatiana Zelikman at the Gnessin Special Music School when he five. In 2003 he graduated from the Moscow Consevatory, where he studied under the late Professor L. Naumov.
In 1999 he was the winner of the Busoni International Piano Competition in Bolzano, Italy and was awarded the special prize in memory of A. Benedetti Michelangeli. Shortly following, Kobrin was second-prize winner of the 2003 Hamamatsu Competition (with no first prize awarded), which led to tours extensively throughout Europe, Asia, and South America.
Alexander Kobrin has collaborated with leading conductors such as Claus Peter Flor, Michael Christie, Alexander Lazarev, Vasily Petrenko, and James Conlon, and has worked with orchestras including the Orchestra Verdi di Milano, Royal Scottish National Orchestra, Orchestre de la Suisse Romande, Moscow Virtuosi, Moscow State Symphony Orchestra, the Virtuosi of Salzburg Chamber Orchestra, the Osaka and Tokyo Symphony Orchestras, Rio Philharmonic Orchestra, Phoenix Symphony, Seattle Sinfonietta, and the English Chamber Orchestra.
In addition to the Cliburn Competition disc for harmonia mundi which was released in October 2005, Kobrin has recorded two volumes of Essential Chopin for international labels.
Alexander Kobrin also teaches at the Moscow State Gnessins Academy of Music.
Ikuyo Nakamichi
The AvantGrand – a hybrid piano with a grand piano action
that transforms emotions into sound
The piano is my life. It allows me to express myself, to improve myself, to gain a sense of who I am… That's why I feel empty when I'm not playing. It's not that I live solely for playing the piano, but more that it provides the most important measure of how I live my life.
Music is wonderful. I believe it has a tremendous amount of power. It would be a great thing if the AvantGrand introduced more people to the joy of music.
Initially I thought that the AvantGrand was just going to be another advanced digital keyboard, but when I tried it I was astonished to find that it had a real grand piano action. It feels very natural to the touch. The mild click when you push a key halfway, the aftertouch… whether you play lightly, or with more force to get a deeper sound, the instrument responds with a range of sound that suit the way you play it.
I chose to play the second movement from Beethoven Piano Sonata No.8 in C minor, opus.13, "Pathetique", which requires a broad range of tonal expression. The AvantGrand offers this naturally, because it contains the same action as a grand piano. The acoustics change depending on how you use the pedals, which means that playing this instrument is a very natural experience.
The AvantGrand is small, but it still allows you to alter sound through touch, just as you would with an acoustic grand piano. Its sonic palette covers not just the dynamics from fortissimo to pianissimo, but also extends to warm sounds and brilliant tones that allow you a considerable depth of emotion – this is an instrument that constantly challenges you to play it like an acoustic grand. Of course, this applies to more than just classical music - I'm sure that the AvantGrand would feel just as good playing popular music or jazz. I think that taking this piano to its limits could expand the player's horizons significantly.
With the guaranteed stability of its touch and sound, the AvantGrand is also a wonderful instrument for those who plan to take up the piano in the future.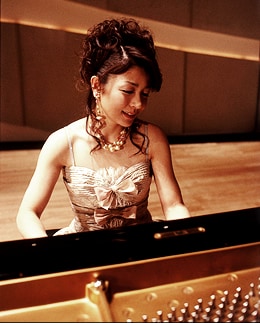 Ikuyo Nakamichi Profile
Ikuyo Nakamichi began learning the piano at age four, and came to the attention of the public when she took first place at the 51st Music Competition of Japan ...
Ikuyo Nakamichi began learning the piano at age four, and came to the attention of the public when she took first place at the 51st Music Competition of Japan while in her first year at the Toho Gakuen School of Music. After becoming the recipient of many awards, she made her real debut in Europe and Japan in 1987. Critically acclaimed for her warm tone, lyricism, and sense for music, Nakamichi's popularity and ability place her at the forefront of pianist representing Japan.
In addition to her appearances with major Japanese orchestras, she often shares the stage with orchestras from other countries. Nakamichi gives recitals in many different regions. Since 1997, she has twice held a series of "Complete Beethoven Piano Sonatas" that were hailed for their musicality and for her sincerity towards the music, establishing a name for herself as "Beethoven performer - Ikuyo Nakamichi."
She is currently working on a variety of projects that are sure to receive a great deal of attention, such as "Chopin's Keyboard Mysteries," a project depicting the composer's life through images and stories, as well as a complete Mozart piano sonata series.
Nakamichi has an exclusive recording contract with BMG Japan, and has released numerous CDs. In 2007, her recordings of Beethoven piano sonatas 30, 31, and 32 earned her the 45th Record Academy Award (Instrumental Division). As a writer, Nakamichi has published a DVD book entitled "Blissful Piano – to play, to listen, to enjoy" (Kodansha), and the "Learning about Famous Pianos and Piano Music" compilation (Natsumesha), among others.
Official Ikuyo Nakamichi Website
http://www.ikuyo-nakamichi.com
Chick Corea
Legendary jazz pianist Chick Corea recently took Yamaha's newly launched AvantGrand N3 hybrid piano for a 'test drive.
Initially skeptical about the world's first stringless piano to feature the sound, touch and action of a concert grand, the 67-year-old jazz superstar was quickly won over.
"My standard of comparison is the Yamaha CFIIIS concert grand piano with a gorgeous, beautiful sound, so I was a little apprehensive when I first saw the AvantGrand," says the Yamaha Artist, who was recently named JazzTimes' 2008 Artist of the Year.
"I thought, 'look at this little thing, what's it going to do?' It blew me away," recalls Corea. "I sat down and adjusted the volume to make it sound like a big piano and immediately went into reverence at the R&D department and how they pulled it off, because it's quite an accomplishment."
"Once I started playing the AvantGrand and getting into the musical flow of it, I could lose myself in the music just like I like to do. I could certainly envision using this instrument in my louder bands, my electric bands."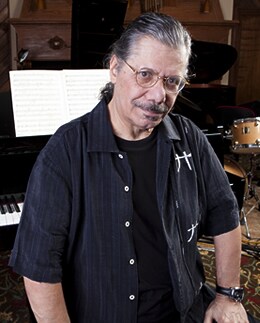 Chick Corea Profile
Considering the staggering volume of his recorded output over the past 40 years, it is no overstatement to call Chick Corea one of the most prolific composers ...
Considering the staggering volume of his recorded output over the past 40 years, it is no overstatement to call Chick Corea one of the most prolific composers of the second half of the 20th century. From avant-garde to bebop, from children's songs to straight-ahead, from hard-hitting fusion to heady forays into classical, Chick has touched an astonishing number of musical bases in his illustrious career while maintaining a standard of excellence that is simply uncanny.
Chick was studying piano by age four and enjoyed a childhood home filled with the sounds of Charlie Parker, Dizzy Gillespie, Bud Powell, Lester Young and Horace Silver -- not to mention the likes of Beethoven and Mozart, who inspired Chick's compositional instincts.
In the early 1960s, he went to work with Blue Mitchell, trumpeter. This relationship opened opportunities for Chick to work with Willie Bobo, Herbie Mann, and others instilling his love of Latin music. In the mid-'60s Chick accompanied Sarah Vaughan, then joined the Miles Davis Band on electric keyboard - this proved to be a turning point in Chick's career. Over the next two decades Chick founded two bands, Return to Forever and Elektric Band, and with Ron Moss formed Stretch Records. In the late 90s, Ron Moss produced a 5 disc box-set of Chick's selected work from 1964-1996. By the time he formed the Chick Corea New Trio, 11 Grammys had been awarded to this icon. To date he's been nominated for 50 and won 14. In 2005 Chick was honored with the prestigious Award for the Piano Festival Ruhr in Germany, the first time the honor was granted to a jazz pianist; and in 2006, he became an NEA Jazz Master, the highest honor the U.S. bestows on jazz musicians.