Maple Shells
Maple shells have a solid track record with DCI and other major drum corps. Formed using the Yamaha Air Seal system, these tough maple shells offer excellent attack and wide dynamic range while delivering deep, rich tonality.
Reduced Weight
In addition to reduced suspension ring height (1), recesses in the top and bottom high-tension hoops and suspension ring (2) contribute to significant weight reduction (approx. 1kg lighter than the MS-9300 series). This minimizes stress on players, even throughout the most active performances.

Improved Tone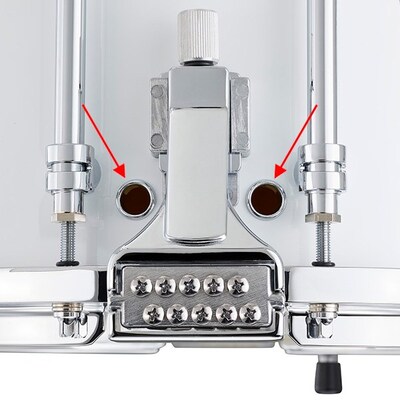 The provision of more vent holes than the MS-9300 series, plus extra wood shell area made possibly by reduced suspension ring height, results in notably enhanced tone and snare response.
New Strainer Design for Improved Operability
Strainer dimensions and knob shape have been revised to reduce slack and improve operability. The revised design also features a new snare guide that makes snare attachment easier than ever.

Functional Upgrade 1: New Top Hoop Shape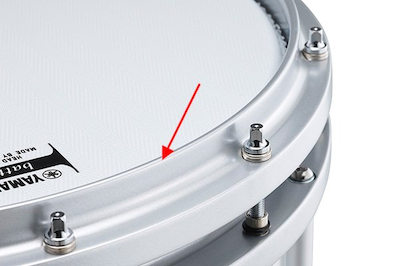 A larger radius at the top of the rim reduces damage to drumsticks when playing rimshots (when the head and rim are struck simultaneously). A thicker rim also increases durability while enhancing rimshot tone.
Functional Upgrade 2: New Lug and Tension Rod Drop-out Prevention Part Materials
To minimize the possibility of cracking, the lug posts are now made of aluminum rather than plastic. A rubber O-ring that prevents the tension rod from falling when the tube lug bolt is removed takes the place of the nylon nut provided in previous models.
Aluminum Insert Ring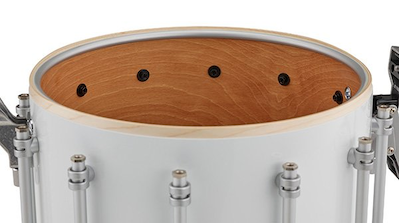 A snare-side aluminum insert ring is standard, preventing shell deformation and maintaining stable pitch even when high-tension tuning is used.
Heads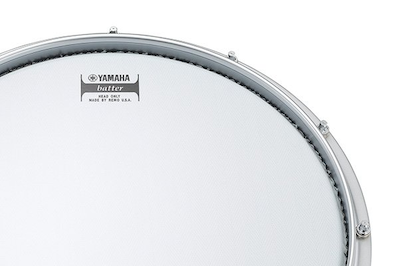 The top head is a Remo White Max type, and the bottom head is a Remo Falams Snare Side type.
Chrome Plated Parts * MS-9414CH and MS-9414SCH only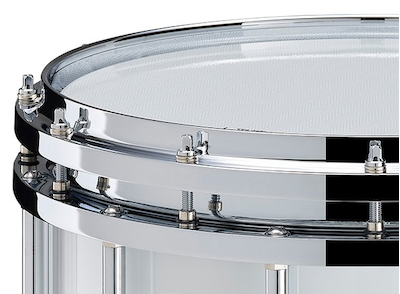 Chrome plated metal parts enhance external appearance.
* Chrome parts: top and bottom hoops, suspension ring, lugs, lug posts, strainer.