Biography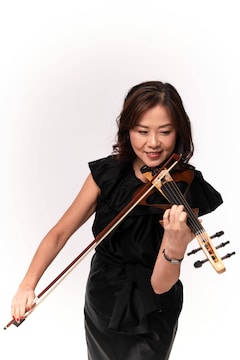 Shu Mei has emerged as the violinist of choice for many regional and local artistes. As a classical violinist, she has performed with the Singapore Symphony Orchestra. In 2005, she has had the opportunity to perform as a soloist to celebrate bilateral Singapore-Malaysia ties in front of 30,000 people at the Penang Indoor Stadium. She has also been invited to perform with renowned jazz diva Marina Xavier in Thailand, and at the Jakarta and Penang Jazz Festivals. Her association as a member of the ethnic fusion group Hybrid, swing group Goodfellas and latin-pop group San Nikkis provided the experience to expand and develop her formidable range of musical instincts. Shu Mei has also shared the stage performing and collaborating with Singapore music icon Iskandar Ismail. She has been called upon to grace opening ceremonies of major corporate events such as Canon, Honda and Saxo Bank. Her inimitable beauty and energetic violin performances have launched high-end products associated with style and elegance - BMW cars, Cartier jewellery and Kerastase beauty products.
Shu Mei was a member of Tessera from 2010-2013, Singapore's freshest premier all-female modern jazz ensemble featuring an eclectic collaboration of musical minds & artistic visions. They performed to a sold out concert at the Esplanade recital studio in August 2011.
In recognition of her valuable musical influence, Shu Mei is currently an endorsee of the Yamaha Silent Electric String instruments.
Her prolific accomplishments as a performer are matched by her relentless drive to share her music knowledge and groom the next talent. In 2008, she was awarded the Singapore Spirit of Enterprise for her influential contributions to music education for the young.
Shu Mei's album, "Jazz Canvas ~ Asian Memories" was released in June 2010. Jazz Canvas is a collection of infectious Asian melodies and original compositions infused with classical ideas and jazz interpretation. It's a celebration of Shu Mei's uncompromising mission to bridge the music world that is the East and West.
The track "Rasa Sayang" from this album had been selected as the sound track for the opening of "That Girl in Pinafore", a 2013 Singaporean comedy-musical film directed by Chai Yee Wei. "Rasa Sayang" has also been aired many times over radio station 92.4FM to celebrate National Day.
"Jazz Canvas ~ Asian Memories" is played on Singapore Airlines, Bangkok Airways, Russian Airlines just to name a few.
In September 2014, another album "The Great I AM", a collection of Shu Mei's own composition of Christian songs was released. It is an album of gospel music in the jazz genre produced by Shu Mei and New York jazz violinist Christian Howes, featuring singers Jenika Marion, Blair Johnson, Marina Xavier, Sean Scales, violinists Christian Howes, Shu Mei, multi instrumentalist and arranger Hamilton Hardin, and many other instrumentalists.
Shu Mei has recorded on the CD albums of other artists as well. She played on Marina Xavier's "Where Do You Start" and "I Thought About You", Amanda Jantzen's "Northern Star", Raveena's "From Deep Within", Andayoma's "Paletter of Colors" and Francisco Raquiza's "Blue Love" and "Gymboro".