Biography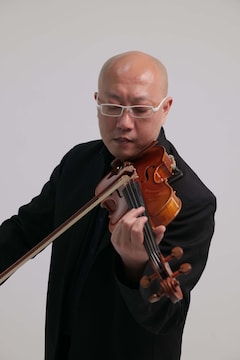 Upon his return to Singapore in 2007, Han has been actively involved in the local performing arts scene, contributing his expertise to numerous musical arts groups of different genres.
Classically, Han served as principal violist for numerous orchestras including the Colorado Mahler Festival Orchestra, Asian American Philharmonic Orchestra, the San Francisco Lyric Opera Orchestra, Singapore Lyric Opera Orchestra and has led its viola section for numerous productions. He was also invited to perform as a full time member of T'ang Quartet from 2009 to 2011 and was featured as a soloist, alongside the quartet, at the Singapore premiere of Benjamin Lees' "Concerto for String Quartet and Orchestra" with the Singapore Symphony Orchestra in 2010. During his tenure, Han has performed in numerous concerts at prestigious international music festivals in Singapore, Belgium, Australia, New Zealand, Macau, Malaysia and Indonesia.
Proudly Singaporean, Han made his mark as the first musician from his home country to have performed in top international festivals and awards such as the Grammy Awards, Coachella Valley Music Festival and Lollapalooza. He was also the only Singaporean to have performed with the American Idol Band and has toured with the multi-­‐platinum Grammy-­‐winning band, Gnarls Barkley. Han has also performed live alongside Josh Groban, Sarah McLachlan, Linkin Park, Jay Z, Sir Paul McCartney, Michael Buble, Chris Daughtry, Cee-­‐lo Green, KD Lang, Jewel, Kenneth "Babyface" Edmonds, Natalie Cole, Olivia Newton John, Clay Aiken, Jamie Cullum, Barry Manilow and Reba McEntire.
A highly sought-­‐after musician in the local and international theater music industry, Han has performed in many musical theater productions such as "December Rains", "Into the Woods", "Spring Awakening", "La Cage aux Folles", "National Broadway Company", "Glass Anatomy", "Crazy Christmas 2012", "Company", "The Phantom of the Opera" and "Next to Normal".
An accomplished concert artiste, chamber musician and conductor, Han Oh has also established himself as one of the leading pedagogues for violin and viola performance in Singapore. He has groomed a number of students who have been accepted into top music schools around the world such as Indiana University, Boston University and the Yong Siew Toh Conservatory of Music.
He served from 2010-­‐2014 as conductor for Methodist Girls Secondary and is currently both conductor and instructor for the National Junior College String Ensemble. Under his mentorship, both schools have achieved Gold and Gold with Honors respectively at the 2011 Singapore Youth Festival Central Judging. Both ensembles were also awarded the Certificate of Distinction at the 2013 Singapore Youth Presentation. The National Junior College String Orchestra tied for Fourth Place with Israel Conservatory String Orchestra at the prestigious 2014 Summa Cum Laude Music Festival in Vienna, Austria.
In addition, Han is a music instructor with the Singapore National Youth Orchestra and has worked with the orchestra and its training wing as a guest conductor.
In recognition of his talents and expertise on the electric strings genre, Han was officially appointed in August 2014 as the first YAMAHA Silent Electric String Artist from Singapore, joining the ranks of highly acclaimed fellow YAMAHA Artists worldwide such as David Foster, Josh Groban and Elton John.
Han is currently Producer and Music Director of Singapore's first Electric String Quartet -­‐ PIEZO Quartet, managed under Boutique Chamber Players. He is immensely honored and grateful for the recognition and support from YAMAHA MUSIC in his creative endeavors to spearhead the electric strings movement in Singapore.
Han performs exclusively on his YAMAHA SV255 Silent Violin Pro (5-­‐String Violin/Viola Hybrid) which he fondly refers to as his YAMAHA "QUINTON".