Image Credit: Justus Leong
Nat Wu 健豪 is an upcoming artiste, an established singer-songwriter, and also keyboardist with his band, The Jumpstart. In addition to his regular performances at bistro bars and live music venues, Nat has also been honing his musical skills as a street busker, never failing to draw crowds and mesmerising them with his music. We are pleased to have Nat to share with us on his musical journey so far, as well as his plans for 2020:
- As a quick introduction, would you like to share with us on what motivated you to perform as a singer-keyboardist?
My first gig as a performer was actually solely as a singer, and I was pretty comfortable with that at the beginning. However, I am thankful that my fellow musicians pushed me out of my comfort zone and wanted me to try playing and singing during my gigs.
I started learning the electone with Yamaha when I was really young, followed by choral training in my teens. The music and chord knowledge gained from these lessons and experiences really helped to accelerate my learning process for pop songs.
- Who/what are your main music influences?
Mostly mainstream Mandopop, the likes of A-Lin, Jay Chou, and JJ Lin. I also grew up singing choral music and therefore, strange, bewildering harmonies are kind of my thing.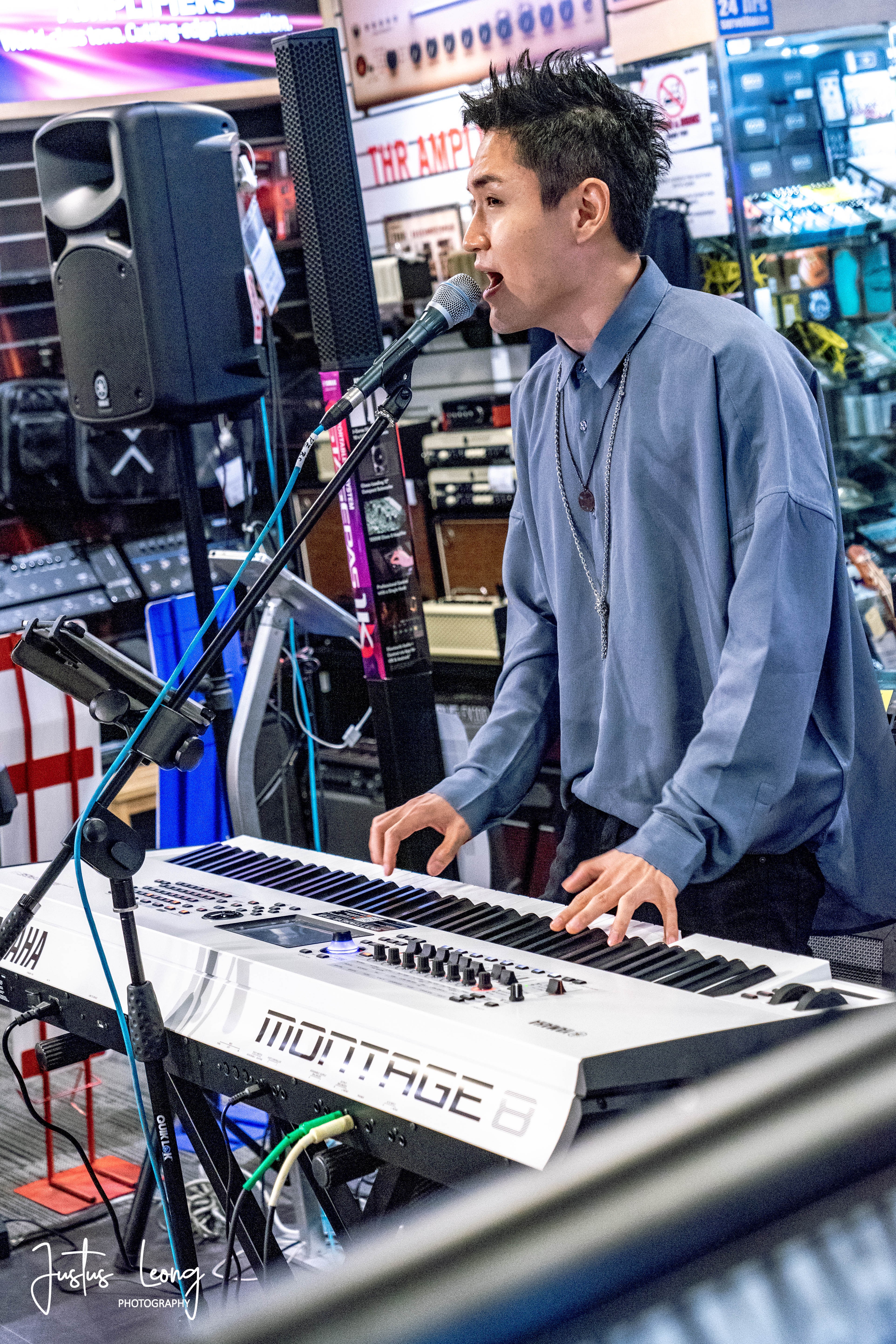 Image Credit: Justus Leong
- As a singer-songwriter, what are some of the original songs that you have written? What actually inspired you to write these songs?
I currently have 3 songs which are available on major music streaming platforms, namely 喜歡你可不可以, This Is Goodbye, and I also co-wrote 很大的世界 with local artiste 魏妙如. My songs mainly depict my life experiences, with some lyrical inspirations coming from daily life, as well as important milestones and heartbreaks from various periods of my life.
- In your opinion, what do you think are the important attributes for being a Singer/Keyboardist? How would you define a success as a musician in Singapore?
To be able to gel good music and emotions together to bring the audience into our world is one of the most important, yet most difficult thing to do. And needless to say, a good sense of pitch and rhythm, 2 skills of which we have to continuously hone on a daily basis.
Doing what we love and being able to provide for our families as full-time musicians is a huge blessing in itself. Getting more Singaporeans to appreciate our music and what we do will be the next step to go.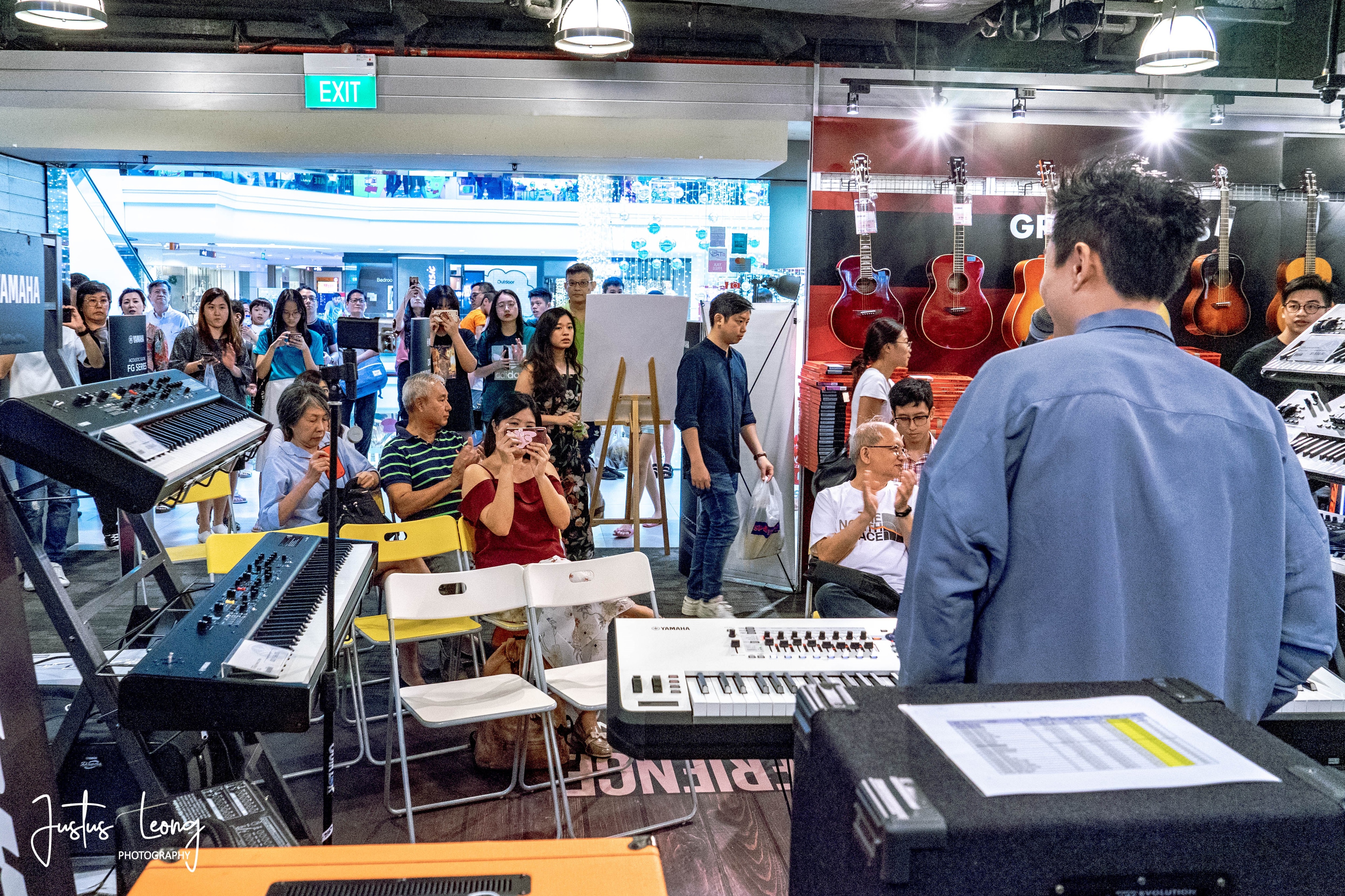 Image Credit: Justus Leong
- What are the key instrument models that you have been using for your performances?
The Yamaha MX61 synthesiser is my go-to instrument because I love the piano and strings patches, and it is light enough to carry around from weddings and corporate events, to my regular gig venues.
- What are your main objectives of being a busker?
I find joy in singing for people from all walks of life, and knowing that they have thoroughly enjoyed each of my performances brings me great satisfaction. I also particularly enjoy the intimacy, and also getting to personally know the people who come specially every week to watch me.
Also, as I am currently preparing for my album release, the exposure on ground and online, as well as the tokens of appreciation from the audience are of great help in helping kickstart the marketing efforts for my project.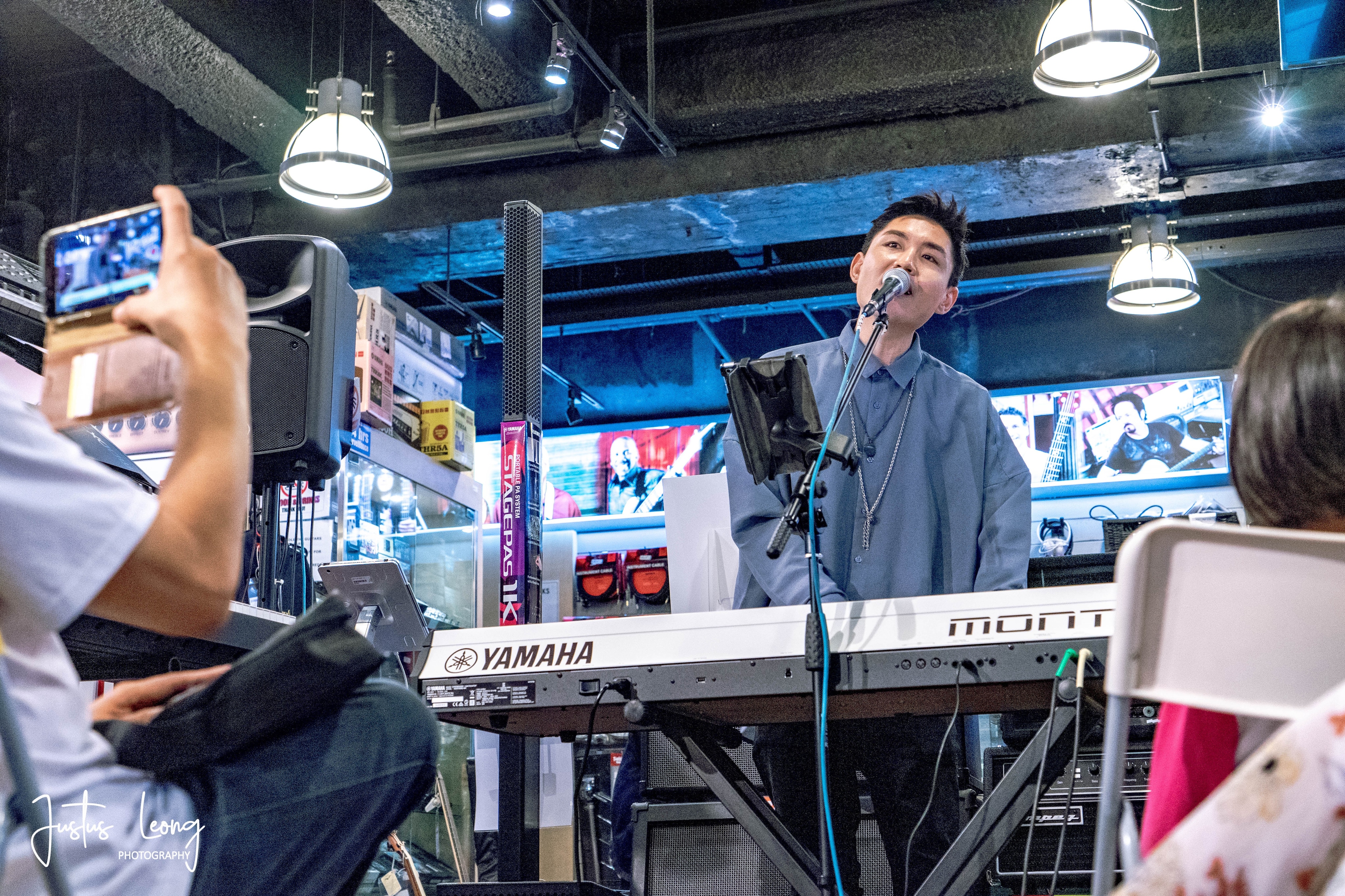 Image Credit: Justus Leong
- As a busker, you must have experienced various memorable incidents. Would you like to share with us some of the interesting stories?
Singing to huge winds by East Coast Park that almost blew my entire busking setup away; getting my microphone snatched by drunk passers-by who just want to sing; having an uncle dance and groove in front of the audience to almost every song possible, from 怎麼了 to Top Of The World to 海闊天空. Those are stories that I am sure many street buskers can relate to. Oh, and not forgetting having to set up a huge tent just to be able to busk during the rainy season!
- What is your take on the musical scene in Singapore? What kind of changes would you like to see in the near future?
I believe there is a concerted effort by the authorities and the music industry to bring local music to more Singaporeans, but I also feel that more could be done to enhance wages and job security for musicians, as well as better platforms to connect more dedicated musicians to the streets, gig venues, as well as event planners.
- We have also noticed that you're venturing into live streaming platform such as Facebook Live Videos. How has that benefitted you as a performer?
It is really mind-blowing how huge the online community really is, so being online definitely brought increased exposure for me as an artiste and a singer-songwriter. I am lucky that this has also linked me up to other performance opportunities.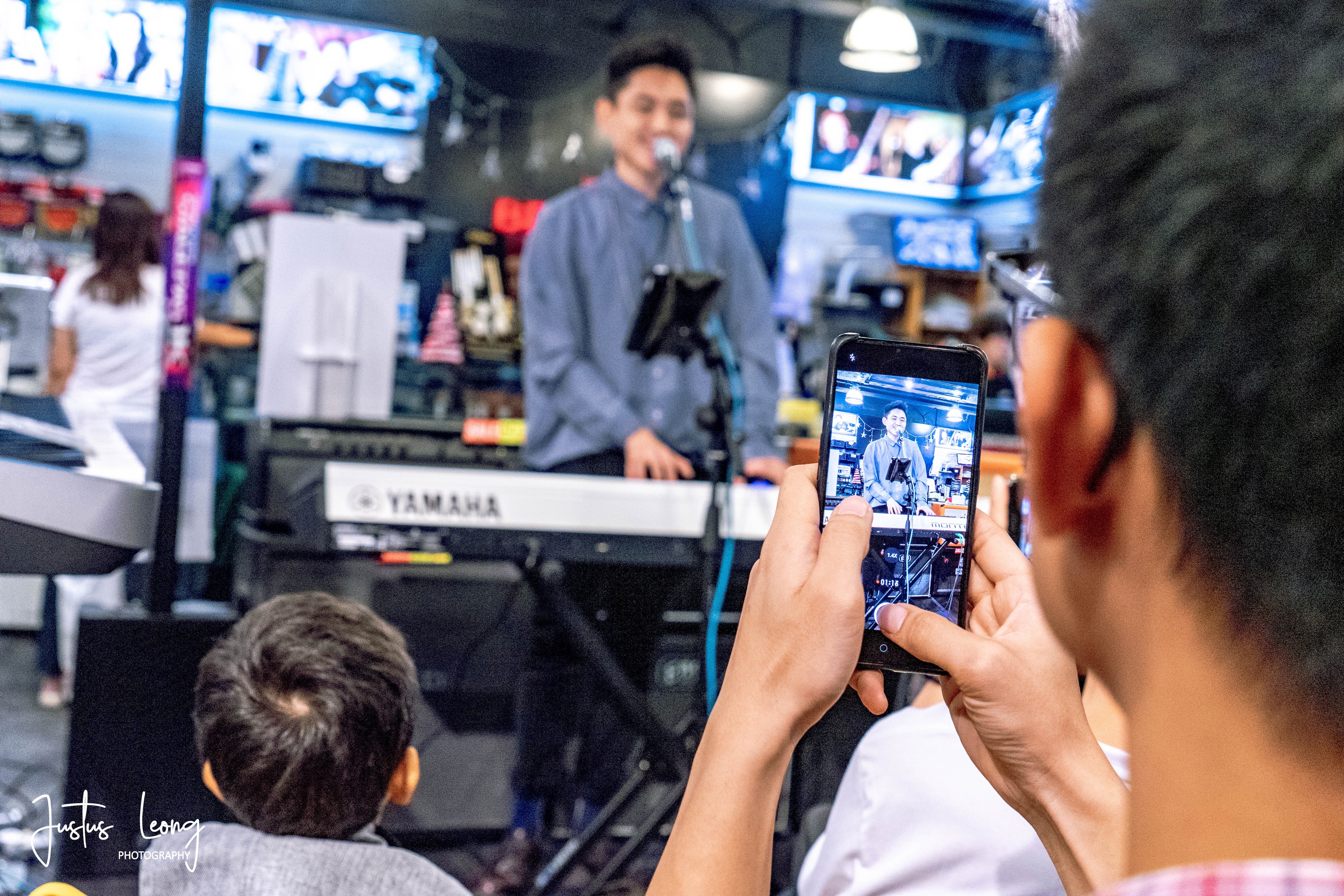 Image Credit: Justus Leong
- What are your upcoming plans in 2020? What/where would you see yourself 5 years from now?
The main goal for 2020 will be to finally release the album which I have been preparing for the past 4 years, and to market it to the Mandopop markets overseas and online.
5 years from now, I hope that more people will like the music that I make. I also want to bring good music to the people that I care about, and definitely to connect with even more like-minded musicians and the media in the various Mandopop markets.
- What advices would you give to an aspiring musician/busker in Singapore?
Just do it. Get out of your comfort zone. Leave regrets behind. Keep grinding. Most importantly, mean what you perform, and sing and play with your heart.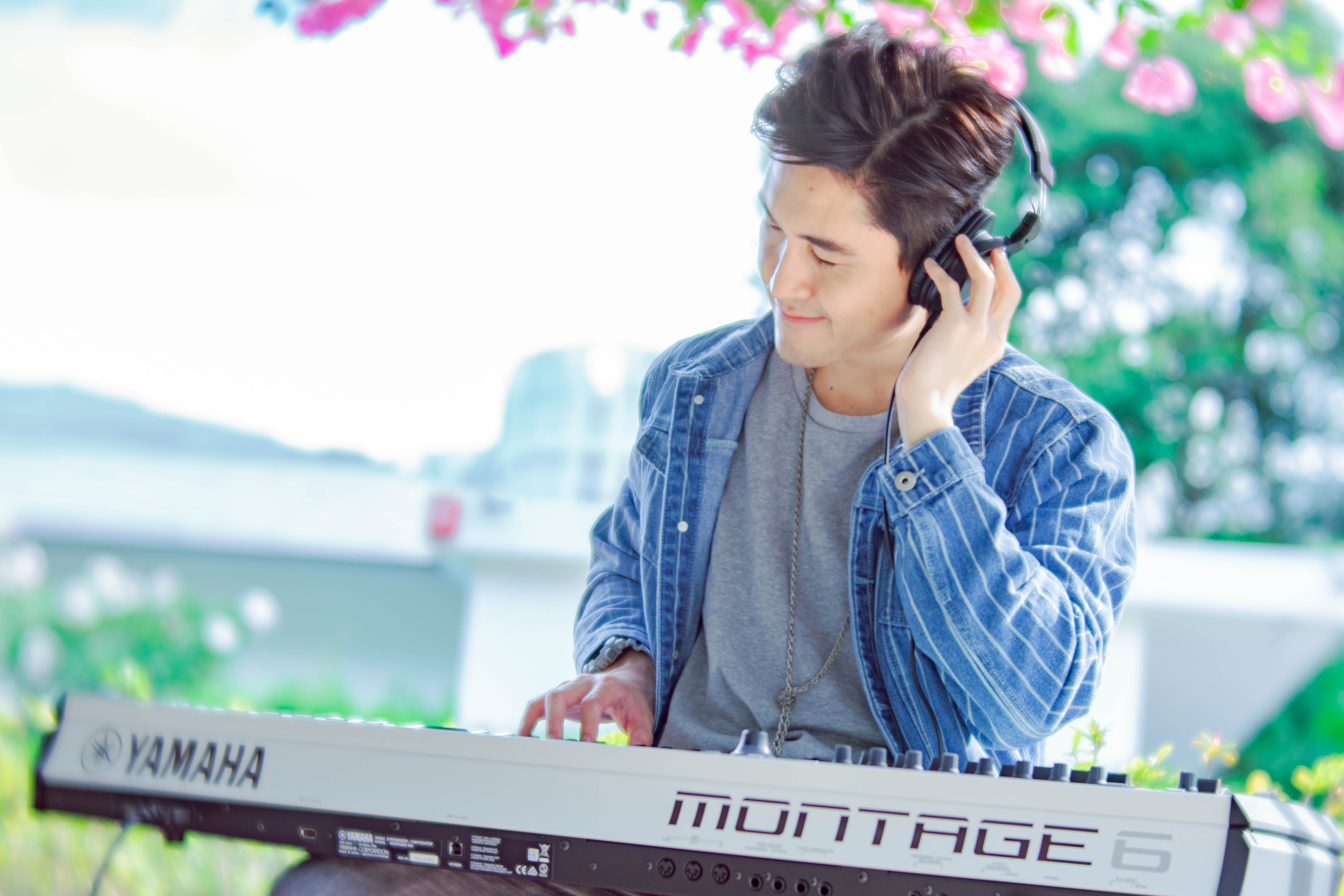 Image Credit: Justus Leong
- Where would we be able to get your latest updates?
You can find me on these social media platforms:
- Instagram: @natwusg
- Facebook: Nat Wu 健豪
- YouTube: Nat Wu
- Email: natwusg@gmail.com