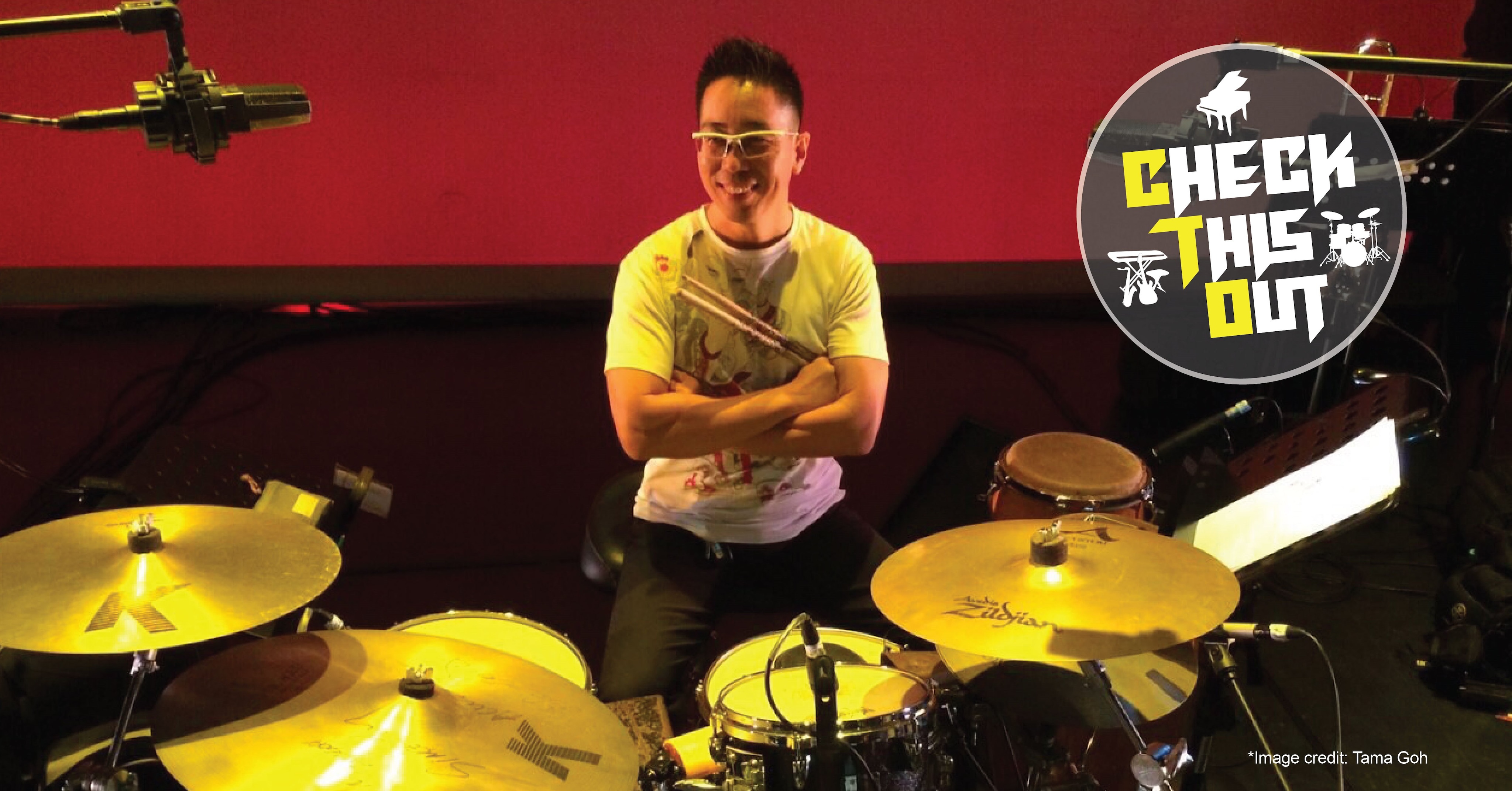 Tama Goh is an endorsee for Zildjian Cymbals
Tama Goh has been a member of the Jeremy Monteiro Jazz band since 1989, and has performed with the Band in Japan, the USA, Canada, New Zealand and Europe. He was conferred the COMPASS Artistic Excellence Award 2005 for his outstanding artistic contribution to Singapore and was a recipient of the Soka Association Golden Lion Award for his contribution to the WORLD PEACE movement.
When did you start learning a music instrument?
My first instrument when I was 5, was a harmonica given to me by my Father. I started playing folk tunes on it before I started to play Chinese folk songs.
Who or what inspired you to take up drumming and pursue a career in music?
Being a Hainanese descendent during Colonial days in Singapore when my mom was a chief cook, I grew up listening to European Folk and Pop music. I was intrigued by the percussive sounds of the Military band and Jazz music played by the Colonial Masters. They held social parties at home and invited musicians to perform. I would always be by the bandstand listening, watching the drummer and the percussionist.
That was when I saw on black and white TV box Buddy Rich big band. I started listening to Dave Brubeck and the rest is just history of me collecting more cassette tape recordings.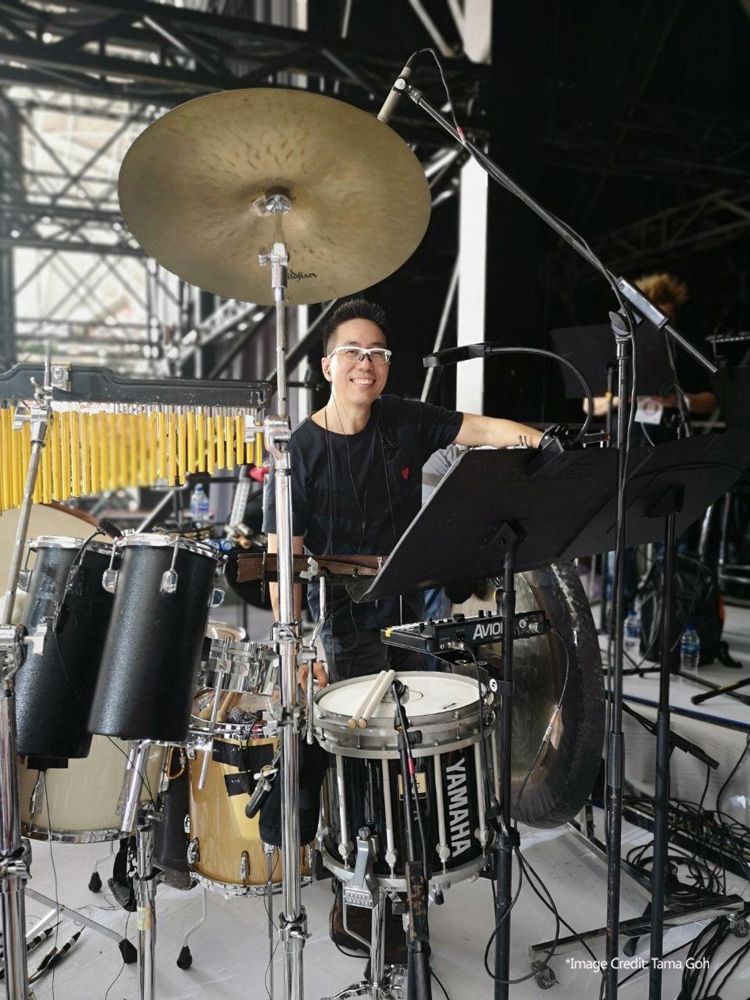 Who/What are your main music influences?
I love marching band music which is why I joined my Birkhall Primary school band in 1972. From then onwards, I started listening to Latin and Jazz music while I had the chance to play Symphonic Band music pieces during my teenage days. Today my main music influences are music played by drummers like Vinnie Calaiuta, Jack Dejhonette, Jeff Pocaro, Steve Gadd, Antonio Sanchez, Aaron Spears, and also Carlos Vega.
What is your drumming practice routine?
I practice from Monday to Saturday. Besides my gigs, teaching and rehearsals, I try to put in at least two hours per day but it usually ends up more than two hours. I spent odd days working on motor skill exercises and rudiments, the even days are spent listening to music and or working on grooves and styles and focusing on my weak points. On Sunday, I'll switch off from everything and just play at my 20th year gig at the Halia Restaurant.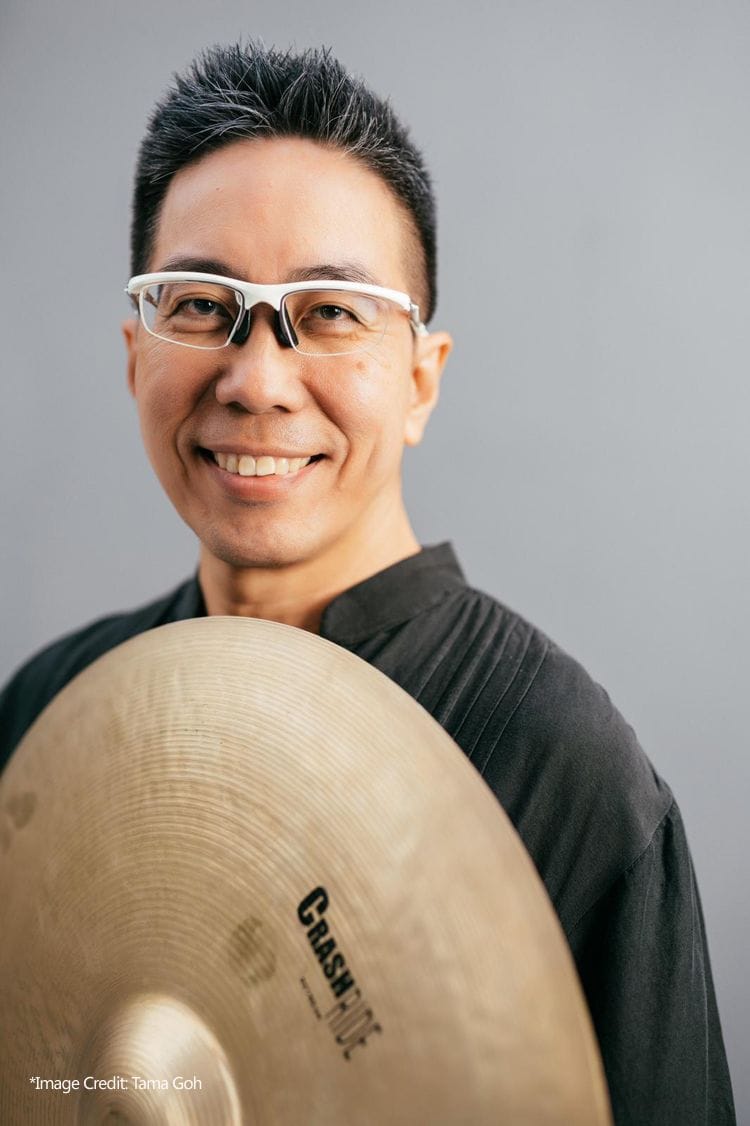 Being a Zildjian Endorsee, what are some of your favorite cymbals? And why would you prefer Zildjian?
I played the Zildjian marching crash cymbals since I joined the Birkhall Primary School Band in 1974. From then onwards, I had chances to play other makes but found myself going back to the brilliant harmonics and many choices of timbre and nuances by Zildjian. My favorite cymbals are the Zildjian 17" K Constantinople, and the Zildjian 14" Vintage Hi-hats. They are the basic cymbals I would bring to the gig or concert with the makes of Kerope, K custom dark series and also the A custom crashes.
Highly regarded as one of the most sought after "live" session drummer Singapore, you have performed with many international artistes (Ronan Keating, Frances Yip, Maria Cordeiro, Eric Moo, Coco Lee, Anthony Lun, Sarah Brightman, Dionne Warwick, Sandy Lam etc.) over the years. How has the experience contributed to your journey as a professional drummer?
Friendship with musicians of different nationalities were great ways of cultural exchange. These experiences had always made me realize I have to continue my research and development to be relevant and be current. I would come home to stick to my practice routine and sometimes make some changes to the way I practice.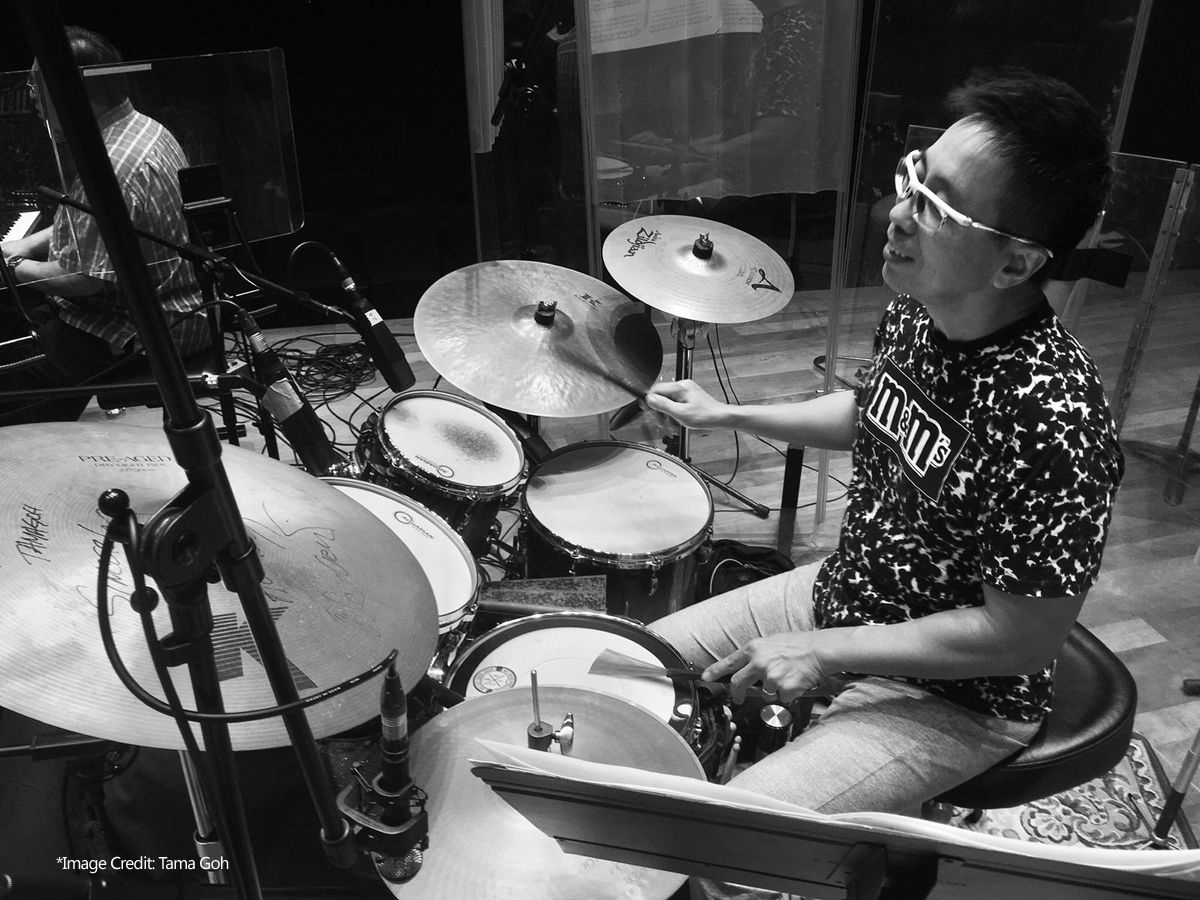 In your opinion, what do you think are the main attributes of a great drummer? How would you define success as a musician in Singapore?
Respect the MELODY. Play the music the way it's intended to by the Composer or Music Arranger. Definition of success are dependent on what your goals were. To me; SUCCESS is when I get chance to play music with the artiste or composers, I've listened to in my youth days.
Being one of the renowned local jazz players, how would you define Jazz in your own words? Do you also incorporate jazz techniques in other genres?
I don't consider myself a Jazz Musician. I see myself as a music serving Musician and do the best, I can do to serve the music I am invited to play in the different ensembles. Jazz music is the pop culture of the early 1900s just like today's pop music called hip hop, and R&B just to name some.
I work on the independence and amber dexterity a lot. Jazz drumming studies employed a lot of that. Thus, I applied the use of independence techniques in other genres too.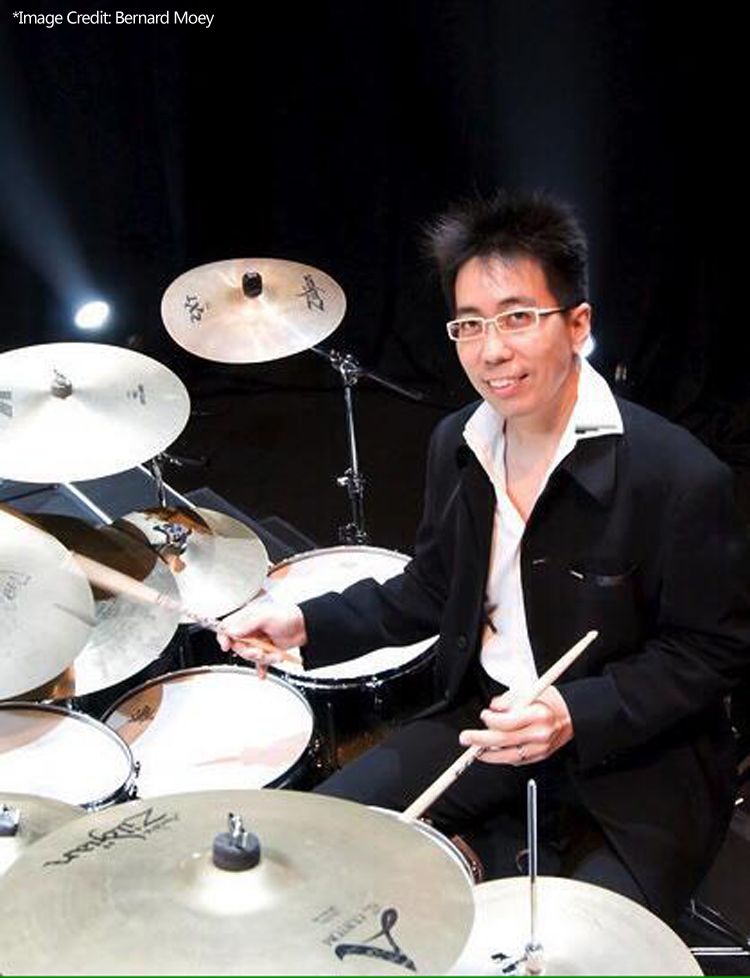 Being part of the Jeremy Monteiro Jazz Band since the 80s, how is it like being in the band from then till now? Are there any memorable incidents that you would like to share with us?
When Jeremy Monteiro started playing music professionally and leading his own Band in the then Neptune Theatre restaurant, a TOP club during those days, I was still in Anderson Secondary School doing my O' levels! I started to play Cabaret and Chinese pop music in the evenings while I sat for my O' level examinations in the mornings. By the time Jeremy Monteiro invited me to play in his band, I had only just returned from Jakarta ending my tour with the Kaye Hamid and the Masterpiece Band.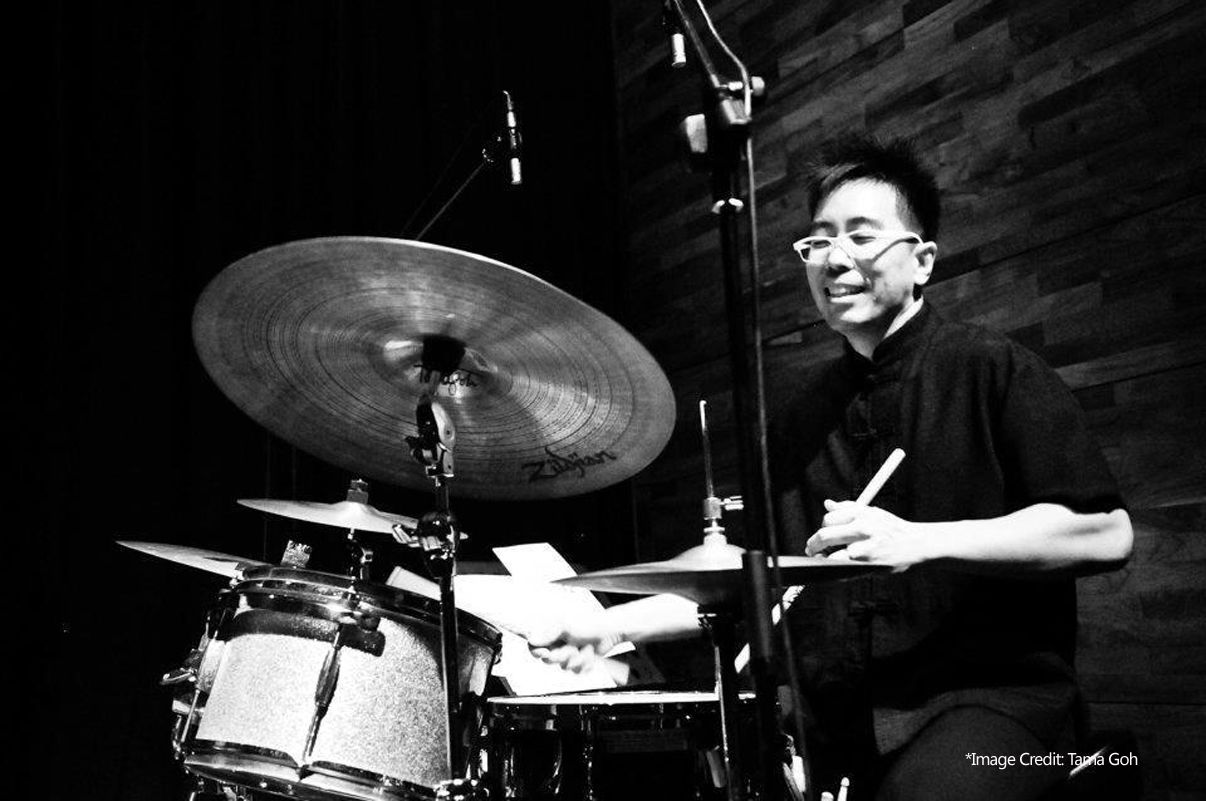 Someone we respected asked Jeremy Monteiro "where did you find this elephant from". Then I didn't have the touch and vocabulary of making jazz music! Jeremy Monteiro had kept it away from me while I worked on my craft. I always appreciated Jeremy Monteiro for waiting for me. Three years later, the same respectable wise man told Jeremy Monteiro that he was right to have me in the band.
What/where would you see yourself 5 years from now?
5 years? With COV19, I don't see myself anywhere as yet!! I have music students in the NIE, the SCO, and the SAF band to share my knowledge and experiences with. I continue to work with the Vocal Associates Festival Chorus, continue to create music tours with the choir and play in any musical situations that come back to life again!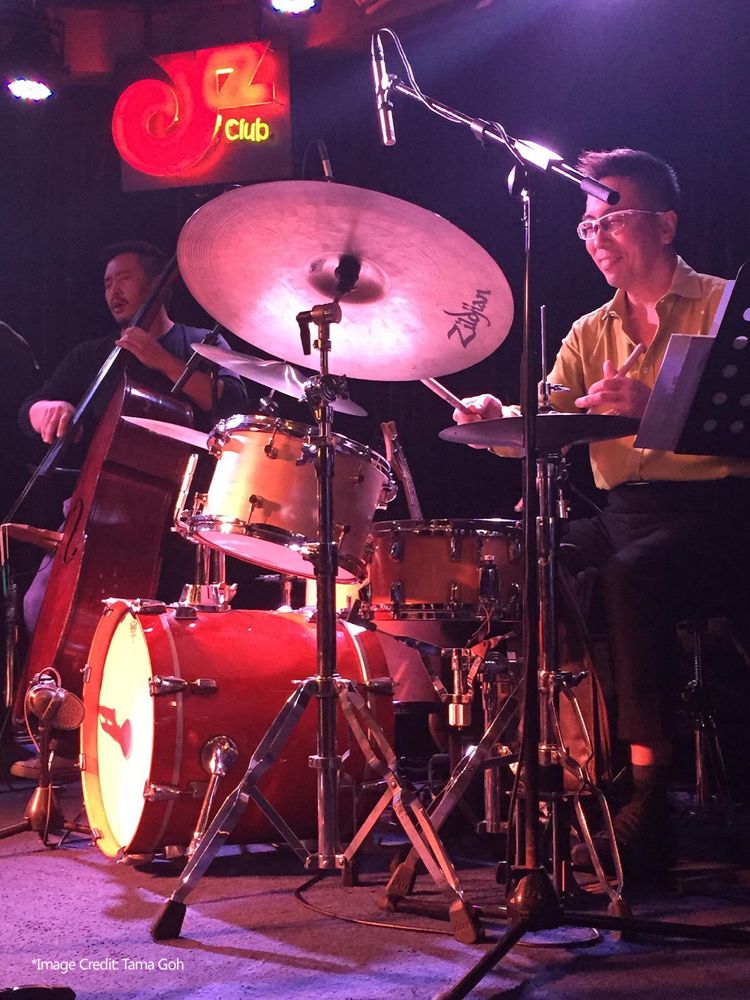 What advices would you give to an aspiring musician in Singapore?
Be prepared musically by keep upgrading your knowledge; but most importantly enjoy your FEAST during good times, and be ready for FAMINE time. It will come again!
Where would we be able to get your latest updates?
Instagram: TAMAGOHDRUMMER
Facebook: Tamagoh YS