Interview with Er Chow Kiat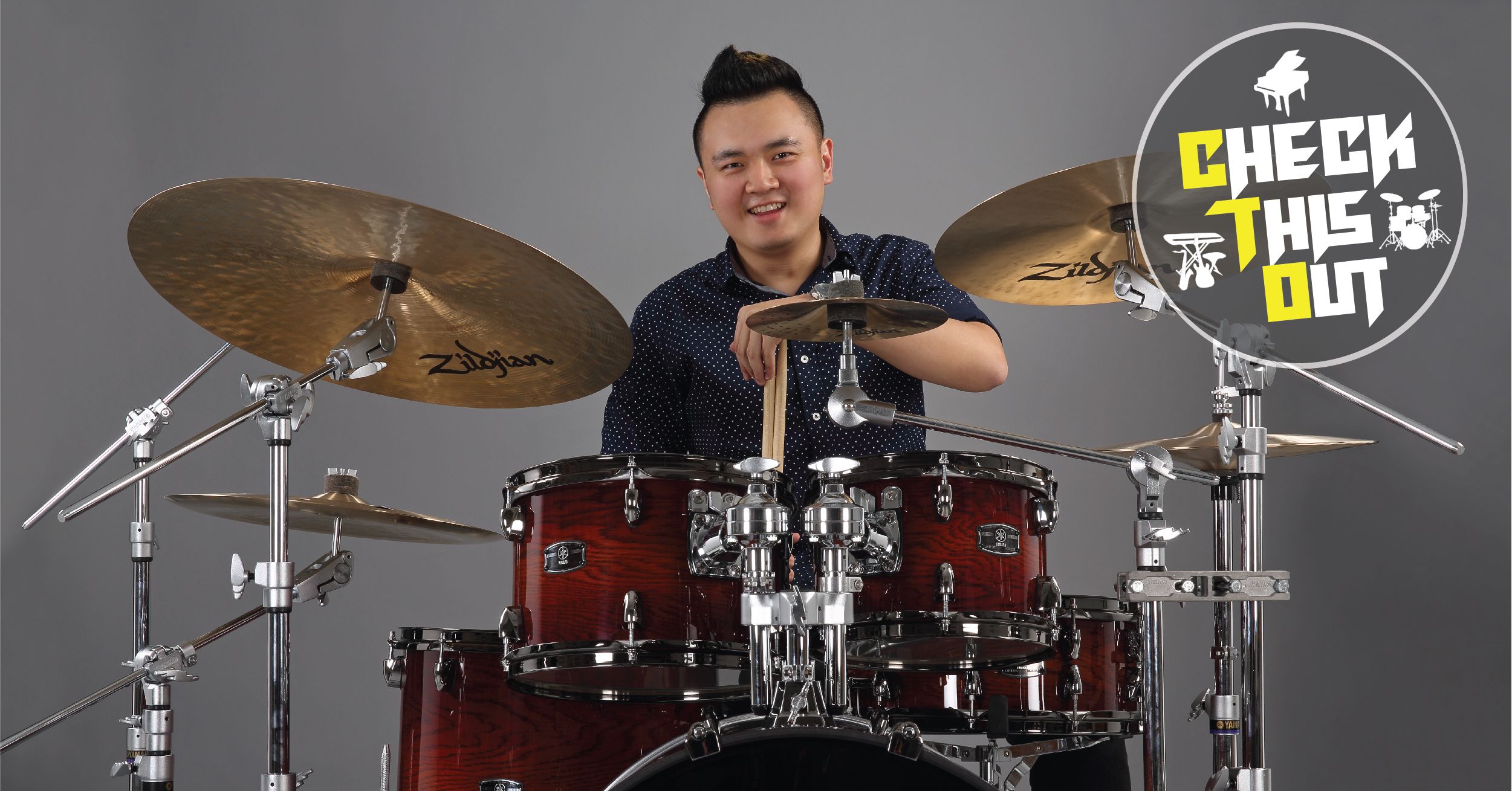 Er Chow Kiat is an endorsee for Yamaha Music and Zildjian.
When did you start picking up learning a music instrument?
I started playing the drums (self-taught) when I was around 13 years old. My dad bought me an entry level drum kit after I expressed interest in the drums. I would play the drums almost every day after I got back from school.
Who or what inspired you to take up drumming and pursue a career in music?
When I was about 7-8 years old, my sister rented a movie titled "That Thing You Do! ". I would watch it repeatedly because I was so captivated by the drummer (who happened to be the lead actor) in the movie. But that was that, I didn't manage to play the drums until when I was in secondary school. I also started attending church in my teenage years so worship music definitely played a big part inspiring me as well.
The decision to make drumming as a career came after my O levels. To be honest, I didn't like to study. So I asked myself what do I really want to do for a living for the rest of my life? That was when I enrolled myself to study music in LASALLE College of Arts and the rest is history.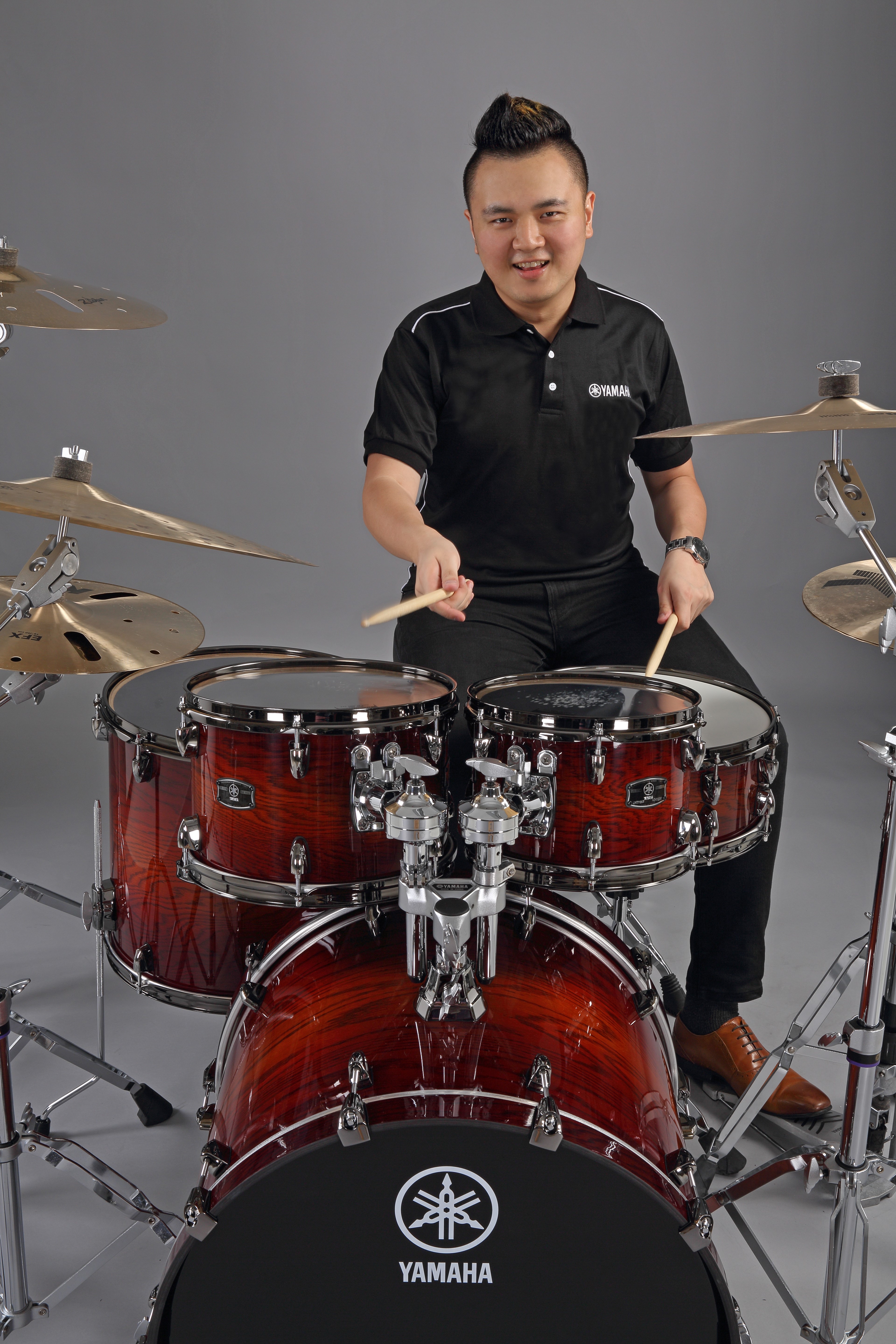 Image Credit: Er Chow Kiat
What have been the greatest challenges/frustrations of your career so far?
Recently I had set up a drumming school, and concurrently will be going on a world tour with a Taiwanese artist, Angela Zhang. Having to micro manage both projects would seem tiring at times, but it's all worth it.
Who/What are your main music influences?
Drummers:
Benny Greb
Steve Jordan
Mike Johnston
Steve Gadd
Vinnie Colaiuta
Dave Weckl
John Blackwell
Ray Luzier
Matt Garstka
John Mayer
Jay Chou
Noel Gallagher
What is your drumming practice routine?
It depends. If I have an hour to practice, I would separate them in 4 x 15 minutes session. I would work on my rudiments for 15 minutes, groove (no fills) for 15 minutes, application for 15 minutes and maybe soloing for 15 minutes. Of course, I will then work on more stuff if the practice session is longer. I also have a note book to write down the work done for the day. It is a habit I developed since studying at Musicians Institute (M.I) in Hollywood, CA few years back.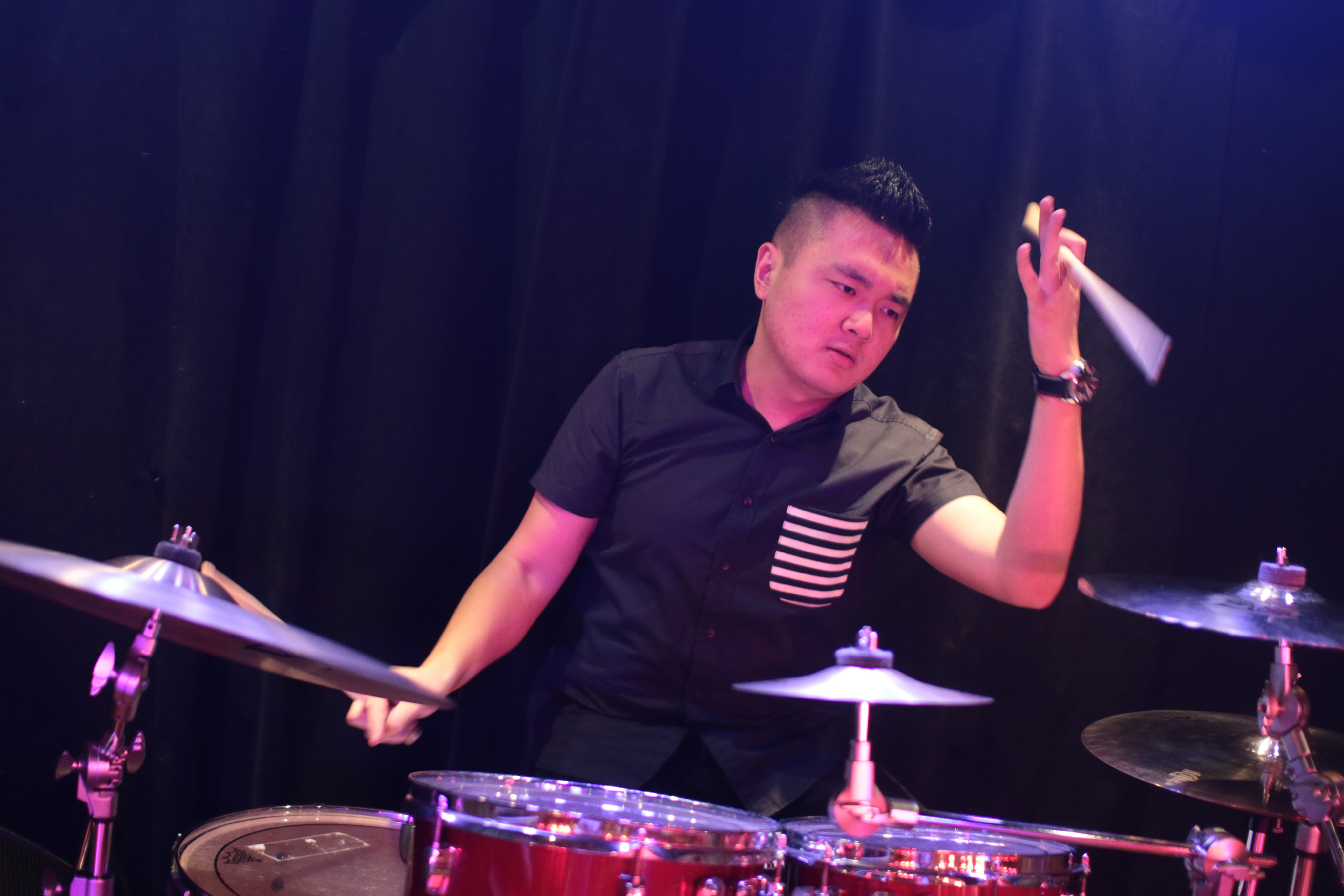 Image Credit: Er Chow Kiat
Over the years of drumming, you have worked with many international artistes, been a Musicians Institute Full Ride Scholarship recipient and was presented the Outstanding Student Award (Drum Program) upon graduation in 2014. How do you feel about the achievement so far and how has the experiences helped in your career?
It's been great and I am very pleased with what I had achieved so far. There were so many good moments (on and off stage) I wish to share but words alone can't express how surreal all these were for me. Thinking back, everything happened so quickly and timely as well.
It was at M.I. that I practiced and became way better than I was before going there. I was really serious to do well when I was there; practicing almost 4-5 hours every single day, taking up music business module, learning how to notate music on computer (Sibelius), networking and meeting new musicians, understanding the basics of video editing and so much more. Basically, my time in the States was a game-changing moment for me and that's when I grew and mature both as a musician and as a person at the same time.
That being said, there are still a lot of work yet to be done. I don't really like to admire the painting for too long because I am always looking forward to creating the next.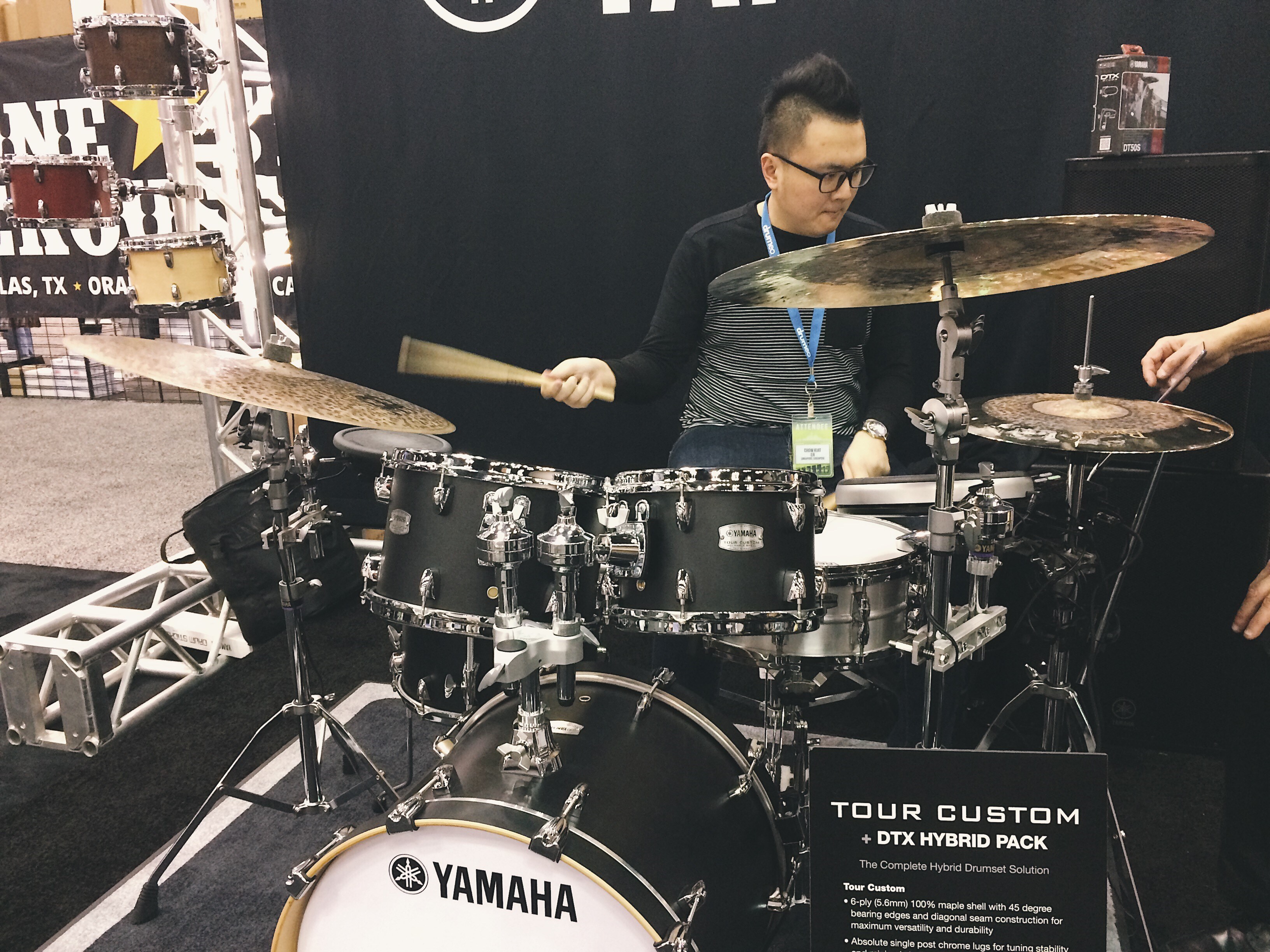 Image Credit: Er Chow Kiat
Understand that you will be playing for Angela Zhang (Taiwanese singer/actress) for the concert (2018 Angela Zhang Journey World Tour), what is your primary drum set up?
My set up for the tour will be:
Yamaha Absolute Hybrid Maple Drum Kit – White Color
14" Snare (Main)
12" Snare (Side)
22" Kick
10" Tom
12" Tom
16" Floor Tom
Zildjian Cymbals
10" A Custom Splash
14" K Mastersound Hi Hats
16" A Custom Crash
16" FX Oriental China Thrash
16" K EFX
17" K Custom Dark Crash
18" A Custom EFX
19" A Custom Projection Crash
21" A Sweet Ride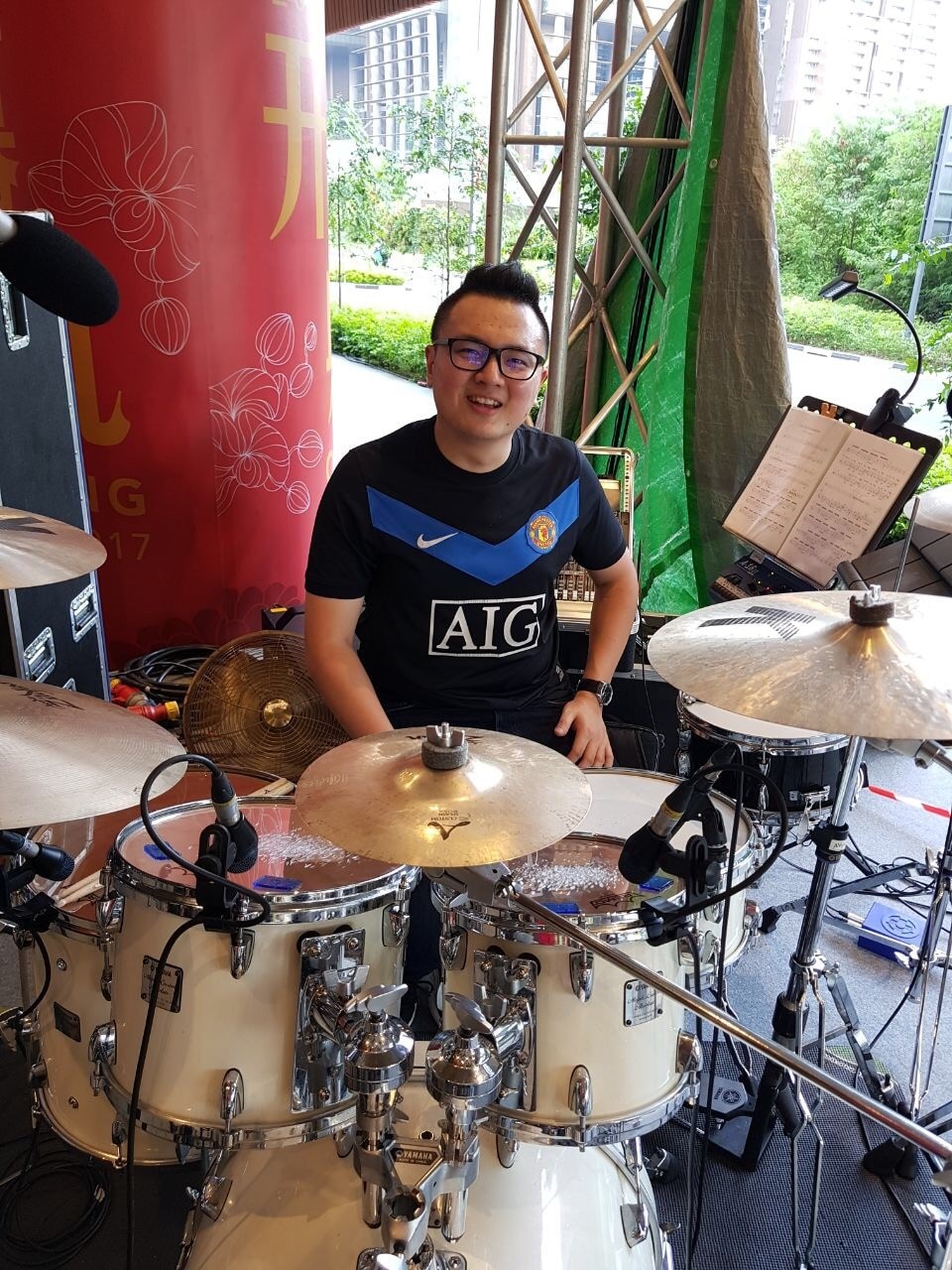 Image Credit: Er Chow Kiat
Electronic Drumkit or Acoustic Drumkit. Which would be your preference and why?
Both! I love the sound and flexibility of an Acoustic kit but I also like the convenience of an Electronic kit (as most of us live in apartments in Singapore). I personally use:
Acoustic
- Yamaha Live Custom
- Yamaha Tour Custom

Electronics
- Yamaha DTX900K
- Yamaha DTX-M12

How would you define success as a musician in Singapore?
It's very subjective. I would say it boils down to the individual. Some would eventually become music teachers and will do it for the rest of their lives and some would prefer becoming touring musicians. I am very fortunate and blessed to be able to do both.
I know it sounds cliché but at the end of the day, one must learn to be happy and contented with where they are at. Learning to count your blessings is very important.
Lastly, be objective. Learn to set goals (both short and long term). This way, you can actually plan for your success and not just dream or think about it.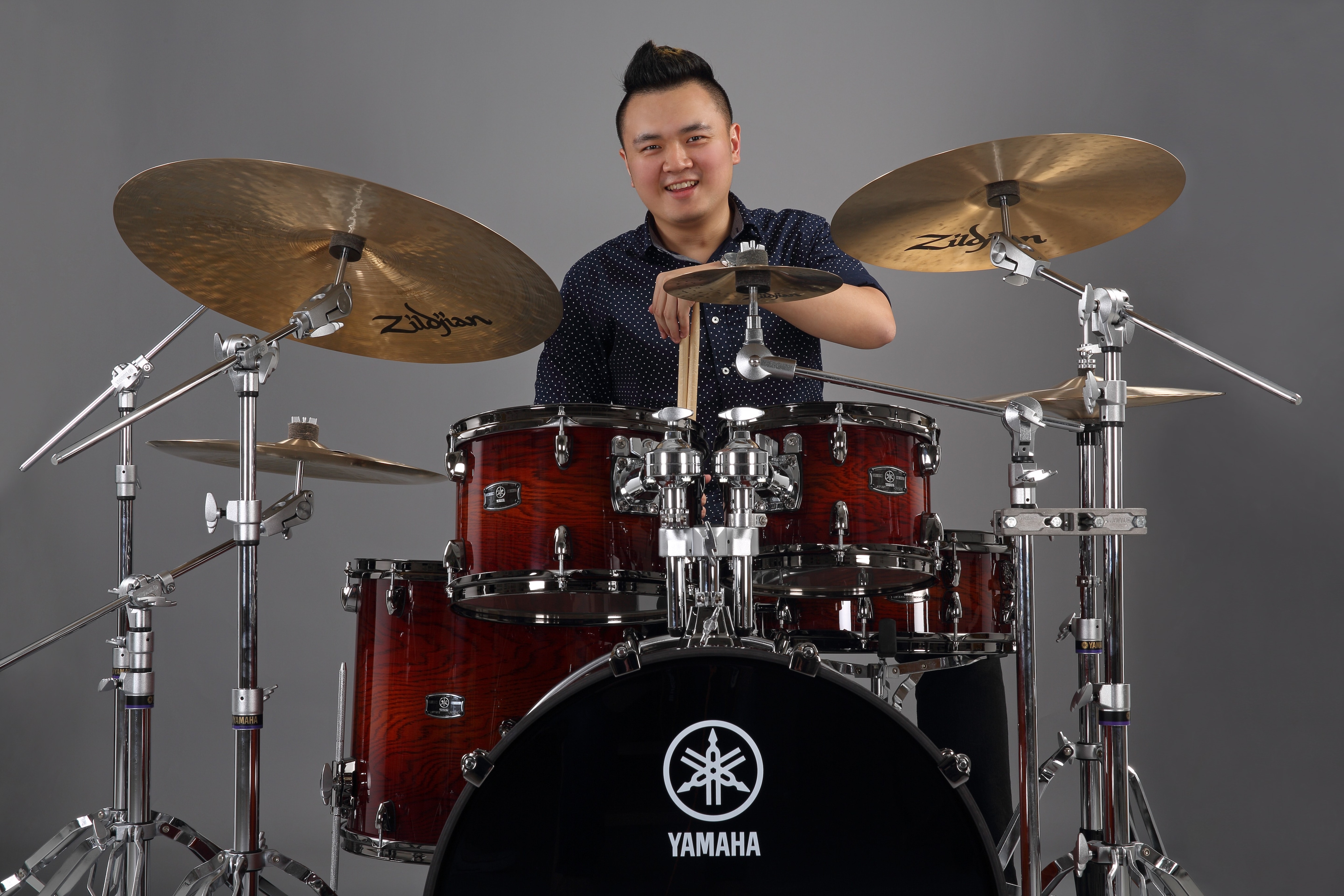 Image Credit: Er Chow Kiat
Where would you see yourself 5 years from now?
I currently run a drumming school called Drum Tutor (www.drumtutor.sg) equipped with top notch learning studios (Yamaha drums and Zildjian cymbals), dedicated team of instructors and syllabus written by yours truly. I would love to expand and have another branch somewhere in Singapore as my goal is to constantly be an influence to aspiring drummers of all ages.
Oh yes, more world tours (hopefully).
What advices would you give to an aspiring musician in Singapore?
Remember to:
Have productive practice
Learn to sight read music
Network with other musicians
Read up about the business side of things
Create and not just wait for work
Hustle
Be nice
Don't give up
Where would we be able to get your latest updates?
On my socials at: