THE ULTIMATE FINGER DRUM PAD
With ultra-sensitive Pads in an ergonomic layout perfect for finger drumming, the FGDP features a Tone Generator, internal speaker, and rechargeable battery that make it a true all-in-one instrument that you can play anywhere. Let your fingers make the rhythm!
Thoughtfully designed layout and Pads for the ultimate finger drumming performance. From sampled acoustic drums that sound like they're right in front of you to powerful electronic sounds, beloved and curated by top professional artists, covering a wide range of genres. Yamaha promises uncompromising performance.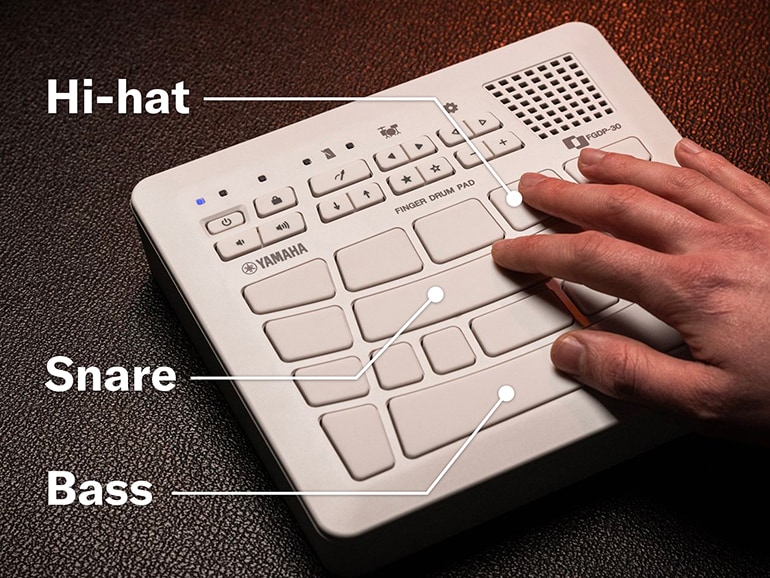 OPTIMISED LAYOUT
Introducing a distinctive Pad layout meticulously designed for optimal finger drumming by prioritizing ergonomic comfort.
With the FGDP, you have the freedom to assign Voices to Pads according to your creative vision, but at Yamaha, we recommend the 3-finger style. Harness the power of your thumb for the kick drum, rely on the enduring middle finger for precise hi-hat control, and let your dexterous index finger bring to life the delicate nuances and intricate phrases of the snare.
The home position enables you to effortlessly execute fundamental rhythms, like 8th notes using just one hand. You can use your other hand to play on the other symmetrically laid out pads to unleash captivating back beats in 16th note or double kick styles.
Equipped with an ample number of Pads perfectly suited for finger drumming, the FGDP empowers you to deliver your finest performances, setting itself apart from conventional Samplers and MIDI Pads.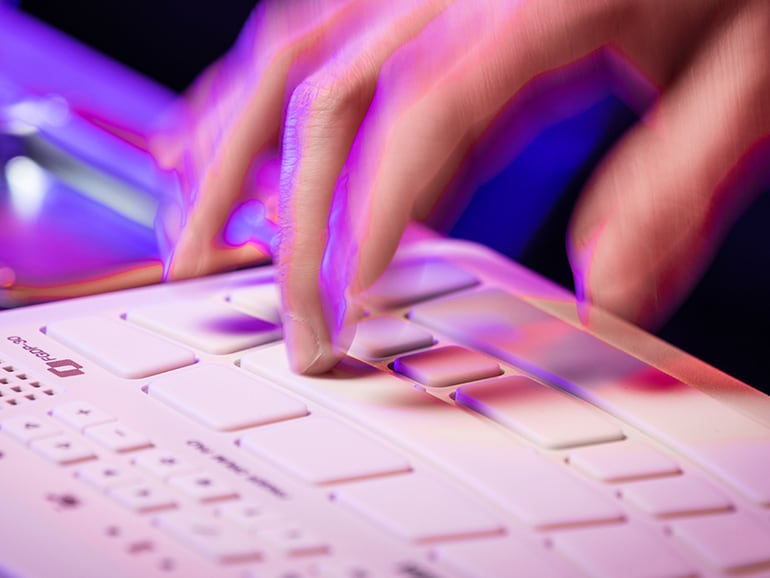 EXPRESSIVE PRECISION
Featuring cutting-edge Pads designed to capture every subtle nuance, the FGDP ensures that no detail goes unnoticed. With the powerful combination of the internal Tone Generator, you can deliver delicate performances encompassing ghost notes, impactful accents, flams, and lightning-fast rolls. Moreover, the Pads support Aftertouch, enabling unique drumming techniques such as cymbal choking by applying pressure to a Pad while holding it pressed. With the FGDP, your drumming possibilities are limitless.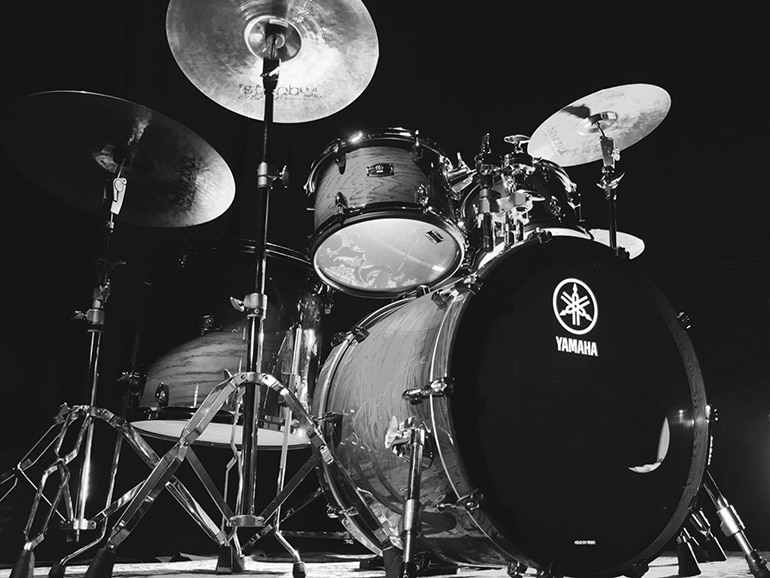 THE GREAT DRUM SOUNDS
The FGDP is a powerhouse that combines a diverse selection of Samples sourced from beloved acoustic drums favored by professional drummers. Immerse yourself in the realm of natural, vibrant, and profoundly expressive sounds, tailored by leading drummers for finger drumming perfection. Additionally, indulge in a plethora of expertly curated electronic sounds handpicked by top-flight artists, perfectly suited for club music enthusiasts. Moreover, with the FGDP, you have the freedom to craft your own personalized Kit, selecting from a staggering array of 1,212 sounds. Tweak and refine each drum's character through Tuning, Decay, and the application of Effects, granting you unparalleled versatility within this all-inclusive musical arsenal.
BigBeat Kit
ModernJazz Kit
EDM Red Kit
Gate Kit
Metal Kit
DubStepSun kit
Experience the convenience of finger drumming anywhere with a compact and lightweight instrument, packed with all the essential functions. Enjoy seamless playability from the comfort of your living room to wherever you are on the go.
Hook up the FGDP to your computer or smart device and use your favorite software sound sources with its high-performance Drum Pads, or seamlessly record to a DAW. Enhance your recording experience by using Yamaha's Rec'n'Share App, allowing you to effortlessly capture high-quality performance videos with superior audio quality and share them on your social media.
More performances by artists
Simon Raschen
Tim Kroker
Wout
Tobias Mertens
Dirk Erchinger
Christian Delgado
Chloe Martini
Max D'Ambra
Bitcrvsh
The FGDP-30 is a dedicated finger drum instrument with a built-in Tone Generator and speaker. It is a standard model of the FGDP series that is rechargeable and allows you to enjoy playing drums anytime, anywhere.
Ultra-sensitive Pads in an optimized layout
39 Preset Kits and 1,212 Voices (instruments)
USB MIDI/Audio
Built-in speaker
Rechargeable battery
AUX In
Easy UI and Voice Guide
Two Registration buttons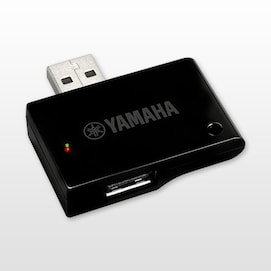 Bluetooth wireless MIDI adaptor for connecting instruments with a USB TO HOST terminal to your iOS devices (iPhone/iPad/iPod touch) or Mac
The colours and finishes shown may vary from those on the actual products.