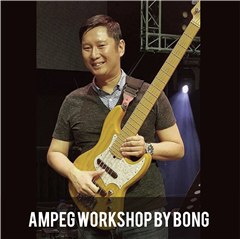 Calling all bass enthusiasts! We are proud to present our Ampeg workshop, conducted by veteran bass guitarist, Ignatius Bong.
Since the birth of Ampeg 50 years ago, it has been a giant name in the bass amplifier industry, and it has every right to be. Producing world class amps & cabinets and defining the bass sound of a generation would only be the tip of the iceberg behind the brand which is Ampeg. In this workshop, session musician Ignatius Bong who has recorded and toured with numerous artists such as Stephanie Sun & Amei, will be demonstrating the quality & reliability of some of Ampeg's most newest and most successful products.
We look forward to seeing you for the workshop on the 15th June, 3pm at our Plaza Singapura Beatspot showroom!