Yamaha Electone's 60th Anniversary Special Collaboration Performances 
Yamaha Electone's 60th Anniversary Special Collaboration Performances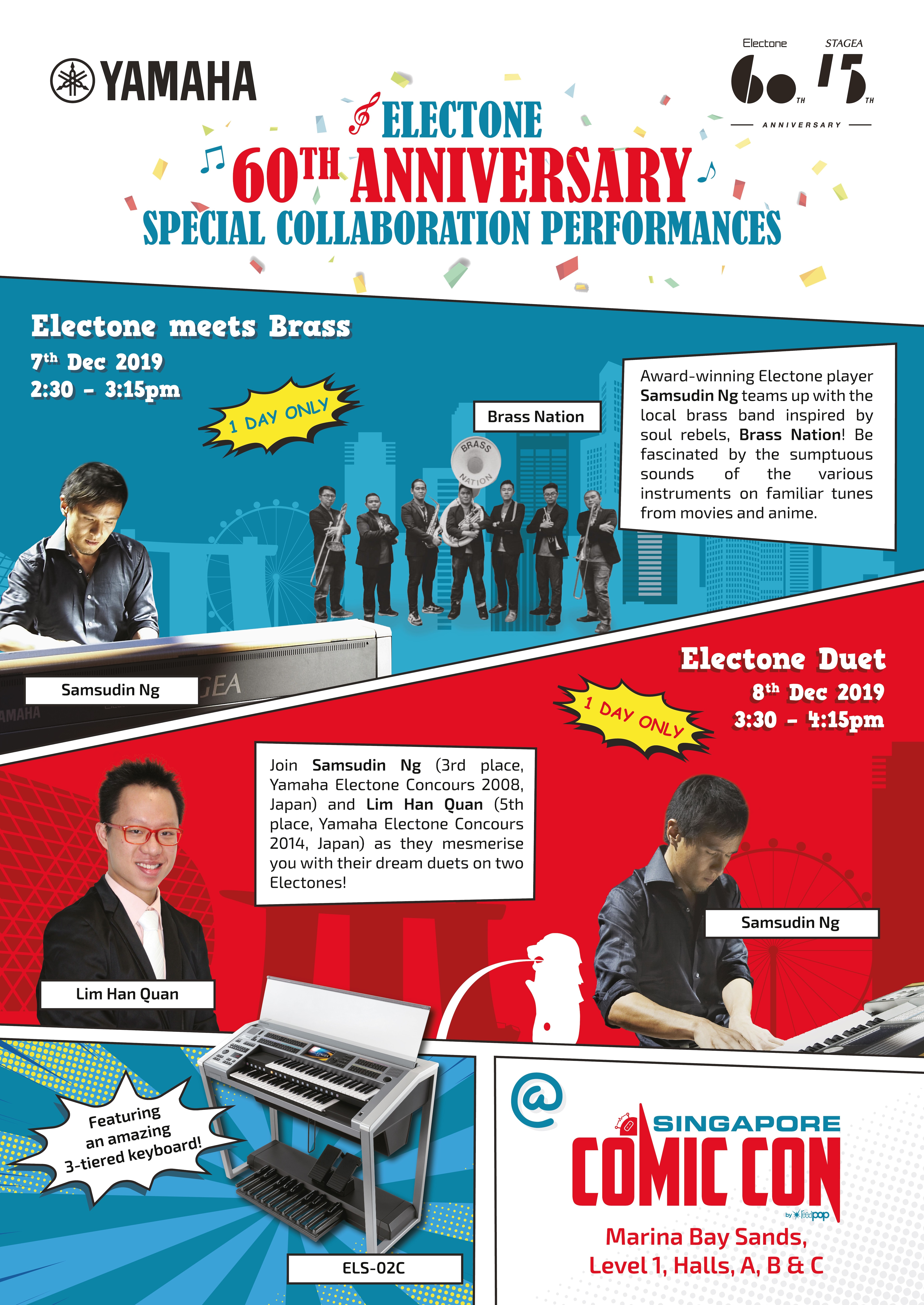 Celebrating Yamaha Electone's 60th anniversary, Yamaha has tied up with Singapore Comic Con, to do special collaboration performances. On 7th Dec, the electone player Samsudin Ng teamed up with Brass Nation will fascinate the audience with sumptuous sounds of various instruments on familiar tunes from movies and anime. On 8th Dec, electone players including Han Quan Lim and Samsudin Ng will have a dream duet on 2 electones. Do not miss out on this opportunity to witness the electone collaboration performances of the year!
Fee: 1-Day Solo for Comic Con $21
Get Tickets: https://www.singaporecomiccon.com/en-gb.html
Enter to WIN!
We are giving away 5 pairs of 1-day solo Comic Con ticket to 5 LUCKY WINNERS to watch our special collaboration performances
Complete these steps to enter!
3. Leave your comments below to tell us the model name of Yamaha's First electone* & let us know why you should win the ticket!
4. Tag a friend
*Hint: Watch the video below to find out the answer!
Contest ends on 21st November! Good luck!
Terms and Conditions
- One entry will be accepted per participant.
- Any attempt to submit additional entries on either platform using multiple identities, social media accounts or other means is grounds for disqualification.
- All participants are required to complete all the steps mentioned above.
- Yamaha is not responsible for late, lost or illegible entries.
- Facebook is not sponsors of or affiliated in any way with, this 'Ticket Giveaway' campaign
- Contest Eligibility only valid from 14th November 2019 - 21th November 2019
- Only 5 winners will be selected.
- Each winner will be entitled to a pair of tickets.
- Winners will be announced on Yamaha Music Singapore Facebook Page (@YamahaMusic.sg) on 22 November 2019.
- Winners will be notified in the post comments or/and by direct message via Facebook.
- Each potential winner must respond to Yamaha's notification within 3 days or potential winner may be disqualified, and his/her prize may be awarded to an alternate winner.
- If any prize notification is unclaimed, unanswered, or returned as undeliverable, or in the event of non-compliance with the terms and conditions, the prize will be forfeited and may be awarded to an alternate winner.
- Winners will be given promo codes for each tickets.
- Each promo code entitles you to only 1 x Singapore Comic Con (SGCC) 1-Day Solo Ticket
- Each promo can only be used once.
- This promo code cannot be exchanged nor refunded for cash.
- This promo code will expire by 2359hrs on 6 December 2019.
Yamaha Electone's 60th Anniversary Special Collaboration Performances