Yamaha Music School has been in Singapore since the 1960s. Through the decades, our dedicated team of instructors strived to nurture the musicality of our students and instill the joy of creating and sharing music so that they develop a lifelong love for music. Some of our students and even parents are here to share with us their experience of the Yamaha Music Education System (YMES).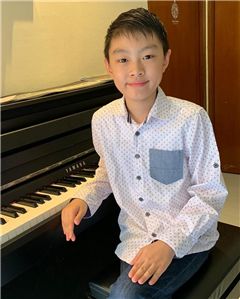 Hann Tham
Hann Tham is a student of Yamaha Advanced Ensemble Course, at Music Act Hougang Green.
Father Mr. Tham shares:
I enjoy music and play the piano in my free time. I wanted Hann to be able to play and enjoy music like me. I enrolled Hann in Yamaha's music courses because the curriculum offers an all-rounded approach to learning music. At an early age, Hann learned to sing in solfege and was exposed to attractive children's songs. I observed on several occasions that Hann experimented playing repertoire with various instrumentation on his instrument -the Yamaha Clavinova. I realised Hann had cultivated a curiosity in music thanks to Yamaha's curriculum and teaching methods. Besides sight playing, Hann also learns to play by ear, learns to harmonise and create accompaniment. Sometimes he shows interesting variations. These are valuable music skills to enable him to play back almost any song that he hears.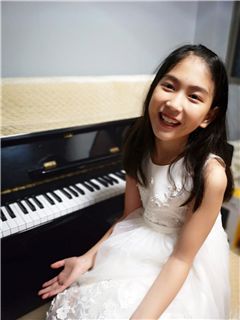 Vivian Wong
Vivian Wang is a student of Yamaha Junior Ensemble Course at Music Act, Hougang Green. Mum Mrs Wang tells us that Vivian started with Yamaha since she was 5 years old. She enjoys the happy group class environment, the selection of Repertoire pieces and the Ensemble playing activities.
Vivian has developed strong musicality through the lessons, and she has made many good friends! Her favourite subject is Accompaniment, where she listens to the melody played by teacher, then provide an accompaniment for the melody. As her auditory skill is sharpened, Vivian is also able to figure out the melody played by her teacher almost instantly!
In 2019, Vivian celebrated her success in achieving the Yamaha Grade 9 Piano Certificate. This has boosted her motivation to improve further in music.

Ella Ong
7 year old Ella Ong learns music at Yamaha Music School @ Thomson Plaza. Mum, Mrs. Ong tells us:
Ella loves music and her lessons at Yamaha have been so rewarding. She is developing musically in a wholesome and systematic way with Yamaha's group class curriculum. With training for listening, singing, individual playing, ensemble playing and reading, Ella is provided with a good foundation. Now, Ella has eased into picking up cadences, harmonizing, doing variations, understanding music structures and more as she continues to grow at Yamaha.
It's a joy to see Ella having fun in her musical journey. Thank you Yamaha for making it possible for the little ones!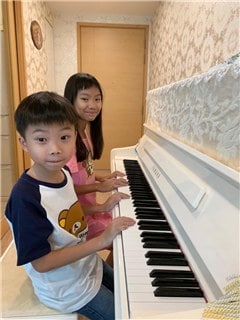 Jazzlyn and Kyan Tang
Siblings Jazzlyn and Kyan are students of Yamaha @ Frontier Community Centre branch. Mr and Mrs Tang have this to share:
Music brings people together, and group lessons allow our children Jazzlyn and Kyan to interact, bond and make music with their friends. We've enjoyed all their performances, and ensemble playing is always a highlight.
Both have grown in their passion, perseverance and self-confidence. Whether it's repertoire by famous composers or creating her own compositions, Jazzlyn is equally passionate. Kyan has become more confident playing before an audience, thanks to dedicated and encouraging teachers. At home, we see them applying their abilities to play by ear and improvise. We see their joy in learning music and we love it.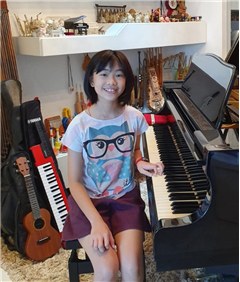 Wynne Er
I like the way Yamaha music courses are structured to grow children's musical abilities holistically, in listening, singing, and playing. Making music as a group also makes it more fun and attractive to young children, and it helps in encouraging better social interactions too. In general, I think the Yamaha music curriculum is successful in engaging young people and sustaining their interest in music.
Wynne has grown a lot in her ability to appreciate, create, and perform music over the years. Through class performances and competitions (Yamaha Electone Festival), Wynne has also built confidence and developed self-esteem. She exhibited grit while working hard together with her course mates to prepare for competitions. Competition preparations also helped her to refine her technique and expressivity.

Chloe Tay
The music courses are well structured and progressively challenging, allowing the child to enjoy playing music with minimal stress while improving in their technical skills.
Chloe has grown from just tinkering on the keyboard to being attuned to pitch discrepancies. She is able to play technically difficult repertoire and her sight reading is getting better as well.
She enjoys the music pieces and it's great to have ensemble music so she can also play together with their friends. She looks forward to each lesson and that's what she loves about Yamaha's classes - developing the love and enjoyment for music and opening up windows of joy to her heart and soul.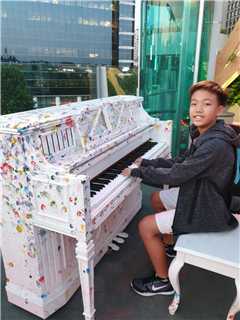 Jerold Ong
Jerold has been with Yamaha since he was 3 years old, where he started with the Music Wonderland program, progressing steadily to the level that he is currently in Advanced Ensemble Course. The program is very structured and complements his learning style perfectly. Having had great teachers also helped him in gaining confidence in believing that he can achieve higher level of difficulty as he progresses.
He is definitely more acute and detailed in his listening and is fast in remembering tunes and songs. Music also helps him relax and calms him down during stressful moments. He is also more proactive in trying out new pieces of music from games he played.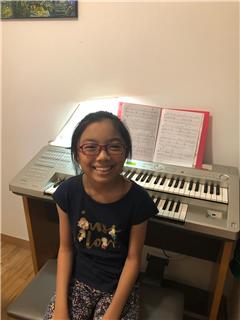 Tan Sing Yu
Sing Yu started her music journey at the age of 3 with Yamaha's Music Wonderland programme and she has been enjoying learning music for 9 years now. The Music Wonderland programme at Yamaha nurtured Sing Yu to appreciate music in a fun and joyous way. As Sing Yu progressed, she is now enrolled for both group and one-to-one lessons. Through the group lessons, Sing Yu learns to play in a group which requires more teamwork and coordination; whereas through the one-to-one lessons, she spends more time to focus on her skills through playing more challenging pieces. All in all, I find that YAMAHA music programmes are well-designed which not only sustain the learner's interests for music but also encourages learners to progress and excel.
Sing Yu is a fairly shy girl, music is one of the avenues to express herself. She is very lucky to have a very dedicated teacher at Yamaha who knows her strengths and weaknesses, and most importantly, motivates her to do her best. Sing Yu and her friends have now taken part in the Yamaha ELECTONE Festival for the past 3 years. And this year, Sing Yu has also joined the Junior 2 section solo competition at the Yamaha ELECTONE Festival for the first time. Sing Yu is very fortunate to have all these exposures, friends and teacher to add more fun and fond memories to her music learning journey. She has grown from a rather reliant to a more independent and disciplined learner through these experiences.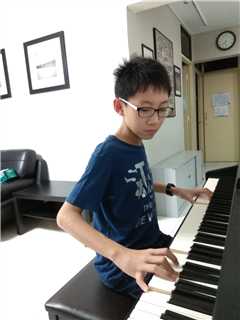 Calix
Yamaha Music School provides a conducive environment for Calix to exercise and develop his aptitude for music. The teachers are supportive and provide encouragement whenever he has his doubts. I am particularly fond of the JMC where parents attend the lessons with the kids. These sessions facilitate both a good opportunity for bonding as well as my own understanding of my child's education.
Calix finds joy and satisfaction in exploring pieces for his own enjoyment or a new challenge. Music doubly serves as a great source of stress relief and character building for him. We look forward to what lies ahead.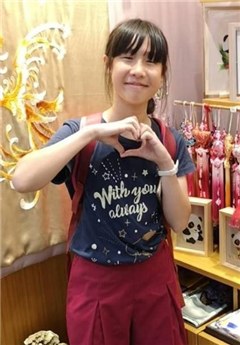 Lucie Jean Chai
Lucie has been a Yamaha student for 7 years, enjoying learning chord progressions, playing repertoire pieces such as The Entertainer, and composing her own music. The unique Yamaha curriculum has enabled her to play by ear, harmonise and appreciate different genres of music.
Group class doubles the fun as ensemble playing and singing together can't be done in an individual class.
Thanks to the Yamaha Education System, Lucie is a confident and happy music maker today!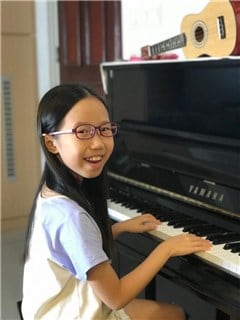 Ng Yu Thung
Yu Thung started lessons in Yamaha Junior Course and has progressed to Junior Ensemble Course. She loves playing on the piano at home. Through the effective lessons with teacher Vera, Yu Thung enjoys expressing her feelings with music. She plays her favourite pieces by reading scores and watching videos by herself. Yamaha's comprehensive education is really good for ear-training. The curriculum has also enabled her to compose - this creativity will definitely help her musicality grow even more.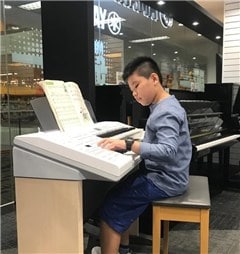 Toh Qiheng
Yamaha courses have developed my child's musicianship progressively through its effective and comprehensive curriculum. Besides singing, listening, playing and reading, Qiheng can improvise. He has developed his own Improvisation style. Besides the ability to play musically and rhythmically, he can easily play back a song he likes through his listening ability.
Learning music with classmates, and working on ensembles is fun and enjoyable.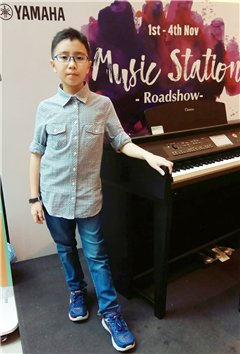 Isaac Lai
Yamaha's comprehensive programme introduced Isaac to music from age of 3. Over the 9 years, because of the strong foundation, Isaac's musical ability and aptitude have been enhanced. Isaac looks forward to his enjoyable 'Advanced Ensemble Course' lessons. He feels that the lesson time with his friends goes by too quickly. We appreciate the effort of the dedicated Yamaha teachers who nurtured and continue to motivate him.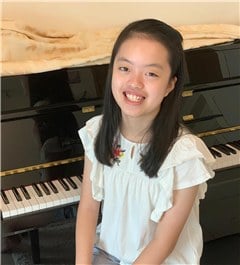 Oh Le Xin Chara
Music courses at Yamaha are well structured and progressive, with consideration to the age and development of the children. Since Music Wonderland, Chara has grown musically through the appreciation and practical playing of the music pieces. Special thanks to her teachers in Yamaha, Chara is now able to practice independently and the self-discipline which was instilled during the group lessons in Yamaha, has also translated to her studies in school.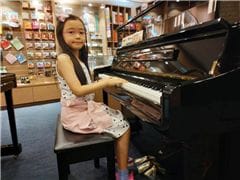 Phoebe Tee Le Xuan
Yamaha music course has given Phoebe good exposure to music from appreciation, singing, solfege, rhythm, chords to group dynamics. Over the years, we see deepening of passion for music in her. Music has since been part of her and she finds joy in expressing herself through playing musical instruments, singing and dancing.
It's been a rewarding journey as parents that we could celebrate with an overjoyed learner for every new musical ability and milestone she made throughout the course thus far.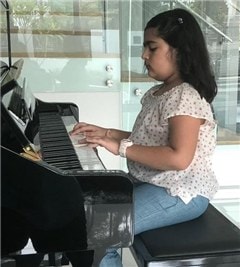 Natasha Nasya Gandhi
Natasha started off in the Music Wonderland Course. Over the years, her love & passion for music has grown. I too studied music as a child following a syllabus from another Examination Board, however, I have been most impressed with Yamaha. The group classes are so engaging and are led by extremely experienced teachers who aim to bring out the best in every child at a pace which they can manage.
Personally I feel that learning how to play selected pieces and scales can be taught in any music school, however, Yamaha goes well beyond this. The child is trained at a very young age to develop their 'musical ears', taking the entire musical journey to a whole new level. Natasha looks forward to her classes immensely and is becoming more focused & independent during her home practices. Thank you Yamaha for ensuring that my child will have an appreciation for all genres of music for many, many more years to come.