Dante Certification Level 1 & 2 Training – Singapore
Dante Certification Level 1 & 2 Training – Singapore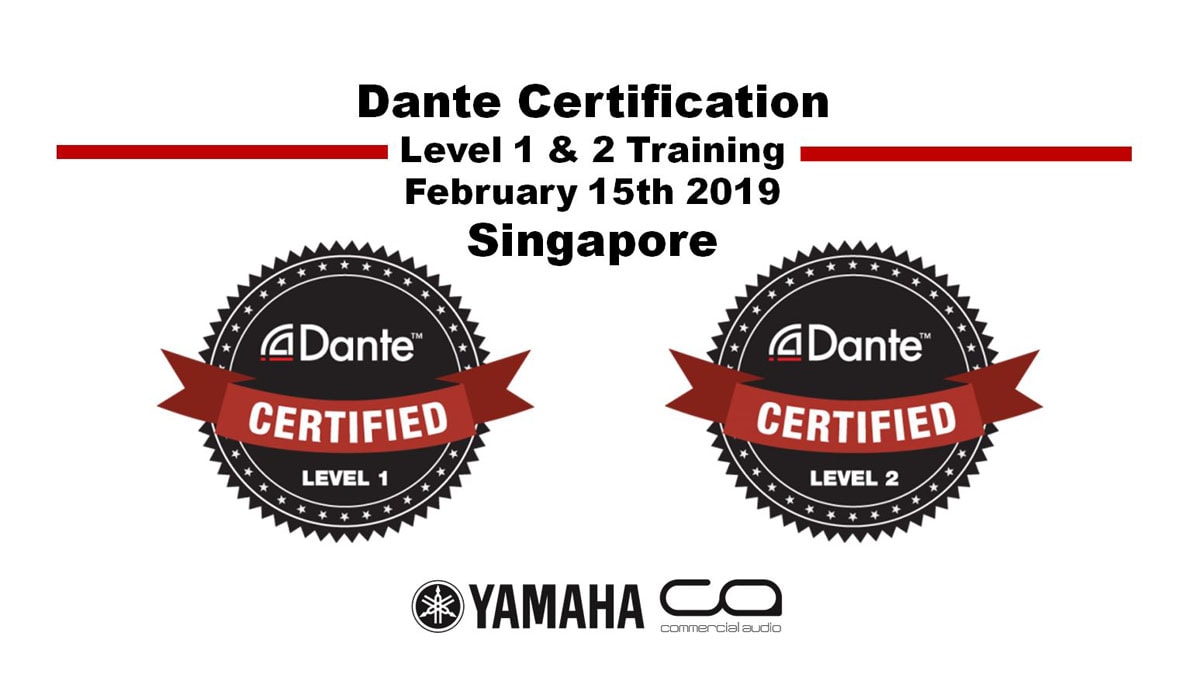 Dante Certification Level 1 & 2 Training – Singapore
On 15th February 2019 (Friday), Yamaha will be hosting Dante Certification training at Yamaha-Digital Audio Creative Centre in Singapore.

15th February 2019 session covers Level 1 & 2 Dante Certification (beginner and intermediate) training with session on Yamaha gears.

Due to limited seats, please register early to avoid disappointment.

LATEST UPDATE: Due to very good response, 15th February 2019 training is fully registered. We are only taking registration as interest for next available Dante Level 1 & 2 certification training which we will notify to your registered email address.
About Dante Certification
The Dante Certification program provides an easy way for system designers, engineers and others in the industry to learn about Dante with in-depth training and promote their expertise. The certification program demonstrates your Dante proficiency to potential employers and clients.
Who should attend?
Audio Engineers
Audio Visual Engineers
System Technicians
System Designers
System Integrators
Production Managers
Facility Managers
Date: 15th February 2019
Time: 10:00 am - 4:30 pm (sign-in begins at 9.00 am)
Lunch Break: 12:30 pm - 1:30 pm
Cost: Free
Location: Yamaha-Digital Audio Creative Centre (Y-DACC)
Yamaha Music (Asia) Private Limited
Block 202 #02-00
Hougang Street 21
Singapore 530202
Level 1 Dante Certification
Level 1 Dante Certification Training is an introductory course for users who are new to networking. This session provides a foundation in audio and networking concepts and may be all that is required to assemble and operate a small, stand-alone Dante audio system. It is designed to provide a useful background in audio networking for audio professionals, and does not assume any previous background in computer networking. To complete Level 1 Certification, an online test must be passed after completing this course.
Course Topics
Digital Audio Basics

IP Networking Basics

Introduction to Dante Networking

System and usage of Dante Network

Level 2 Dante Certification
Level 2 Dante Certification is an intermediate course designed for intermediate to advanced Dante users, and should only be taken once Level 1 has been completed. To complete Level 2 Certification, you must pass an online skills test and knowledge test.
Course Topics
Switch Features

Clocking Options in Dante

Understanding Latency on Networks

Creating back up devices on Dante names

Dante Redundancy

Dante Virtual Soundcard (DVS)

Dante Via

Hands-On Session
Yamaha-Dante Systems and Configuration

Yamaha SWP1 switch and features

Registration
To register for both the Dante training courses outlined above, please RSVP

* 15th February 2019 training is fully registered. We are only taking registration as interest for next available Dante Level 1 & 2 certification training which we will notify to your registered email address.

For training details, please contact:
joseph.foo@music.yamaha.com
chen.jinfu@music.yamaha.com
aloysius.chow@music.yamaha.com
To be certified, please logon with your Audinate account or to create an account with Audinate.

https://www.audinate.com/user/login
Dante Certification Level 1 & 2 Training – Singapore