Easy QLab Control with Python Templates for CL/QL/TF Consoles
Easy QLab Control with Python Templates for CL/QL/TF Consoles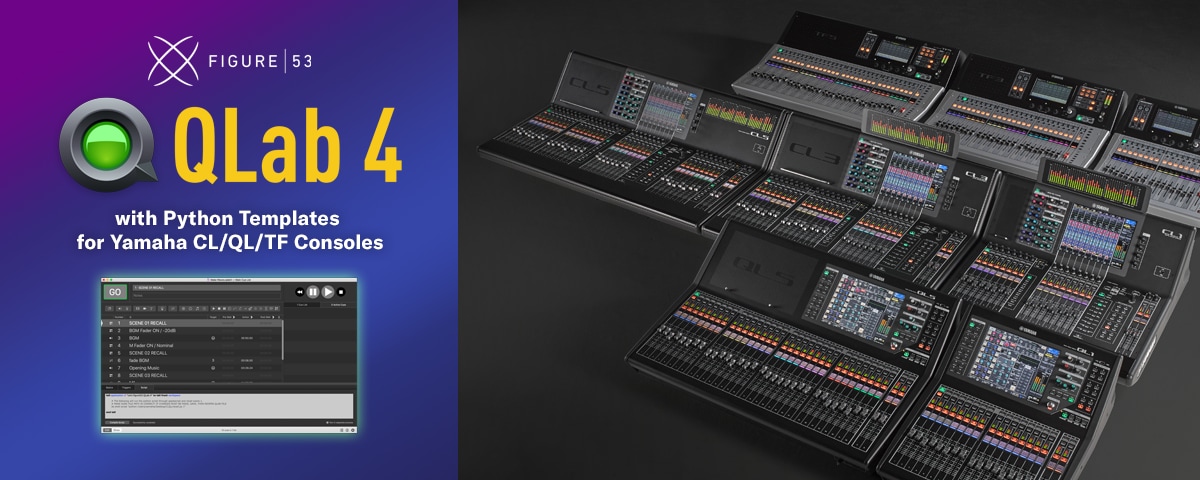 June 11, 2019. Shizuoka, Japan. – Yamaha announces the release of Python script templates that facilitate external control of CL, QL, and TF series digital mixing consoles. CL, QL, and TF series consoles are already established as top choices for live sound, hall, theater, broadcast, and other applications. Remote control capability added by this release will expand their versatility and convenience even further.
Python is a general-purpose programming language that has been specifically designed for easy coding and broad applicability. With this release, Python script templates for the CL, QL, and TF series consoles make it possible to remotely control scene recall, fader operation, and channel on/off switching. The user can easily rewrite the control parameters to provide control of any specific scene and channel.
QLab show control software from Figure 53 supports running external scripts, and with the newly released Yamaha templates will provide easy control of CL, QL, and TF series console scenes, faders, and more. These Python script templates will be a huge asset for musicals and other theatrical productions that use QLab for control.
According to Chris Ashworth, CEO of Figure 53, "QLab has always been about the marriage of the technical and the artistic. We built this software because we wanted to make it easier for artists around the world to make live shows, and we're thrilled that this integration with Yamaha consoles will further that mission."
Yoshi Tsugawa, Senior General Manager of Yamaha Audio Business Division, comments: "Show control is an increasingly important element in systems designed to support theater production. By providing operability with QLab show control software from Figure 53, we are able to deliver new value and potential to Yamaha digital mixing console users."
Easy QLab Control with Python Templates for CL/QL/TF Consoles