InstaOrange Video Contest
InstaOrange Video Contest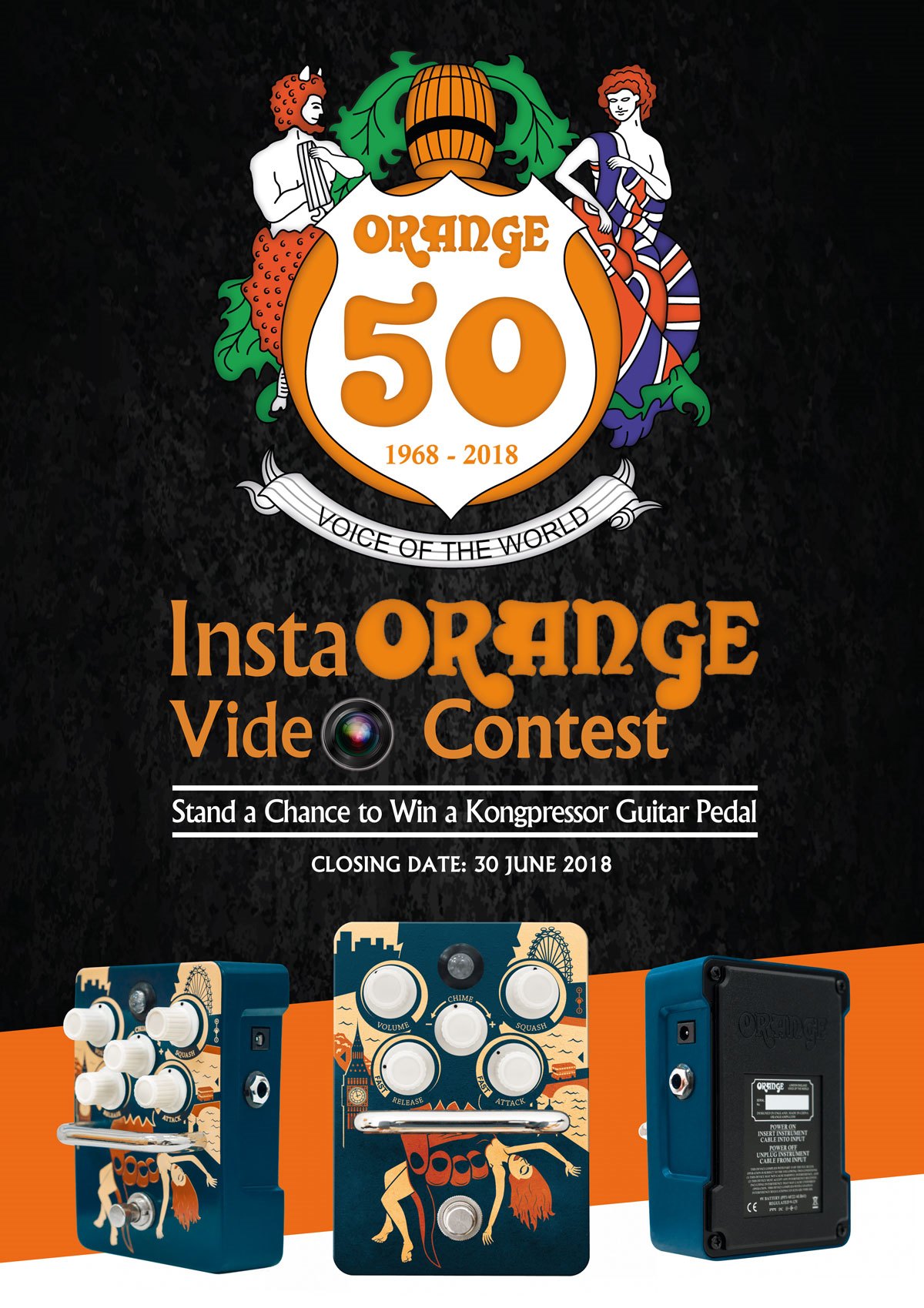 Contest Summary : Orange Amplification is celebrating its 50th anniversary this year! We'd like to invite everyone to celebrate this momentous occasion by being part of our "InstaOrange" Video Contest!
Simply record and upload a video on Instagram of yourself playing through any Orange Amplifier and stand a chance to win a Kongpressor guitar pedal worth almost $200!
Contests shall run strictly in accordance with the stipulated timeframe as stated in the Contest Details.
Contests are only open to all legal residents of Singapore.
YMAsia reserves the right, at any time, to verify the validity of entries and entrants and to disqualify any entry not submitted in accordance with these Terms or which tampers with the entry process.
Entries are to be submitted on Instagram via a video of at least 45secs induration. Entrants must be playing through an Orange Amplifier. The Amplifier must be seen clearly in the video.
Entries received after the Closing Date will be disqualified.
Entrants may submit only one entry with one Instagram account. In the event of repeat submissions, duplicates will be removed except for one.
Only entries from individuals will be accepted. Any entry that YMAsia believes has been made (a) via participation in a syndicate, (b) via any form of machine-assisted intervention enabling computer generated multiple entries or (c) multiple entries by an individual using multiple Instagram accounts, will be disqualified.
In the event that YMAsia cannot for any reason obtain the Winner's acknowledgement within 36 hours of first attempting to do so, YMAsia reserves the right to select an alternative Winner at YMAsia's sole discretion.
YMAsia reserves the right to select an alternative Winner at any time, where YMAsia has reasonable grounds for believing that the initially selected Winner has contravened any of these Terms. Any alternative Winner will be selected applying the same criteria as that used to select the original Winner.
The Prize is as stated and is non-transferable and not-for-sale. No cash alternatives will be offered. If due to circumstances beyond the YMAsia's control, inability to provide the stated Prize or any part thereof, YMAsia reserves the right to substitute the prize with an item of equal or greater value, to be determined at the YMAsia's sole discretion.
A Prize may be subject to the additional terms and conditions of the prize supplier. More details on the collection of the Prize will be given to the Winner at a later stage.
Acceptance of the Prize shall constitute consent on the Winner's part to allow the use of the Winner's entry, names, images, video footage, voices and/or likeness by YMAsia for editorial, advertising, promotional, marketing and/or other purposes, without further compensation, in any media for an unlimited period of time, except where prohibited by law.
YMAsia shall not be held liable for (i) any delay in performing or partial or total failure to perform any of their obligations to the Winners under these Terms if such delay or failure is caused by circumstances beyond the reasonable control of YMAsia, its respective divisions, affiliates, authorized agents, suppliers of the Prize, including without limitation delays, changes, disruptions, cancellations, diversions or substitutions howsoever caused.
YMAsia reserve the right to terminate the Contest or to modify the Contest rules and Terms prior to the Closing Date by amending the rules and Terms hereof at its sole and absolute discretion. Any such modifications shall be notified via the Contest Website, and such modifications shall be immediately effective and apply to all entries, including entries that have been submitted to YMAsia.
This Contest is in no way sponsored, endorsed or administered by, or associated with, Facebook. You are providing your information to YMAsia and not to Facebook. The information you provide will be used for this Contest only and will not be shared with any other party outside YMAsia and will not be used for other purposes in future dealings with YMAsia.
InstaOrange Video Contest