Ethan was one of the 8 soloists at SJOC 2018. Here is the chat we had with Ethan and mum, Mrs. Chan.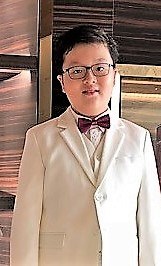 Q1. Ethan, I believe this is your 3rd time performing at SJOC. How did you feel as you played your composition "Winter Escapade"?
A: I am honoured to have my compositions selected for the third time - "Dancing Horses" in 2016, "Spring Whispers" in 2017, and "Winter Escapade" for 2018. As I was playing "Winter Escapade", I was happy to be able to share with the audience how I felt during my winter vacation in Taiwan, and sad at the same time as it made me miss that winter holiday.
Q2. Mrs Chan, how does Ethan manage balancing school work and practices for music lessons?
A: We realised that Ethan has a natural inclination towards music when he was still very young as he would watch orchestra performances on TV rather than 'kiddy' shows. Music became a passion for him as he was growing up and I guess it is this passion for music that keeps him motivated despite the heavy academic and non-academic workload. As with all kids, he also tends to be lazy at times, so I do have to remind him to practise, especially before events such as the SJOC, Electone Festival and ABRSM exams.
Q3. I understand you have another child in a Yamaha Music Course. Could you share your opinion about the Yamaha music program please?
A: Both Ethan and Evan joined the Yamaha music program at a young age, starting with Music Wonderland. Ethan is currently in the Senior Advanced Course while Evan is in the Yamaha Junior Course. Both of them are loving their music journeys. The Yamaha music program and the experienced teachers make learning music fun for children, which is important as children, especially the younger ones, are easily distracted. The program is not only holistic and multifaceted in nature, as it covers the various broad aspects of music such as singing, rhythmic movement and playing on instruments. The programs are well-structured, so you know your child is surely making progress.
Q4. What advice would you give to other parents who are keen to nurture and sustain their children's interest in music?
A: Having seen my 2 kids develop musically in the Yamaha courses, I would strongly encourage other parents to consider enrolling their children in the Yamaha music program, as it can really help children to develop and sustain their interest in music. This is important, especially in Singapore where the education system is generally acknowledged as being quite stressful, and music can be a source of relaxation and temporary relief for a child.