The Electone Festival Experience
The Electone Festival Experience
The Electone Festival (EF) 2018 Heats was held on 22nd April 2018, at NAFA Lee Foundation Theatre. The successful performances were results of many practice hours put in by both teachers and students.
A student at Music Act (Choa Chu Kang), 16-year-old Matthew Seah Hong Li was one of those who participated in Electone Festival (EF) 2018. He shared with us his learning experience at the EF.
Music Director: How long have you been learning with Mdm. Wooh?
Matthew: I started playing the Electone since I was 4 years old, and enrolled under the Music Act. When I was Primary 6, I started learning with Mdm. Wooh. So, it's been approximately 6 years.
Music Director: What made you decide to participate in EF 2018?
Matthew: I decided to take part in this year's Electone Festival in order to gain more stage experience, and also to use this opportunity to broaden my perspective of different arranging styles. 2 years ago was my 1st time in EF, this is my second time.
Music Director: How was the experience?
Matthew: It was rather nerve-wrecking just before I stepped onto the stage. However, after sitting in front of the Electone, I momentarily forgot all the anxiety I had beforehand, and managed to only focus on doing my best. It was also a great learning experience to see the techniques and splendid arrangements of the other competitors.
Music Director: Any comments to add?
Matthew: I am glad to have been able to showcase my performing abilities, and will continue to work hard to grow as a musician. I hope to bring out the best of my abilities in the subsequent Electone Festivals.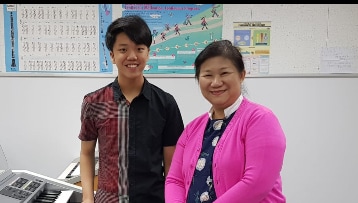 Matthew Seah with his teacher, Mdm. Wooh.
Ms. Diana Tan, an electone teacher, was one of those committed teachers. She encouraged 5 of her students to participate in the EF 2018. These students are currently taking lessons from Ms. Tan at Rivervale CC and Toa Payoh South CC. Cai Min Han, Ng Ling Hui, Jetta Tan, Shriya Pandita and John Tan Zhong He were contenders in the Junior 3 section. In a short informal conversation, Diana and her students shared their experiences.
Music Director: Diana, how did you encourage your 5 students to take part in EF?
Diana: These students have shown good progress in their weekly lessons and I felt they were quite ready for the experience of playing before an audience. This spurred them to work harder and the exposure in EF has benefitted them.
Music Director: [To the students] How do you feel about your debut at EF 2018?
Min Han: The standard of the competition was very high. Some are really naturally good, talented folks, Next time I have to work harder.
Ling Hui: From the performances of the other competitors, I learnt that playing with expression is important.
Jetta: Performing in front of others was a new experience for me.
Shriya: It was a nice learning experience.
John: It was good exposure and meeting the best players provides motivation to perform better next time.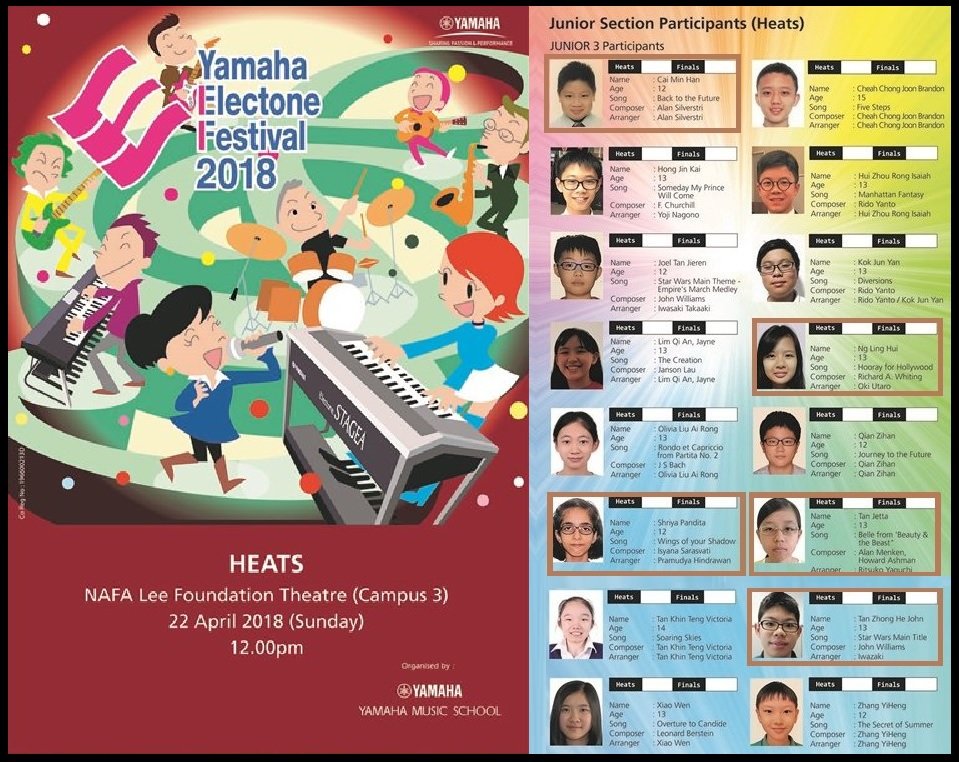 The Electone Festival Experience