Meet Jack Thammarat & the New REVSTAR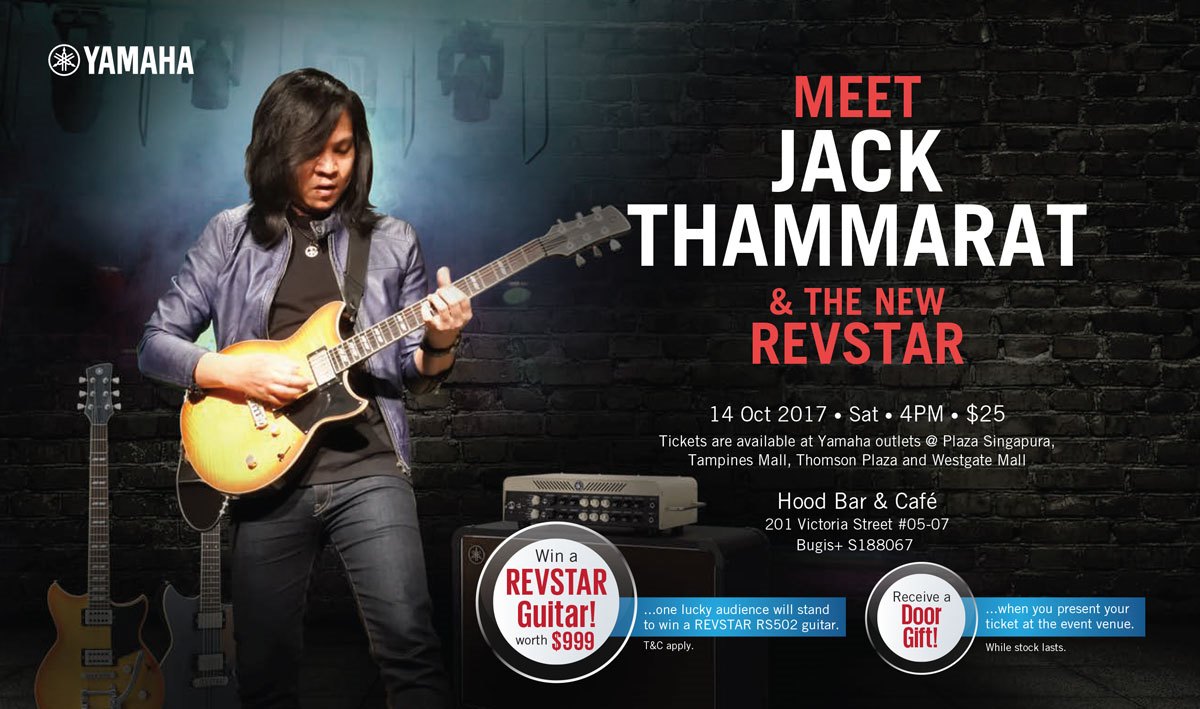 World-class guitarist Jack Thammarat is back to give a performance to remember! Featuring Yamaha's latest lineup of guitars, the REVSTAR series, get ready to experience a whole new sound. Tickets are available at Yamaha Outlets @Plaza Singapura, Tampines Mall, Thomson Plaza and Westgate Mall at $25.
Artist Profile
Jack Thammarat (born December 25, 1979) is a guitarist from Thailand. Best known as the winner of Guitar Idol 2009 competition. He has acknowledged the influence of many guitarists including Pop the Sun, Prart, Joe Satriani, John Petrucci, David Gilmour, Alex Lifeson, Steve Vai, Eric Johnson, Steve Lukather, Gary Moore, Scott Henderson, Robben Ford, Frank Gambale, Greg Howe and more.
He has taught himself to play the instrument since 13 years old. In 1996, Jack took guitar lessons from finger style guitarist, Ajarn Boonchop. He continuously took more advance lessons from famous guitar instructor in Thailand, Ajarn Prart Aroonrangsi and attended Chandrakasem Rajabhat University for studies in music at the same time.
In the university, he played in the band named Icon, the winner of Thailand Yamaha Band alert 1999 and subsequently changed their band name to 'Bean' released their own album in 2000. After leaving 'Bean' in 2003, he moved to perform with various Thai Popular artists. Moreover, he has worked as a studio guitarist, arranger and music composer since 2003 until present.
REVSTAR Profile
The new REVSTAR electric guitar series introduces a new design concept geared to today's style sensibilities and features Yamaha's unique design capabilities in the first major update to the classic Yamaha guitar body shape in over a decade.
The new design is the culmination of three years of development incorporating information from multiple interviews and feedback from professional artists, music industry professionals, and guitar enthusiasts in London, Los Angeles, and Tokyo. The rearticulated design presents advances in design and sound production through a blend of Yamaha-ness with Japanese design sensibilities. The visual concept evokes the classic, stripped-down look of the customized Café Racer motorbikes popular in 1960s London and is specifically engineered to have the warm feel and look of well-used vintage equipment.
The REVSTAR concept combines Yamaha's 50-year legacy of guitar craftsmanship with Japan's heritage of engineering excellence. Meticulous engineering makes the REVSTAR guitar models ideal instruments for musicians performing in a wide range of musical styles.
Terms and Conditions for Lucky Draw
Customer will be entitled to 1 lucky draw chance per ticket.
There will only be 1 winner for the REVSTAR guitar.
All ticket slips must be dropped into the lucky draw box before 4.45pm on the event day.
All ticket holders except for complimentary tickets will be entitled to the lucky draw.
The winner may be required to participate in a photo taking session during the presentation of the lucky draw prize. Pictures may be posted online or showcase in our shop front for display purpose.
Representatives of Yamaha will pick the lucky draw winner from the eligible entries. No correspondence will be entertained about organiser's decision.
Event organiser reserves the right to disqualify any entry that does not meet the terms & conditions of the lucky draw.
Terms and Conditions for Door Gift
Stocks will be subjected to availability on a first come first serve basis.
Each ticket will be entitled to only 1 door gift.
All ticket holders will be entitled to the door gift.