BroadcastAsia2017 is Asia's truly international exhibition that is recognised as THE networking, knowledge and sourcing platform for the pro-audio, film and TV industries. Professionals from around the region will congregate to network, exchange business ideas, gather market information and source for the latest products and solutions.
Yamaha is proud to announce the participation of this year's Broadcast Asia 2017. Join us to experience the Yamaha flagship Rivage PM10 Digital Mixing System, Nuage DAW System & CL Series V4 Digital Mixing Console together with our presenter Mr. Andy Cooper.

Date: 23 May – 25 May 2017, Tuesday – Thursday
Venue: Level 6, Suntec, Singapore
Booth: 6E3-01 (Level 6)
Opening Hours: 23 May – 24 May, 10.30am – 6pm | 25 May, 10.30am – 4pm
Follow us: www.facebook.com/yamahacasingapore


FEATURED PRODUCTS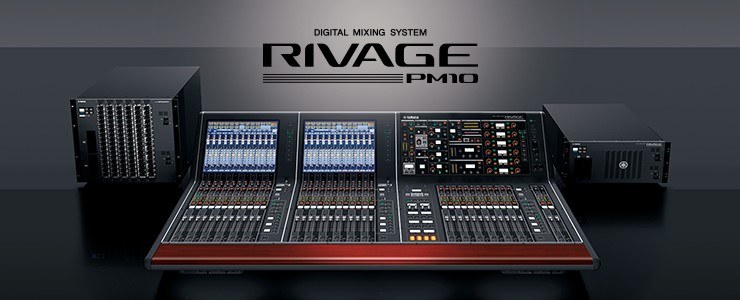 More than ten years have passed since the Yamaha PM1D and PM5D defined the direction for digital live sound consoles. Now it's time for a new flagship that satisfies the significantly increased quality and versatility requirements imposed by today's live sound environment. The RIVAGE PM10 inherits the "DNA" that has made PM series consoles favorites with discerning engineers worldwide, while offering evolved features and performance that define yet another peak for Yamaha live sound consoles.

The RIVAGE PM10 system is comprised of the CS-R10 control surface, DSP-R10 DSP engine, RPio622 I/O rack, three types of RY cards, and two types of HY cards. It can be flexibly configured to ideally match the scale and functional requirements of any application.

"The mixer is the core of any live sound system. Our new flagship RIVAGE PM10 system culminates more than 40 years of PM series history while heralding a new era of extraordinary sound, operation, and reliability. It is an unbeatable choice for the most demanding live sound applications" notes Chihaya "Chick" Hirai, Yamaha ASEAN PA Director / General Manager. "It is also no exaggeration to say that the RIVAGE PM10 system has been made possible by dedicated support and feedback from our customers throughout our long history, plus our passion for creating industry-leading products."

The sound being produced on stage must be accurately captured before it can be effectively processed for the desired creative impact. Hybrid Microphone Preamplifiers have been newly developed in accordance with the fundamental Yamaha sound philosophy. The analog section is totally new, both in terms of components and overall design, achieving extraordinarily pure, natural sound. The digital stage includes impeccable models of the Rupert Neve Designs (RND) transformer circuitry and acclaimed SILK processing, created with original Yamaha VCM (Virtual Circuitry Modeling) technology. The SILK processing feature even includes selectable "RED" and "BLUE" characteristics, and a continuously variable "TEXTURE" knob that facilitate sonic shaping right at the input stage, adding musical sparkle or power as required. Josh Thomas, general manager of Rupert Neve Designs, had this to say about the collaboration: "We have done a number of listening sessions to compare our hardware to the transformer and Silk Texture emulations that Dr. K and the development team achieved. Rupert and I are both very impressed by how closely the emulations get to the original analog designs. We hope that you all enjoy the rich Rupert Neve sound."

The channel EQ and dynamics have been significantly upgraded as well. The input channels feature 4-band full parametric EQ, while the output channels are equipped with 8-band full parametric EQ, with 3 newly developed algorithms plus the classic Yamaha "Legacy" algorithm. The new "Precise" algorithm includes Q parameters on the low and high shelving filters that allow filter overshoot to be flexibly controlled for added musical impact, the "Aggressive" algorithm is designed for the most musical response, and the "Smooth" algorithm offers smooth, natural control while retaining the fundamental character of the source.

Two dynamics stages are provided, each functioning as a gate, compressor, ducker, or de-esser as required. Two compressor types are included: "Legacy Comp" with standard Yamaha digital console compressor characteristics, and "Comp260," a VCM model of a popular analog comp/limiter from the mid 70s. A total of 45 plug-ins are available for creative processing, with substantially increased processing power. Especially noteworthy are new plug-ins born of collaborations with Rupert Neve Designs, TC Electronic, and Eventide.

Collaboration with Rupert Neve Designs has resulted in the "Rupert EQ 773," "Rupert Comp 754," "Rupert EQ 810," and "Rupert Comp 830," all VCM models of Neve designed outboard devices from the 70s and 80s. All four models deliver the gloriously musical vintage outboard sound still favored by many discerning engineers. An alliance with TC Electronic has resulted in the inclusion of two new reverb plug-ins: the "VSS4HD" room simulation reverb that offers a multitude of reflection settings with musical-sounding reverb processing capabilities, and the "NON LIN2" plug-in that can function as an envelope-filtered gate reverb without requiring a trigger. Thomas Lund, CTO of TC Electronic comments: "I wish to congratulate Yamaha for significantly raising the bar for live console design. By directly integrating the world's finest EQ, dynamics, and reverbs, this mixing system is truly outstanding.

Current cooperation with Eventide will produce the "H3000-LIVE" harmonizer, an accurate reproduction of the H3000 Ultra Harmonizer algorithm with an interface streamlined for live sound use. Ray Maxwell, Eventide vice president of sales and marketing add: "We have the utmost respect for Yamaha's deep roots in the music and pro audio equipment industry. The marriage of classic Eventide effects with the state-of-the-art Yamaha RIVAGE PM10 mixing system is a match made in heaven."

Of course operability has been given the attention it deserves too. Yamaha's familiar Selected Channel section is implemented in full, allowing all parameters of the selected channel to be directly and intuitively controlled. There are also two large LCD touch screens that provide logical continuity with the faders below, offering the same operability as the high regarded Centralogic interface in 12-channel groups. In addition to this dual interface hybrid operation style, horseshoe-ring encoder position indicators, refined panel layout, and a number of other details contribute to significantly improve overall operability.

New features extend the usefulness of the scene memory. "Isolate" makes it possible to specify entire channel modules, including EQ and dynamics libraries, etc., that will be protected from recall operations without altering the Recall Safe settings. This will be of great value in situations where scene memory is used heavily. The Overlay filter can be "overlaid" on a current mix to apply temporary offsets to fader and mix/matrix send levels independently from scene recall. The Overlay filter will prove its value in situations that require sudden changes plus the ability to easily revert to the original settings.

The CS-R10 control surface and DSP-R10 DSP engine are connected via a dedicated CAT5e ring "Console Network." The DSP engine connects to the RPio622 I/O racks via the newly developed TWINLANe ring network using multi-mode optical fiber. The fact that both networks use simple ring connections facilitates redundancy and the highest possible reliability.

TWINLANe is an original Yamaha protocol that can handle up to 400 96kHz audio channels over distances of up to 300 meters with low latency and redundancy for high reliability. Up to two DSP-R10 DSP engines and eight RPio622 I/O racks can be connected in a single ring.

Connection to a computer for multitrack recording as well as to CL or QL series consoles and other external equipment can be made via a Dante network. Dante, designed for simple setup with an extremely wide range of professional audio devices, works ideally with TWINLANe to create an exceptionally flexible, reliable system overall. "With the HY144-D Dante card, RIVAGE PM10 can seamlessly connect to several hundreds of Dante products available in the market today, including Yamaha's CL or QL series consoles," Audinate's CEO, Lee Ellison, notes. "Dante connectivity in Yamaha's new flagship console ensures that customers can build highly scalable and flexible systems to meet their needs, today and in the future."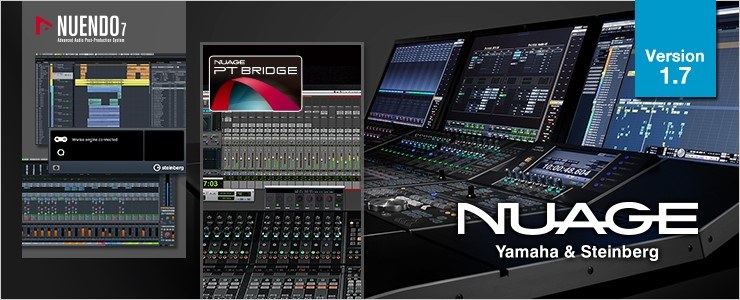 YAMAHA NUAGE DAW SYSTEM
Digital audio workstations, controllers, interfaces: performance that supports and keeps pace with your creative workflow can only be realized when all components work together in perfect harmony. Nuage Advanced Production System brings it all together in a collaboration that defines new standards of quality and efficiency for virtually every aspect of the production process. Yamaha control and interface hardware seamlessly integrates with Steinberg Nuendo and Cubase DAW software in a purpose-built system that offers unprecedented productivity and flexibility as well as premium audio quality. The Nuage Advanced production System is already a highly regarded asset in audio post-production and music production studios around the world, giving discerning engineers the tools they need to turn out top-quality projects every day. For professional post production, music production, and recording applications, Nuage provides an unparalleled union of industry leading hardware and software that will set your creativity free.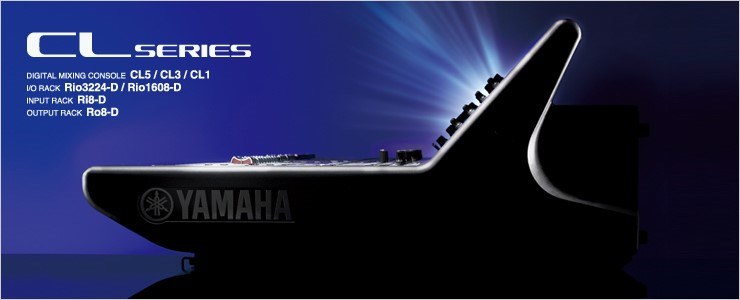 YAMAHA CL SERIES V4 DIGITAL MIXING CONSOLE (BROADCAST FEATURES)
The pursuit of perfection is ongoing and will probably never end, but along the way Yamaha has introduced a number of innovations that have become industry standards offering performance and familiarity that discerning users continue to demand. By definition, "standards" are best kept as they are. With evolutionary refinements, of course.

Yamaha CL series digital mixing consoles represent a new level of refinement. They offer an evolved experience in accessible mixing, plus sonic purity with sound shaping capabilities that will give the most imaginative engineer unprecedented creative freedom. The CL series embodies the leading standards in live sound in their most advanced, most expressive form. In version 4, we have added new "Precise," "Aggressive," and "Smooth" Channel EQ algorithms that is available in the Yamaha flagship RIVAGE PM10 Mixing Console and many more functions added.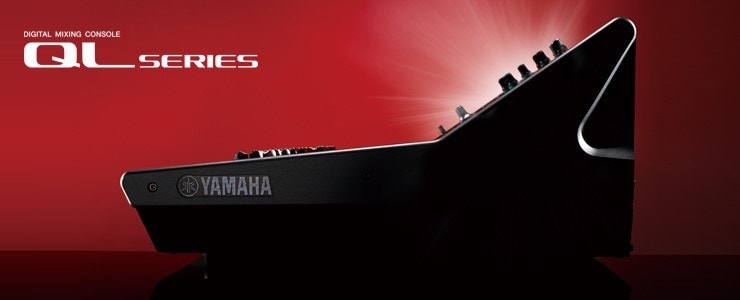 YAMAHA QL SERIES V4 DIGITAL MIXING CONSOLE
The acclaimed CL series raised live digital mixing console performance to an unprecedented level of refinement with evolved sound quality, operability, and functionality, while maintaining the traditional values that have made Yamaha digital mixers industry standards. Core features and performance inherited directly from the CL series, including natural sound supported by sonically superb internal processing capabilities, operation that easily adapts to the demands of just about any working environment, and built-in Dante networking that facilitates flexible system configuration, have now been condensed and concentrated into the compact QL series digital mixing consoles. QL series consoles offer all-in-one mixing, processing, and routing capability for small to medium scale live sound, corporate speech events, installations, and much more. Likewise, for QL series V4 has the mirror function of CL V4.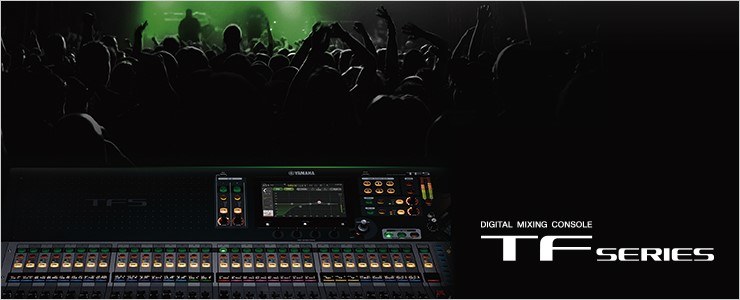 YAMAHA TF SERIES DIGITAL MIXING CONSOLE
Yamaha has always made it a mission to stay in touch with the needs of sound engineers worldwide. The outcome is evident in the success of the recent CL and QL series digital mixing consoles, and the flagship RIVAGE PM10. The key to success has always been in supporting the user's creativity. Creativity is most effective when unrestricted, and now Yamaha has created a new digital mixing console that gives the user's intuition even freer rein. TouchFlow Operation™ introduced in the TF series consoles allows the user to respond to the music and artists on stage with unprecedented speed and freedom, taking live sound reinforcement to a new level of refinement. With the TouchFlow Operation interface optimized for touch panel control, experienced engineers as well as newcomers to the field will find it easier than ever to achieve the ideal mix. Recallable D-PRE™ preamplifiers support sound quality that will satisfy the most discerning professional ears, while advanced live recording features and seamless operation with high-performance I/O racks give these compact digital mixers capabilities that make them outstanding choices for a wide range of applications. Experience the intuitive control and creative freedom that a truly evolved digital console can provide.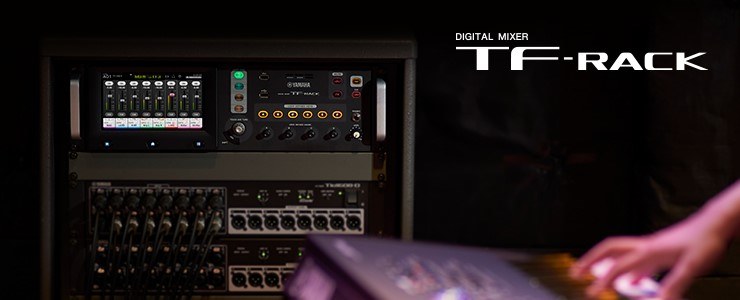 Groundbreaking TF Series TouchFlow Operation™ in Rack-mount Form
TF Series digital mixing consoles released in 2015 offer TouchFlow Operation™ which allows the user to respond to the music and artists on stage with unprecedented speed and freedom, taking live sound reinforcement to a new level of refinement. With the TouchFlow Operation interface optimized for touch panel control, experienced engineers as well as newcomers to the field will find it easier than ever to achieve the ideal mix. Recallable D-PRE™ preamplifiers support sound quality that will satisfy the most discerning professional ears, while advanced live recording features and seamless operation with high-performance I/O racks give these compact digital mixers capabilities that make them outstanding choices for a wide range of applications.

The new TF-RACK is a compact rack-mount version of the TF Series, offering the same levels of performance and groundbreaking operability. This space-saving model is accessible to a wide range of users, from beginners to seasoned engineers. The TF-RACK is an unbeatable choice when smooth, intuitive setup and operation is required in limited spaces.
ABOUT YAMAHA PRO AUDIO

Yamaha Pro Audio is known around the globe as a provider of innovative, top-quality solutions for the sound industry. The Yamaha line-up includes a number of world-standard mixing consoles, signal processors incorporating industry-leading DSP technology, power amplifiers based on energy-efficient drive technology, and an extensive range of speakers suitable for everything from live sound to commercial installations.

Visit http://www.yamahaproaudio.com for the latest news and information.

* Product and company names and logos that appear in this news release are trademarks of their respective owners.