Singapore Representatives At APEF 2017
The 6 Singapore representatives at APEF 2017 are:
Chua Wan Zhi, Kerrie Ann (10 years old) and Tok Min (10 years old) in Junior Section 2,
Tan Khin Swee, Elizabeth (14 years old) and Xiao Wen (13 years old) in Junior Section 3, and
Pualina Lim Mei En (18 years old) and Lim Wee Hun Stephen (37 years old) in Senior Section.
Chua Wan Zhi, Kerrie Ann feels "honoured to represent Singapore" and said that she will do her best at APEF. She is looking forward to "meet new friends" from overseas. Her composition Toyland is inspired by the "witty and moving storyline of Toy Story 2" and depicts the enchantment of toyland.
She enjoys playing the electone because it is "an awesome musical instrument" that allows her to play "various sounds, rhythms and special effects like a full orchestra". Music is her "everyday companion that requires a lot of commitment" and she believes that practice makes perfect. She hopes to be a music educator in future so that she can share the joy of music with everyone.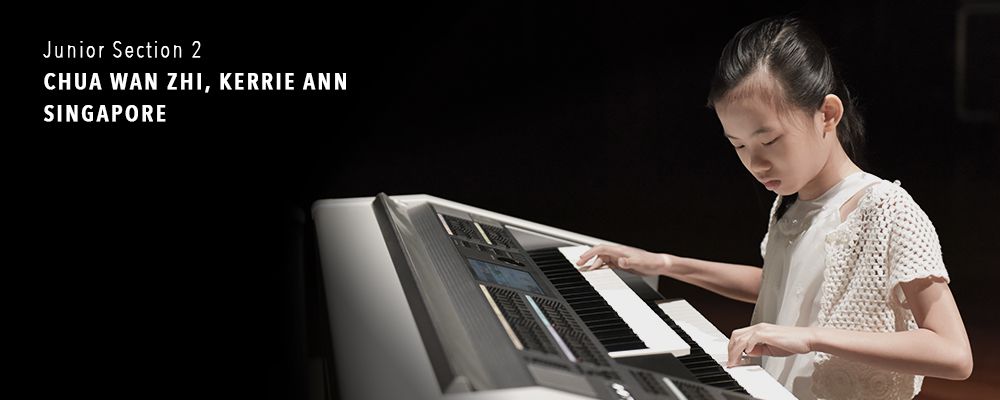 Tok Min is "very happy" to participate in APEF and like Kerrie Ann, she is looking forward to meeting new people from overseas. She composed and arranged her competition piece, Refugees. It is inspired by a news article about the plight of refugees and portrays the refugees' "feelings of anger, sadness, and … some hope".
She likes the electone for the freedom it gives her to express herself through rhythm, tempo and even body movement. Playing the electone trains her to co-ordinate her hands, legs and body movements. She, too, feels that practice makes perfect and thus she "practice[s] a lot at home and sometimes… in school". She hopes to become a composer and musician in future.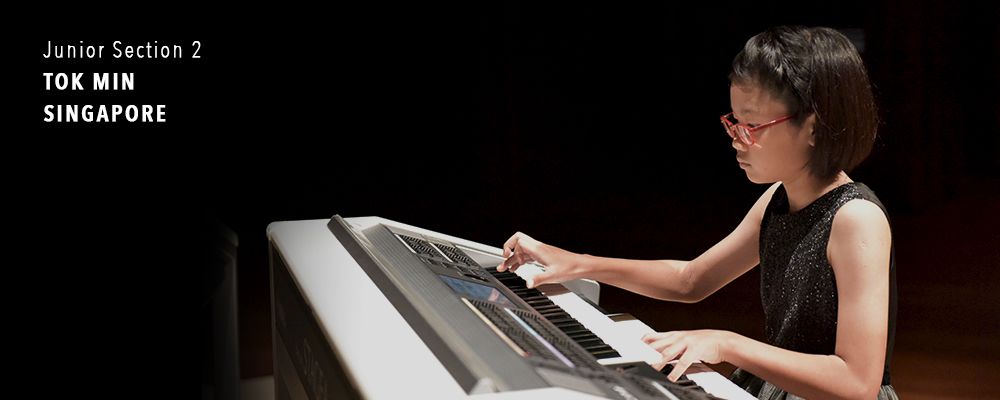 Tan Khin Swee, Elizabeth feels "honoured" to represent Singapore. She will compete with her own composition Tune It On! - "a fast, lively and energetic piece with a consistent moving dance bass" and it "showcases intensive coordination with the quick footwork throughout the whole piece".
She finds the electone very interesting because it can produce all sorts of sounds and even mimic sounds of nature. She reflects that it is her dedication and a good instructor that contributed to her success at the local Electone Festival. She would like to become a game programmer and use her musical skills to compose music for the games in future.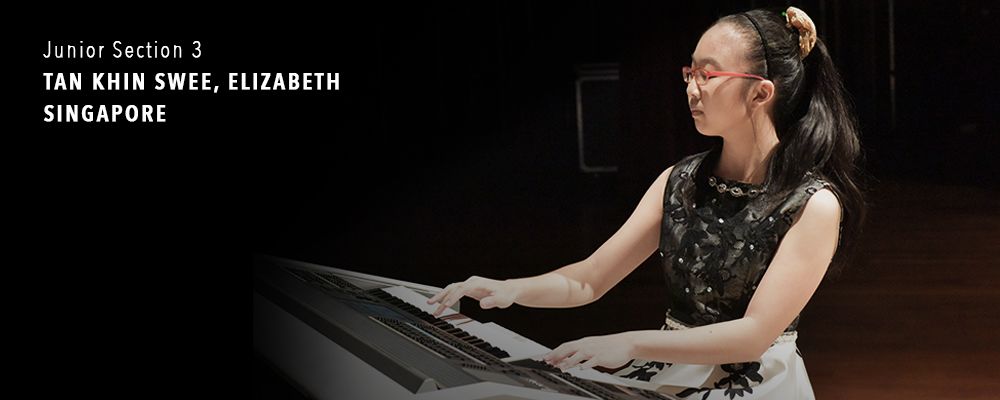 Xiao Wen "did not expect to be chosen for this year's APEF so it is both a surprise and an honour" to be able to represent Singapore at APEF in her home country. She is "extremely happy to be able to meet many people with the same interest" and is looking forward to the event. Her competition piece, A Huntingdon Celebration, is a "celebratory piece that was composed by Philip Sparke" and "its joyous and lively mood is portrayed by the vibrant sounds of the orchestra".
She described the electone as "a wonderful instrument that is able to express almost all kinds of music in its best form" and it makes her feel like she has her own orchestra or pop band. She humbly said that she does not have a recipe for success but she practices hard to build up her confidence. Music has become a part of her life and even though she does not know what she wants to do in future, she is certain that music will always be with her.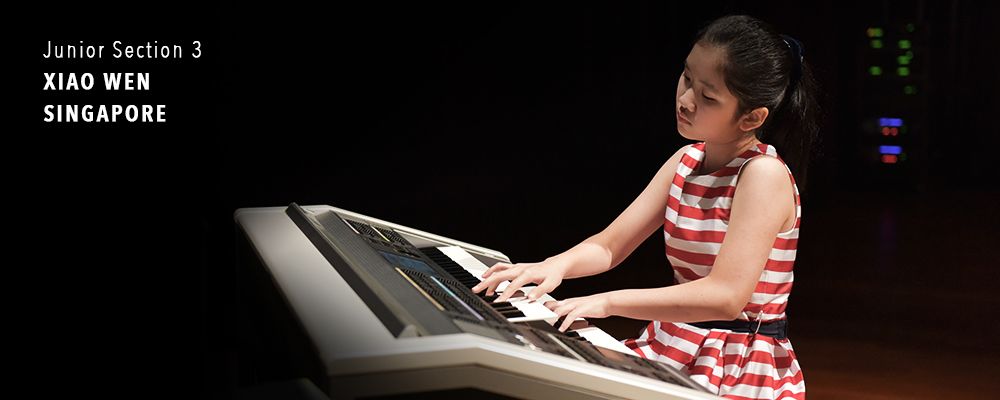 Pualina Lim Mei En is excited, happy, and grateful to represent Singapore at APEF, she said. She composed her competition piece Hero's Overture, and her message is that "everyone is a hero in their own way and to persevere in everything that we do even if we face setbacks".
She loves the electone as it allows her to be a conductor of her own orchestra. And, she aspires to be a composer, arranger, performer, and teacher.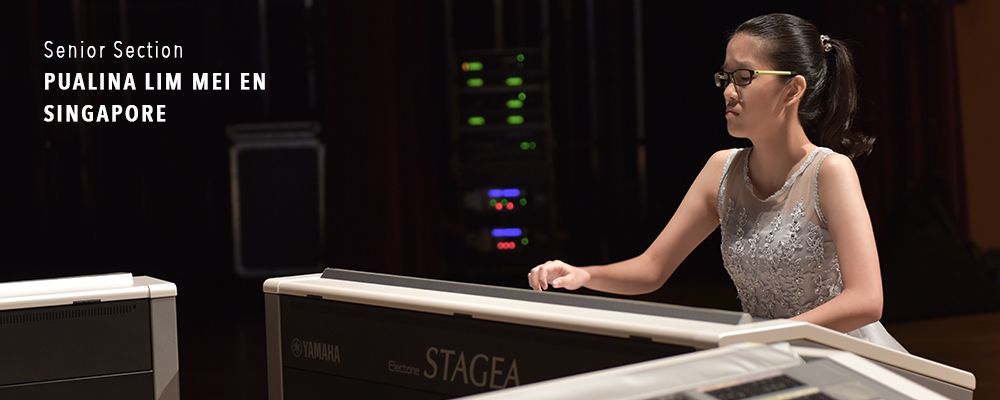 Lim Wee Hun Stephen feels "deeply grateful for the opportunity to represent Singapore at the 2017 APEF". He will compete with his composition The Messiah that "tells of the story of Jesus Christ and His unparalleled love for all humanity". He is currently an Associate Professor of Psychology at the National University of Singapore and he offers his insights on playing the electone and success:
I like that the Electone, when played judiciously, is potent and inspiring. In particular, the Electone can orchestrally enrich musicians. A musician, who plays the Electone, first needs to understand the character of each musical instrument and its function within the broader orchestral context, before he or she can reenact the instrument realistically on the Electone. Thanks to Electone playing, the musician expands his or her musical horizons and develops holistic musicianship.
Talent is important and necessary, but not yet sufficient, for success. In fact, the focus on talent distracts us from something that is at least as important, and that is grit (or simply, sustained effort). As much as talent counts, there is psychological research showing that grit counts twice.
I endeavour to use psychological science to enhance music education and help musicians around the world succeed in their musical pursuits. Part of the endeavour involves revolutionizing higher music education, specifically, inaugurating Electone Studies as a formal educational pathway at major music conservatories around the world.