China Representatives At APEF 2017
Wu Jia Wen (9 years old), Liu Yeung (13 years old), and Bai Xiao Qiu (15 years old) will represent China in the Junior Sections 2 & 3 and Senior Section of Asia-Pacific Electone Festival (APEF) 2017, respectively. They are very excited to be participating in the APEF this year.
Wu Jia Wen will compete with his own composition entitled Dream·Adventure. As the title suggests, his piece is based on a dream he had in which he, his friends, and a moustached teacher were waylaid by robbers on the way to a concert in a foreign land. It describes their escape and safe arrival at the concert.
Jia Wen likes the electone very much. He enjoys data editing and all kinds of voices and rhythms that an electone produces. He feels like a magician whenever he puts the various elements together. Hours spent at the electone are happy ones and he cannot imagine not being able to play it. His recipe for success is practice because practice makes perfect. He quoted a Chinese saying that translates literally as "one minute on the stage, ten years of practice off-stage". To overcome his nervousness on stage, he would focus on "singing and enjoying the music, playing every note with his heart". When asked what he would like to be in future, he said he is still young and has lots of dreams. One of them is to become a musician. He believes that his dream will come true if he practices hard.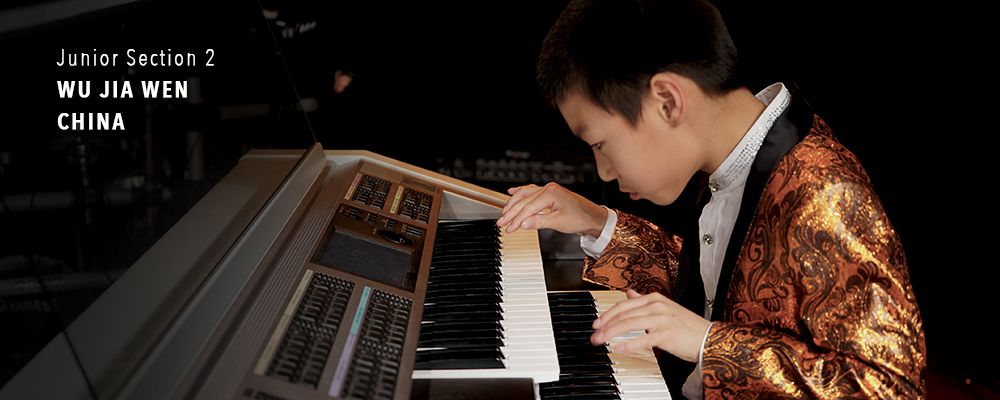 Liu Yeung has been with Yamaha for 10 years and he said he has "learned so much". His composition, 烟雨遥 - The Legend of Kongfu Master - , is inspired by a Chinese novel. He imagined that he and his teacher are "the master and student in the novel" and "after many years of hard work and difficult times, the student grew up and got recognized". His piece shows his appreciation to his teacher and Yamaha.
He fell in love with the electone when he first heard for himself the variety of rhythms and simulation of "almost all of the musical instruments" on the electone. He was, and still is, amazed by the freedom to express and improvise on an electone.
To him, there is no shortcut in music-learning. He has "been trying very hard to balance school studies and music". Candidly, he said that sitting in front of the electone for hours for a several bars is very boring, but all that becomes worth it when he gets to show the fruits of his labour on stage and "see the smiling faces of his parents and teachers". Although he is not sure if music will be his career but it will definitely be a very important part of his life.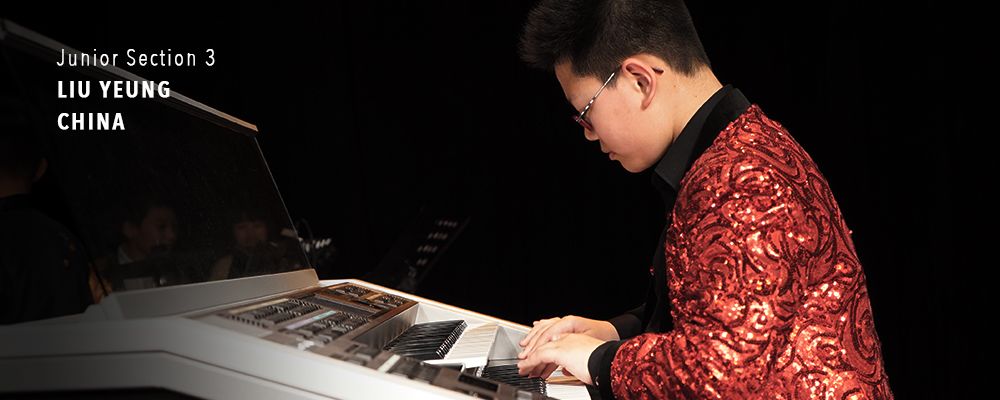 Bai Xiao Qiu is thankful for this chance to learn from other APEF contestants. He chose Liszt, Hungarian Rhapsody No. 6 when he learnt that it has an orchestra version, which he attempted to arrange using the electone. The result was unexpectedly good. He said that through the song arrangement, he "became more familiar with the playing techniques and expressive power of various musical instruments in the orchestra", which made him even more interested in the electone.
He treats the electone as his "teacher as well as friend" but more of the latter because it allows him to experience the wonders of orchestral music and opens up the door to a whole new world for him. He shared that it is the "perseverance and the courage to innovate" as well as to "truly love your music and to share the wonderfulness of music with people" that brought him this far. He has always dreamed of becoming a musician so that he can share the wonders of music with people.