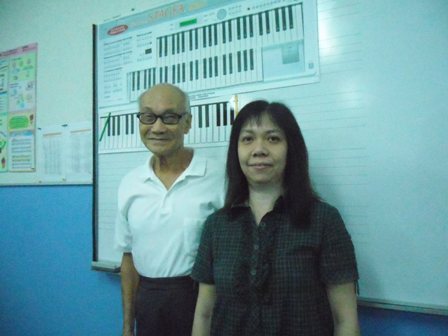 Retirement is no longer an end but a chance to reinvent.
The emerging trend of retirement is a blend of work (on one's terms), education, and leisure. No rocking chair for Mr. William Lau, but he rawks on electone! Believe it or not, the 83-year old picked up electone playing two years ago and now he is playing his favorite evergreens, mandarin pop and cantopop all by ear!
His daughter introduced him to the electone and he fell in love with its versatile music. He admits that reading notes is a great challenge at his age but his passion for music has found a way to overcome it. Here's what he says.
"I love playing by ear. I don't read notes but Ms Yeo is able to teach me to play by ear and I enjoy it."
Q: What keeps you with us (Yamaha Music School)?
A: Firstly, the teacher. Ms Yeo is very patient with me. Secondly, the flexibility of the course. I get to learn to play those songs that I like.
Q: Would you recommend music playing to your age group?
A: Personally, I'm kept active by playing music, and I enjoy music. I'd definitely support music popularization among the senior age group as it would keep them active and alert.
To him, retirement is not a cessation of activities. Instead, it frees him to pick up where he left off.