A Chat with Mr. and Mrs. Yam Ah Mee
A Chat with Mr. and Mrs. Yam Ah Mee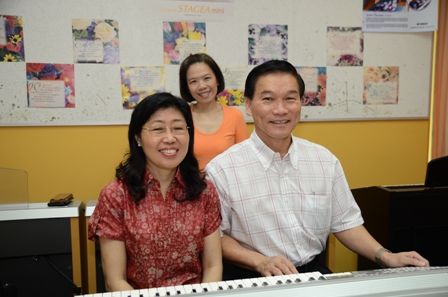 Q: Thank you for allowing this interview and your great support to Yamaha. Besides you and Mrs. Yam who are supporters of Yamaha Music School, your three sons were also enrolled in our music courses when they were young. Mr. Yam, you have been a music learner with Yamaha for many years. What kept your interest in learning?
A: Family. It's a time for me to be together with my family, to spend time with them, and to jam with them. Music has kept us together! (Mrs. Yam nods.) We make it a point to come for lessons and have time for each other. We hope to play music together more often with the drum set and the Tyros keyboard that we bought recently.
Q: We know music does enrich life. In your opinion, what are the benefits for senior citizens to learn, play, and enjoy music?
A: They can play songs they like, oldies that they are familiar with, [and] they can be with their family.
Q: Do you have any suggestions on how we, Yamaha, can help in popularizing music playing amongst the senior citizens (we have students aged 70 and above)?
A: They can jam together, and keep their minds active.
Q: What is your satisfaction level towards our services on a scale of 1 to 10, 10 being excellent?
A: By being your student for so many years shows that we are very satisfied! We won't need to rate! And your teacher, Michelle Chow, is a wonderful teacher! She is very patient with us!
A Chat with Mr. and Mrs. Yam Ah Mee