My experience at Asia-Pacific Junior Original Concert (APJOC) 2012 - by Matthew Ng
My experience at Asia-Pacific Junior Original Concert (APJOC) 2012 - by Matthew Ng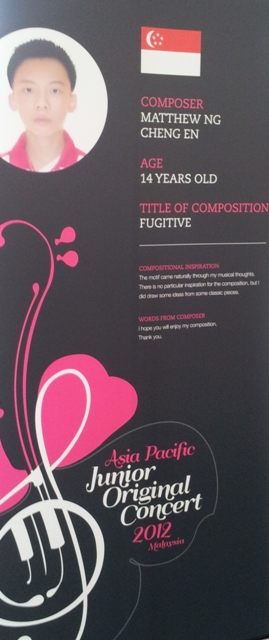 The APJOC 2012 was held in Kuala Lumpur on 6th November, in the prestigious Dewan Filharmonik Petronas, Kuala Lumpur City Centre. It was such a great honour for me to be able to perform my composition, 'Fugitive' in this awesome auditorium.
I must admit that it was quite a nerve-wracking experience to perform in front of a large crowd with honoured guests such as the Deputy Prime Minister of Malaysia, and the many VIPs from Yamaha. While my performance was far from perfect, I believe it was quite satisfactory on the whole and that the audience enjoyed it.
I was impressed by the high standards and calibre of the other performers' compositions and skills, and the fact that the compositions were varying in genre and style of music. It must be very heartening for Yamaha Music School to know that they have produced so many outstanding young talents in the field of creative music.
All in all, the APJOC'12 was a pleasant and memorable experience for me. I would like to thank Yamaha Music School for giving me this opportunity to perform, my teachers who helped me in the process of refining my composition and all the others for garnering me their unwavering support. I will continue to hone my musical skills and hope to contribute in my small ways in the musical arena.
My experience at Asia-Pacific Junior Original Concert (APJOC) 2012 - by Matthew Ng