Asia-Pacific Electone Festival (APEF) Reflection - by Lim Han Quan
Asia-Pacific Electone Festival (APEF) Reflection - by Lim Han Quan
The APEF 2013 was held in Bangkok, Thailand on 7th September, in the Aksara Theatre.
Pre-APEF
When the results were announced at the Yamaha Electone Festival (Singapore), I was elated that I won because it was one of my dreams to compete in an overseas music competition. I feel very honoured to represent Singapore at the APEF.
The APEF Experience
The calibre of the other performers, their compositional and playing techniques (I listened to their compositions during the sound-check before the competition started) really "wowed" me. Every note was so accurate and precise and the expression of each piece was impeccable.
Minutes before my performance, I was so nervous. But when I started playing, my heart opened up and I found myself enjoying the rhythm of my composition. When my performance ended, I was very satisfied with the performance I have given to the audience. Although it was not flawless, I believe that it was quite satisfactory and that the audience still managed to enjoy it.
I must admit that the standard of the performances at APEF was very high. Even though I did not win, the experience and exposure gained from this competition totally superseded the value of the prizes. What's more, the friends that I made and bonded so quickly with, spending just 1 to 2 days of together, made this experience even more valuable!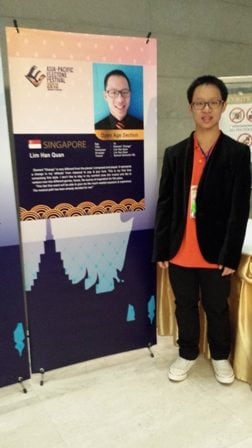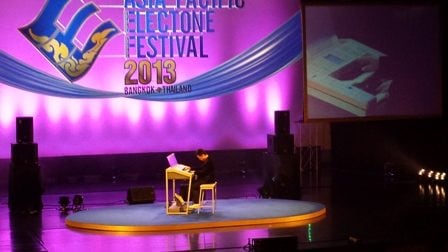 Overall, the APEF 2013 was totally an eye-opener for me, and with it came a pleasant and memorable experience.
I would like to thank:
Yamaha, for giving me this opportunity to perform.
My teacher, Mr Samsudin Ng, who has helped me countless times to refine my composition and especially the sounds and rhythm! Without him I would never have managed to put up this performance.
My teacher, Ms Sarah Liang, for all the compositional techniques and ideas she has given me, and her envisioning me participating in the Electone Festival.
My mum, for all the effort she has spent to get everything ready, and her having to pay the perpetual rising of electricity bills because I practice almost one to three hours a day, and lastly,
All the others for their unwavering support.
This event has led to an inspiration to compose a set of pieces dedicated to APEF 2013! I am still working on it though...
I will continue to improve myself and hope that one day, I can finally contribute significantly to the world of music.
Asia-Pacific Electone Festival (APEF) Reflection - by Lim Han Quan