Yamaha x LAMC: The Piano Guys - Spot A Talent Contest
Yamaha x LAMC: The Piano Guys - Spot A Talent Contest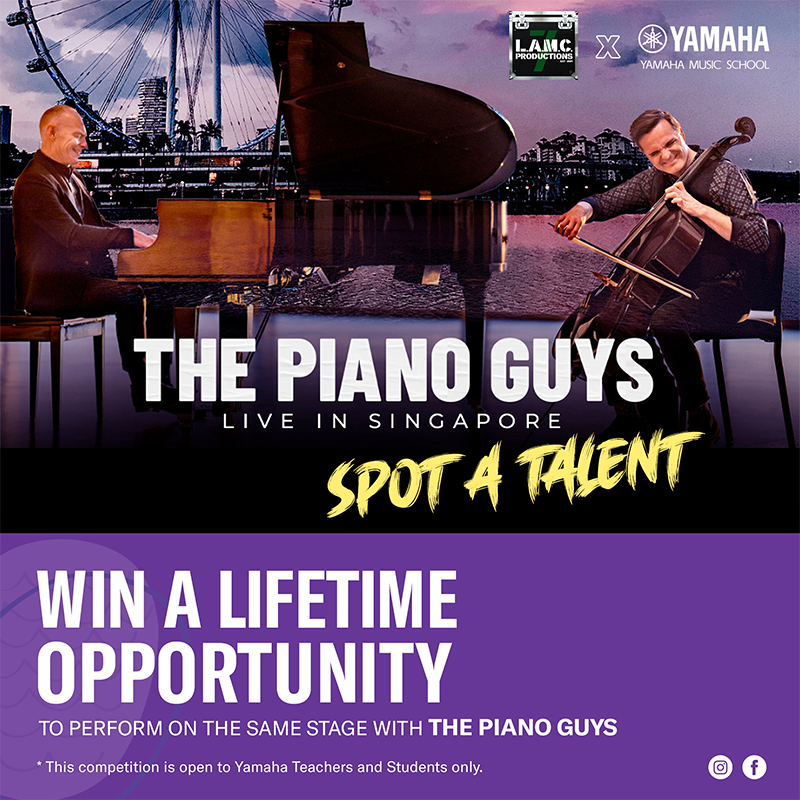 We're excited to announce a once-in-a-lifetime opportunity for talented Yamaha musicians to showcase their musical skills and talents. In this exclusive contest, in collaboration with LAMC Productions, stand a chance to win an opportunity of a lifetime to perform on the same stage with The Piano Guys, LIVE in Singapore!
To participate, please follow these simple steps:
Choose a Pop song from the Top 40 Charts here
Play the song on a Piano, Violin, or Cello and record a video of yourself performing.
Make sure your face and instruments are visible in the video.
Share your video on both Facebook and Instagram with the following caption:
Name: [Input Registered Yamaha Name]
Role: [Input Either Student or Teacher]
Song: [Input Selected Top 40 Song]
Branch: [Input Branch That You are Currently Studying or Teaching In]
Use the hashtags #YamahaSpotATalent and #ThePianoGuys.
Your video should be no longer than 5 minutes.
Please note that your video post must be set available for public viewing in order to qualify for the contest.
The contest closes on February 28th, Tuesday at 11:59pm. The winners will be announced on March 6th.
The first place winner will be performing in the opening act of the Piano Guys Live in Singapore event on 14 March 2023. The top 3 entries will win tickets to The Piano Guys live performance. Don't miss your chance to join this elite group of musicians and be a part of this historic event!
NOTE: This contest is open exclusively to Yamaha Music School, Singapore Students and Teachers.
Yamaha x LAMC: The Piano Guys - Spot A Talent Contest