Open House at Yamaha Music School - Frontier Community Club [19 November 2022]
Open House at Yamaha Music School - Frontier Community Club [19 November 2022]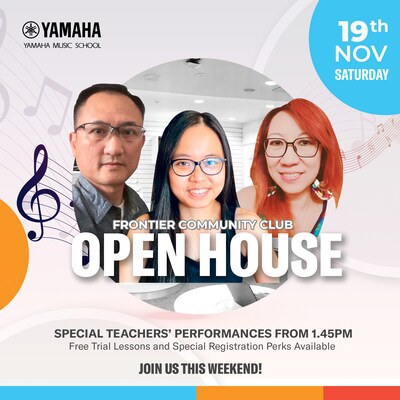 Want to learn more about music but don't know where to start? Yamaha Music School at Frontier Community Club is having an Open House on 19 November 2022!
Witness our teachers, Allan Wong (Left), Catherine Lim (Right), and Tan Jade Xi (Centre), Piano Performances LIVE from 1.45pm.
𝟭.𝟰𝟱𝗽𝗺 - 𝗔𝗹𝗹𝗮𝗻 𝗪𝗼𝗻𝗴 𝗣𝗲𝗿𝗳𝗼𝗿𝗺𝗮𝗻𝗰𝗲
𝟮.𝟭𝟱𝗽𝗺 - 𝗖𝗮𝘁𝗵𝗲𝗿𝗶𝗻𝗲 𝗟𝗶𝗺 𝗣𝗲𝗿𝗳𝗼𝗿𝗺𝗮𝗻𝗰𝗲
𝟮.𝟯𝟬𝗽𝗺 - 𝗧𝗮𝗻 𝗝𝗮𝗱𝗲 𝗫𝗶 𝗣𝗲𝗿𝗳𝗼𝗿𝗺𝗮𝗻𝗰𝗲
Experience our music courses through our FREE Trial Lessons for our Yamaha Junior Course and Piano Course for Children.
𝟮.𝟬𝟬𝗽𝗺 - 𝗬𝗮𝗺𝗮𝗵𝗮 𝗝𝘂𝗻𝗶𝗼𝗿 𝗖𝗼𝘂𝗿𝘀𝗲 𝗧𝗿𝗶𝗮𝗹
𝟰.𝟯𝟬𝗽𝗺 - 𝗣𝗶𝗮𝗻𝗼 𝗖𝗼𝘂𝗿𝘀𝗲 𝗳𝗼𝗿 𝗖𝗵𝗶𝗹𝗱𝗿𝗲𝗻 𝗧𝗿𝗶𝗮𝗹
Hurry and call at 𝟲𝟳𝟰𝟬-𝟵𝟯𝟱𝟭 to book a session now! Limited seats are available. We hope to see you this Saturday!
Find out more about our:
Open House at Yamaha Music School - Frontier Community Club [19 November 2022]