Creating Music For Tomorrow – 2022 Year-End Campaign
Creating Music For Tomorrow – 2022 Year-End Campaign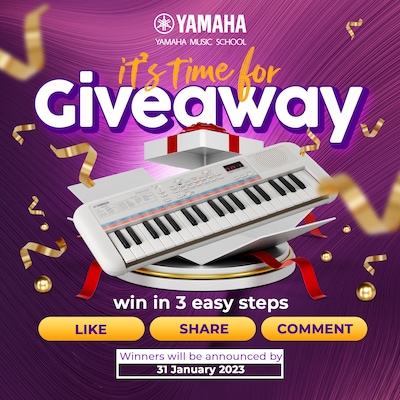 * 7 𝘹 𝘙𝘦𝘮𝘪𝘦 𝘗𝘚𝘚-𝘌30 (𝘞𝘰𝘳𝘵𝘩 $100) 𝘠𝘦𝘢𝘳-𝘌𝘯𝘥 𝘎𝘪𝘷𝘦𝘢𝘸𝘢𝘺 2022
From 16 Nov to 28 Dec, we have 7 sets of Remie PSS-E30 to be given away. During this period, Yamaha Music School will be releasing a short video every Wednesday from 16 Nov. Each video post will come with a simple quiz.
To stand a chance to win, you will just have to follow 3 easy steps.
𝟭. 𝗟𝗜𝗞𝗘 our Facebook page.
𝟮. 𝗦𝗛𝗔𝗥𝗘 and like the video released every Wednesday. When sharing, answer the weekly quiz via your shared post caption.
𝟯. 𝗖𝗢𝗠𝗠𝗘𝗡𝗧 on the video post to inform us once you have done so.
There will be one lucky winner each week. Winners will be notified via social media by 31 January 2023.
𝘐𝘔𝘗𝘖𝘙𝘛𝘈𝘕𝘛: 𝘗𝘭𝘦𝘢𝘴𝘦 𝘦𝘯𝘴𝘶𝘳𝘦 𝘵𝘩𝘢𝘵 𝘺𝘰𝘶𝘳 𝘴𝘩𝘢𝘳𝘦𝘥 𝘱𝘰𝘴𝘵 𝘪𝘴 𝘴𝘦𝘵 𝘧𝘰𝘳 𝘱𝘶𝘣𝘭𝘪𝘤 𝘷𝘪𝘦𝘸𝘪𝘯𝘨 𝘧𝘰𝘳 𝘷𝘦𝘳𝘪𝘧𝘪𝘤𝘢𝘵𝘪𝘰𝘯 𝘱𝘶𝘳𝘱𝘰𝘴𝘦𝘴. 𝘐𝘧 𝘺𝘰𝘶 𝘧𝘶𝘭𝘧𝘪𝘭𝘭𝘦𝘥 𝘢𝘭𝘭 𝘵𝘩𝘦 3 𝘴𝘵𝘦𝘱𝘴 𝘢𝘣𝘰𝘷𝘦 𝘸𝘪𝘵𝘩 𝘵𝘩𝘦 𝘤𝘰𝘳𝘳𝘦𝘤𝘵 𝘢𝘯𝘴𝘸𝘦𝘳 𝘦𝘢𝘤𝘩 𝘸𝘦𝘦𝘬, 𝘺𝘰𝘶 𝘸𝘰𝘶𝘭𝘥 𝘴𝘵𝘢𝘯𝘥 𝘢 𝘤𝘩𝘢𝘯𝘤𝘦 𝘵𝘰 𝘸𝘪𝘯 𝘢 𝘣𝘳𝘢𝘯𝘥-𝘯𝘦𝘸 𝘙𝘦𝘮𝘪𝘦 𝘗𝘚𝘚-𝘌30 𝘸𝘰𝘳𝘵𝘩 $100.
Creating Music For Tomorrow – 2022 Year-End Campaign