Conversation with Mrs. Tan – Proud Parent of Kenji Tan, Junior Age Group 1 Grand Prix Winner of Electone Festival 2022
Conversation with Mrs. Tan – Proud Parent of Kenji Tan, Junior Age Group 1 Grand Prix Winner of Electone Festival 2022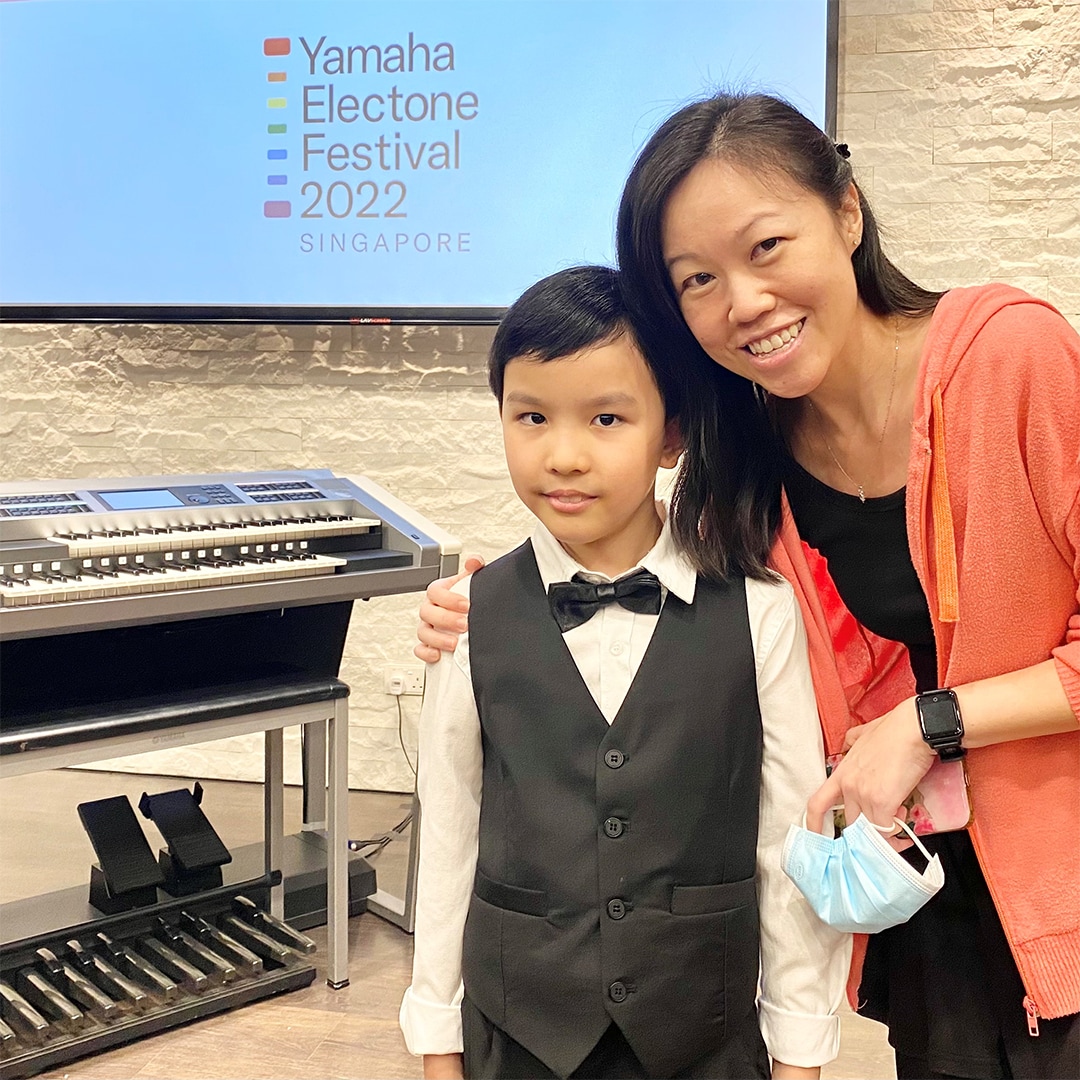 Congratulations to Kenji Tan – Grand Prix Winner of Junior Age Group 1 in the Electone Festival 2022.
We spoke to Kenji Tan and his parent Mrs. Tan after the event, and here's the conversation we had:
Q1:

Kenji, besides the Electone, do you play any other music instruments?

A1:

No, but I hope to learn violin one day.

Q2:

Why was the Electone selected as your major instrument?

A2:

I chose Electone because it can produce many different sounds and I can use them to compose a song. Playing Electone also makes me feel like I am in an orchestra even though most of the time I am playing alone.

Q3:

Mrs. Tan, which Yamaha courses did Kenji attend, and what is your opinion of the Yamaha Music Education System?

A3:

Kenji attended the Yamaha Junior Course when he turned 4. Through the structured framework of the course, Kenji learnt the fundamentals of music in a fun and enjoyable way. His aural skills were honed through the weekly hearing practices given by Ms. Michelle Chow, his Yamaha Junior Course music teacher. Ms. Chow's patience not only helped Kenji to build a strong foundation in music but has also brought his interest in music to the next level.

Kenji passed the audition and went on to attend the Junior Special Advanced Course (JSAC) when he was 6 years old. JSAC offers a wide range of subjects including improvisation, transposition and song composition, which Kenji particularly enjoys. Even though the workload and demands of the JSAC are much more than the previous course, he welcomes the new challenges that come with it.

His JSAC music teacher, Ms. Junie Yeo, has been giving him plenty of support and advice in mastering his playing techniques as well as imparting valuable knowledge on song composition and theory.

Yamaha's holistic musical training approach, together with the dedicated teachers' guidance, has benefited Kenji greatly. It has helped him grow musically and nurtured him to become a more confident performer. We are glad that we made the right decision to embark Kenji on this enriching music journey with Yamaha!
Conversation with Mrs. Tan – Proud Parent of Kenji Tan, Junior Age Group 1 Grand Prix Winner of Electone Festival 2022