Yamaha Music School - 56th Anniversary Promotion
Yamaha Music School - 56th Anniversary Promotion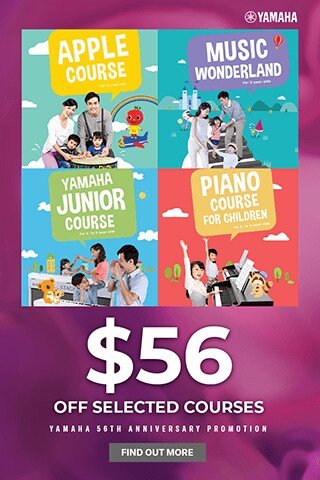 Yamaha celebrates our 56th Anniversary! This May and June, Yamaha Music School is having an exclusive Mid-Year Promo offering a $56 discount for selected Children Group Courses at our various branches. This discount will apply to only the first term of lessons (Jul – Sep 2022). Visit our branches to register or find out more. Alternatively, you may reach us by calling the branches directly or contacting us via our web enquiry.
Terms and conditions apply. Promotion ends on 30 June 2022.
Eligibility
For New Registration Only. Yamaha Students who have withdrawn for more than 3 months will be eligible for this promotion.
Children Group Courses on Promo
Terms and Conditions
1. Schedules on promo are limited to selected children group courses. Limited seats available.
2. Courses are offered to customers on a first come first served basis.
3. You are required to commit a minimum of one term of the course.
4. To qualify for this promotion, you must sign up and make payment during the promotion period between 18 May to 30 June 2022.
Yamaha Music School - 56th Anniversary Promotion