Testimonial from Student – Heng Qi Yang
Testimonial from Student – Heng Qi Yang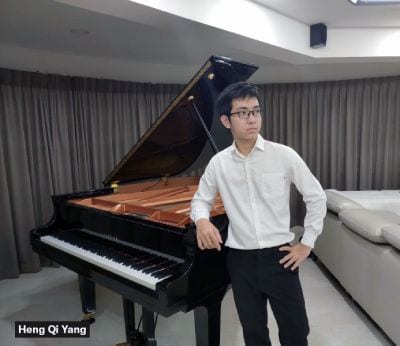 Heng Qi Yang
Teacher : Ms Judy Yap
My mum enrolled me in the Yamaha Junior Course at age 4. Initially, I had wanted to stop lessons altogether, however gradually I began to learn to appreciate music deeply and the subjects in the lessons as well. Through the continual lessons, my playing and listening abilities have been developed. Recently, I was happy I could do an arrangement of a pop song for piano, purely by listening.
I am also pleased that my composition was selected for Junior Original Concert, which allowed me to explore creating music.
I went on to achieve the
-International Youth Music Competition, Composition category, 3rd Prize
-1st Joyeux Music International Festival and Competition for Young Pianists, Grade 8 category, Merit
-London Young Musician, Original Composition category, Gold Prize
-London Young Musician, Romantic Period Music category, Bronze Prize
-VI. Danubia Talents International Online Music Competition, Piano Four Hands category, Second Prize
-ABRSM Performance Grade 8 Distinction
-VIII Odin International Music Online Competition, Piano 4 Hands category, Second Prize
Currently, I am preparing to take the Yamaha Higher Grade 5 Piano exam. In addition, I am working on Romantic period pieces in preparation for the next competition. Learning music has taught me patience. This is especially true when recording for competitions or exams. I hope to continue improving my piano techniques, and also learn valuable life lessons in future.
Testimonial from Student – Heng Qi Yang