Testimonial from Student and Proud Parent - Chan Yu Zhe
Testimonial from Student and Proud Parent - Chan Yu Zhe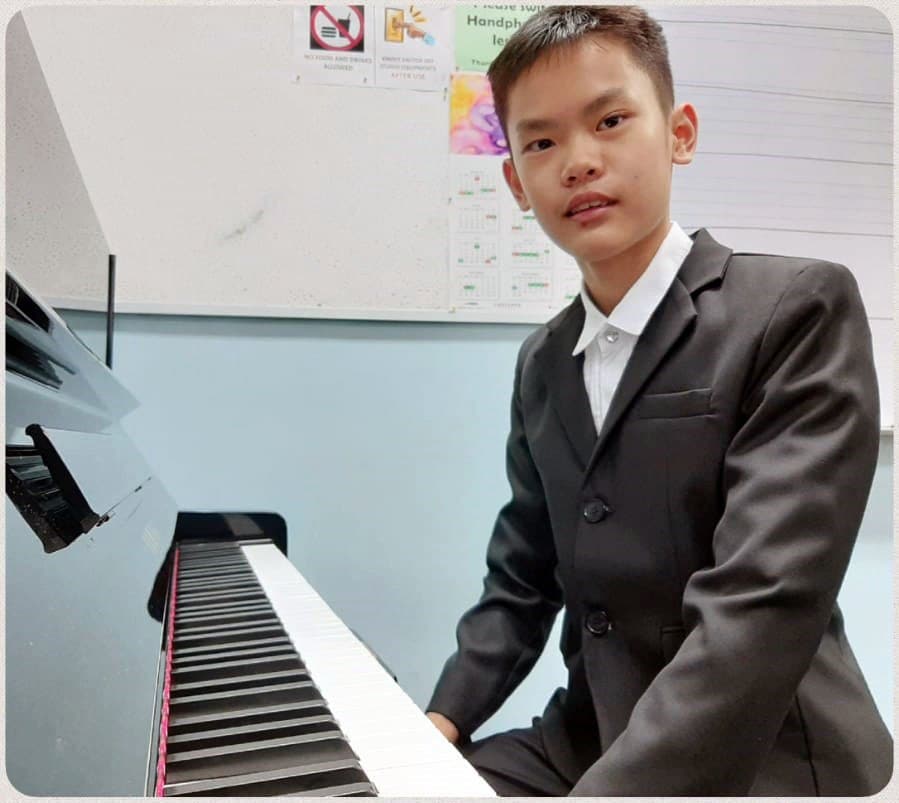 Chan Yu Zhe
Student 13 year old Chan Yu Zhe is a Yamaha Piano Course student at Yamaha Music School, Thomson Branch.
We spoke to him after his participation in 'My First Online Concert'
YMS: Yu Zhe, did you enjoy taking part in the 1st virtual concert?
Yu Zhe: Yes I did.
YMS: Briefly describe your lessons in Yamaha please.
Yu Zhe: My lessons consist of theory rudiments, technical work e.g. scales, then I play my selection of repertoire pieces. The lesson time is well spent.
We asked Yu Zhe's mum for feedback on Yu Zhe's learning journey in Yamaha, and this is what she shared:
𝗜 𝗻𝗲𝘃𝗲𝗿 𝘁𝗵𝗼𝘂𝗴𝗵𝘁 𝗬𝘂 𝗭𝗵𝗲 𝘄𝗼𝘂𝗹𝗱 𝗰𝗼𝗺𝗲 𝘁𝗵𝗶𝘀 𝗳𝗮𝗿 𝗶𝗻 𝗹𝗲𝗮𝗿𝗻𝗶𝗻𝗴 𝗺𝘂𝘀𝗶𝗰. 𝗛𝗲 𝗱𝗶𝗱𝗻'𝘁 𝘀𝗵𝗼𝘄 𝗮𝗻𝘆 𝗶𝗻𝘁𝗲𝗿𝗲𝘀𝘁 𝘂𝗻𝘁𝗶𝗹 𝗵𝗲 𝘄𝗮𝘀 𝟴 𝘆𝗲𝗮𝗿𝘀 𝗼𝗹𝗱. 𝗛𝗲 𝗿𝗲𝗾𝘂𝗲𝘀𝘁𝗲𝗱 𝗳𝗼𝗿 𝗽𝗶𝗮𝗻𝗼 𝗹𝗲𝘀𝘀𝗼𝗻𝘀 𝗮𝘀 𝗵𝗶𝘀 𝘆𝗼𝘂𝗻𝗴𝗲𝗿 𝘀𝗶𝘀𝘁𝗲𝗿 𝘄𝗮𝘀 𝗹𝗲𝗮𝗿𝗻𝗶𝗻𝗴.
𝗜𝘁 𝘄𝗮𝘀 𝗮 𝘀𝘂𝗿𝗽𝗿𝗶𝘀𝗲 𝘁𝗵𝗮𝘁 𝗬𝘂 𝗭𝗵𝗲 𝘀𝗵𝗼𝘄𝗲𝗱 𝗺𝘂𝗰𝗵 𝗶𝗻𝘁𝗲𝗿𝗲𝘀𝘁 𝗮𝗻𝗱 𝗱𝗲𝘁𝗲𝗿𝗺𝗶𝗻𝗮𝘁𝗶𝗼𝗻 𝗶𝗻 𝗽𝗶𝗮𝗻𝗼 𝗽𝗿𝗮𝗰𝘁𝗶𝗰𝗲. 𝗪𝗶𝘁𝗵 𝗵𝗶𝘀 𝗲𝗳𝗳𝗼𝗿𝘁, 𝗮𝗻𝗱 𝗧𝗲𝗮𝗰𝗵𝗲𝗿 𝗠𝘀. 𝗛𝗲'𝘀 𝗲𝗻𝗰𝗼𝘂𝗿𝗮𝗴𝗲𝗺𝗲𝗻𝘁 𝗮𝗻𝗱 𝘀𝘂𝗽𝗽𝗼𝗿𝘁, 𝗵𝗲 𝗵𝗮𝘀 𝗯𝗲𝗰𝗼𝗺𝗲 𝗺𝗼𝗿𝗲 𝗰𝗼𝗻𝗳𝗶𝗱𝗲𝗻𝘁, 𝗮𝗻𝗱 𝗲𝗻𝗷𝗼𝘆𝘀 𝗽𝗹𝗮𝘆𝗶𝗻𝗴 𝘁𝗵𝗲 𝗽𝗶𝗮𝗻𝗼. 𝗬𝘂 𝗭𝗵𝗲 𝗳𝗶𝗻𝗱𝘀 𝗽𝗶𝗮𝗻𝗼 𝗽𝗹𝗮𝘆𝗶𝗻𝗴 𝗮 𝗰𝗼𝗺𝗳𝗼𝗿𝘁, 𝗮𝗻𝗱 𝗯𝗲𝗰𝗮𝘂𝘀𝗲 𝗶𝘁 𝗰𝗮𝗹𝗺𝘀 𝗵𝗶𝘀 𝗺𝗶𝗻𝗱 𝗮𝗻𝗱 𝘀𝗼𝘂𝗹, 𝗵𝗲 𝗽𝗹𝗮𝘆𝘀 𝘁𝗵𝗲 𝗽𝗶𝗮𝗻𝗼 𝗲𝘃𝗲𝗿𝘆𝗱𝗮𝘆! 𝗧𝗵𝗮𝗻𝗸 𝘆𝗼𝘂 𝗬𝗮𝗺𝗮𝗵𝗮!
Testimonial from Student and Proud Parent - Chan Yu Zhe