Testimonial from student's parents – Lim Xiao Xuan
Testimonial from student's parents – Lim Xiao Xuan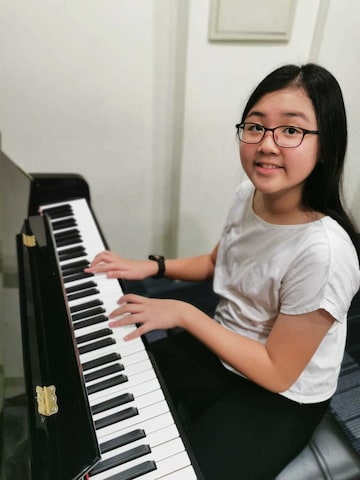 Lim Xiao Xuan
Here is an interview with Lim Xiao Xuan, one of the participants of 'My First Online Concert'.
Listen in on our chat with 10 year old Lim Xiao Xuan, a participant in 'My First Online Concert'. Currently a student of Yamaha Piano Course at Djitsun Mall Yamaha Music School, we asked 3 questions:
Here is our exchange:
1. YMS - Xiao Xuan, did you enjoy taking part in 'My First Online Concert'?
Yes. I enjoyed myself and appreciated the opportunity to participate.
2. YMS - Could you describe a little of your weekly piano lessons at Yamaha?
My weekly lessons usually start with playing a mixture of exam pieces and popular music pieces. Then my teacher will do sight reading with me, and we end the lessons with theory practice.
3. YMS - Mrs. Lim, how has Xiao Xuan grown musically through the lessons in Yamaha?
She has improved greatly in her interest and techniques in playing the piano. Xiao Xuan has also showed significant maturity and confidence in performing. I am impressed with her keen listening skills moulded over the years with Yamaha which has enabled her to play out a tune upon hearing it.
Testimonial from student's parents – Lim Xiao Xuan