Testimonial from student's parents – Lim Jing Tong
Testimonial from student's parents – Lim Jing Tong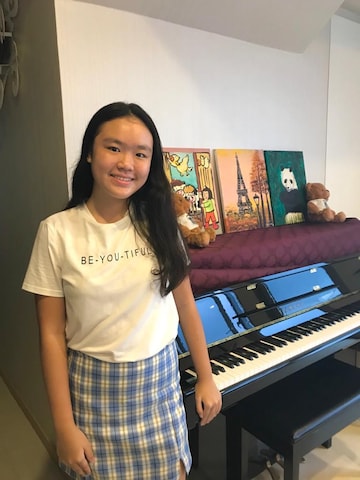 Lim Jing Tong
Lim Jing Tong participated in Yamaha's 'My First Online Concert' recently.
A student of Yamaha Music School Thomson from the age of 4, she was in Yamaha Junior Course, Junior Ensemble Course, Advanced Ensemble Course, and completed Yamaha Piano Exam Grade 6 with Distinction. Having reaped all the benefits from the systematically structured group courses, she has switched to Yamaha Piano Course easily and is now doing ABRSM Grade 7, at 14 years old.
Listen in on our chat:
YMS Q1. Did you enjoy taking part in the 1st virtual concert?
Jing Tong - Yes, I did. it was a new experience for me as I have never taken part in a virtual performance before. I'm very glad to be able to be part of the concert.
YMS Q2. Describe your lessons in Yamaha.
Jing Tong - My lessons in Yamaha are very engaging and fun especially the group lessons because I can play ensembles/duets with my teacher and friends.
YMS Q3. Mrs. Lim, how has Jing Tong grown musically with her lessons at Yamaha?
Mrs. Lim - Jing Tong has become more appreciative of music and she makes the effort to improve herself while playing the piano pieces.
Testimonial from student's parents – Lim Jing Tong