Testimonial from student's parents – Declan Chew
Testimonial from student's parents – Declan Chew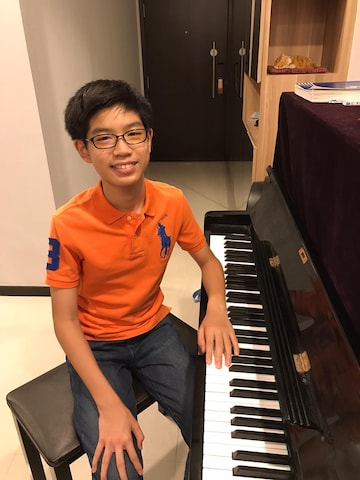 Declan Chew
Meet 13 year old Declan Chew, Yamaha Higher Piano Course student at WestGate Yamaha Music School.
We asked Mr. Chew for his views on the music courses at Yamaha, and Declan's music development. Here is our chat:
Yamaha music courses are professionally run and the teachers passionate about training and grooming the next generation of musicians. The courses are well structured with step progression such that students learn at the right level. The various tests and exams at different levels also enable a good gauge of the progress and allows benchmarking. The various informal concerts organized enable parents to experience the child's learning journey. Yamaha being one of the earliest and well-known music schools in Singapore would have possess the necessary know-how in curriculum design and execution.
My son has been with Yamaha for nearly 10 years. I am glad to see him develop this area of his talent. Many of his classmates who started with him had discontinued their lessons. I guess it takes grit, discipline and some level to talent to pursue this passion. To be honest, we were surprised that he had progressed to this stage. At a certain point in time, he struggled playing some of the pieces due to its difficulty level. Discipline to practice can also be a challenge for a teenager who has a myriad of other interests. Yet, we are happy that he takes music seriously and has learnt a real skill for life. He had also previously taken some lessons in drums and recently, he picked up playing the ukulele by himself. Music is important for today's youth. Our hope is that he can use his musical ability to be a blessing and influence to others.
Testimonial from student's parents – Declan Chew