Testimonial from student's parents - Chu Tze En
Testimonial from student's parents - Chu Tze En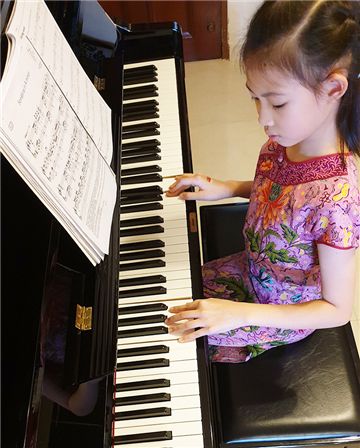 Chu Tze En
Here's what our proud parent has to say about our student, Chu Tze En's musical experiences with our Yamaha Music School!
"I am Mr Chu Ee Soon, father of Chu Tze Ern. My daughter has been a student of the piano course for children since 2016 at the YAMAHA Music School, Jurong West branch located at the Frontier Community Club. She had shown her interest in learning piano and requested me to enroll the piano course for her when she was in K2 at the kindergarten.
In recent years, Tze Ern had tons of homework from the primary school and it was very tough and challenging for her to cope with the piano practice in preparation for the ABRSM piano examinations. She had felt very tough in her piano learning journey and she wanted to quit at times. The teacher of YAMAHA Music School had given good support with a lot of encouragement to keep her going. Tze Ern has achieved good academic results and has received Model Pupil Award consecutively 4 years from the primary school principal. In addition, Tze Ern has successfully passed the ABRSM piano examination one after another and she is very touched and sincerely thankful to her piano teacher at YAMAHA Music School.
I would like to express my greatest gratitude and heartfelt appreciation to teacher Loh Chengwu Peter for his priceless efforts, understanding, support, guidance and contribution towards my daughter's progress. Teacher Peter's dedication and patience had enabled my daughter to receive positive musical educational experiences. Teacher Peter is an epitome of promoting inclusivity in musical education and he is absolutely a valuable asset in the YAMAHA Music School.
Once again, thank you to teacher Peter who has taught my daughter in piano lessons since day 1 is truly remarkable. Million thanks!"
Testimonial from student's parents - Chu Tze En