Testimonial from student's parents - Seranina and Iman
Testimonial from student's parents - Seranina and Iman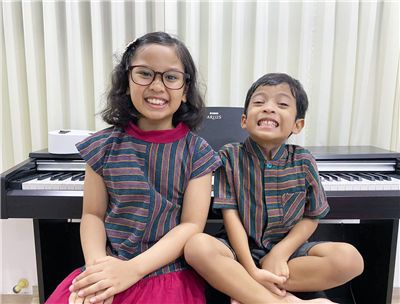 Seranina and Iman
8 year old Seranina and 5 year old Iman are from Indonesia. Both siblings are now students of Yamaha Music School at Plaza Singapura.
Seranina is in her first year of Junior Ensemble Course, and brother Iman is in second year of Yamaha Junior Course.
Their Father Nino Wicaksono shares how music lessons at Yamaha has benefited his children.
Joining the music lessons at Yamaha has helped Nina and Iman develop their musical-ear and appreciate music. Because of the timely ear training in the courses, they are able to play on the piano, figuring out the current popular music all by themselves.
They also learn to be more determined and have a good sense of responsibility.
These days, Nina plays the piano regularly, to escape from monotonic routine of school work.
Testimonial from student's parents - Seranina and Iman