Yamaha Stay – Home Contest (9 Apr – 1 June)
Yamaha Stay – Home Contest (9 Apr – 1 June)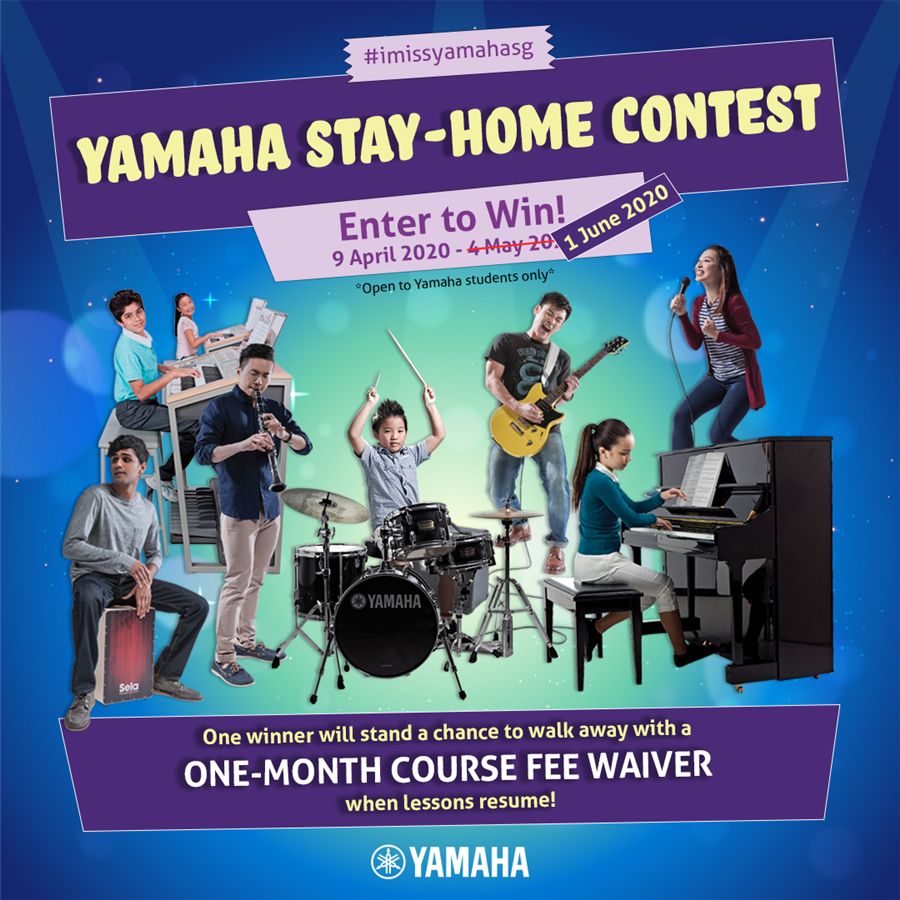 This contest is only eligible for current Yamaha Students. To participate, you must create a selfie video of not less than a minute, sharing your home practice moments via your social media platform such as Facebook and/or Instagram. You may play any music instrument of your choice, sing along to a minus one track or both! Selected videos will be shortlisted and featured on our official social media platforms. At the end of the campaign, one of you will stand a chance to win a ONE-MONTH FEE WAIVER for your music course fees. Deadline for this contest is 1 June and the final winner will be announced by end June. Please read the contest general rules carefully below.
Contest General Rules
- Open ONLY to current Yamaha (Singapore) Students of all ages.
- Please ensure that you have liked and followed both our Facebook (YamahaMusicSchool.SG) and Instagram (yamahamusicschool.sg) accounts.
- You may play your favourite tunes on any instrument, sing any song or both.
- Create a selfie video of no less than 1 minute and upload it on your individual social media account in Facebook or no less than 55 seconds in Instagram.
- Ensure that your video is available for public view.
- You may also wish to post any encouraging message to anyone during this current circuit breaker season.
- Ensure that you tag our Facebook page if you are submitting your videos through Facebook and tag our Instagram account if you are uploading your videos in Instagram.
- PM us with the following details - Student's Name, Course, Teacher, Branch and Video Link.
- Shortlisted videos will be selected and reposted on our official Yamaha social media platforms.
- Contest commences on 9 April.
- Any videos uploaded later than 1 June will not be considered.
- Winner will be announced in end June.
#yamahamusicsg #yamahamusicschoolsg #yamahastayhomecontest #imissyamahasg
Yamaha Stay – Home Contest (9 Apr – 1 June)