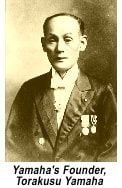 1887:
Torakusu Yamaha, a trained watchmaker-turned-repair engineer in medical equipment, built his first prototype organ after he discovered his fascination with the intricate workings of a reed organ which he was helping to repair for an institution. He later set up a company called Yamaha Fukin Seizoujo to make organs on a larger scale.
1897:
Ten years later, the business was incorporated and renamed Nippon Gakki Co. Ltd. Torakusu Yamaha became its first President.
1987:
Nippon Gakki Co. Ltd. was renamed Yamaha Corporation to mark the 100th year of the company's founding.
By now, the company has diversified into the manufacturing of pianos & other musical instruments, hi-fi equipment, boats, electronics, sporting goods, furniture, motor-cycles, etc.
Yamaha Corporation is now one of the world's largest manufacturer of electronic keyboards and pianos.
The Yamaha Music Education System, inaugurated in 1959, has now taken root not only in Japan but all over the world.
Yamaha Music (Asia) Private Limited
1966:
Incorporated as a joint-venture company between local investors and Nippon Gakki Co. Ltd.
2002:
Became 100%-owned subsidiary of Yamaha Corporation.
The core business of Yamaha Music (Asia) Private Limited (YMAsia) is in the retail & wholesale of musical instruments, and the operation of music schools.
YMAsia has 11 retail stores, all with Music School within their premises. The company also has a vast network of dealers around Singapore.
Specialty outlets:
BeatSpot offers a wide range of acoustic and electric guitars, drums, music synthesizers, accessories etc;
Contempo Pop Music School is dedicated to the teaching of drums, electric guitars, and brass & wind instruments;
Fronted by a dedicated sales & marketing team, and supported by experienced technical and teaching personnel, YMAsia continues to provide quality products and well-researched music education programs for music lovers.