White Perloid Peg Heads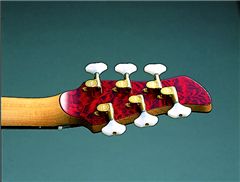 White perloid peg heads aid in balancing the super long scale neck while adding great looks.
Custom Pickups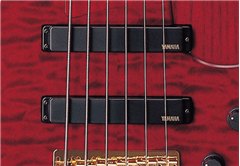 Pickups are a custom Alnico V design. The low-noise side-by-side double-coil pickups deliver clear tonal image even when playing chords.
Solid Brass Bridge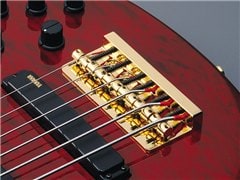 A massive solid brass bridge delivers a clear and rich sound.
4-Ply Laminated Body
The 4-ply laminated body is crafted from plies of figured maple, ash, alder, and maple. This design produces tight and rich resonation over the instrument's entire range. A slap cut on the body offers greater string access.
26-Fret Neck
The 35-inch (889mm) super long scale neck has 26 frets. The maple neck is fitted with double truss rods to sufficiently counter tension produced by the instrument's six strings.
Active Electronics
The 5-control active electronics system offers a wide palette of tonal variation. Everything from subtle variations in tonal nuance to dynamic sound output is possible.
Controls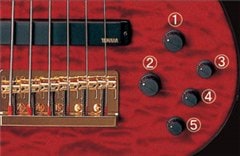 1. Pickup Balancer
2. Master Volume
3. Bass
4. Middle
5. Treble