TW-E7B True Wireless Earbuds and "Stepping Out of the Slate" Concept Models Chosen for iF DESIGN AWARD
TW-E7B True Wireless Earbuds and "Stepping Out of the Slate" Concept Models Chosen for iF DESIGN AWARD
Yamaha Corporation announces that two of its designs were selected to receive the iF DESIGN AWARD 2023: namely, the TW-E7B True Wireless Bluetooth® Earbuds (Product Design category) and the "Stepping Out of the Slate" concept models (Professional Concept category). This marks the second major design award to be won by the TW-E7B, following its selection for the Red Dot Award: Product Design 2023.
The iF DESIGN AWARD, organized by Hannover-based iF International Forum Design GmbH, is recognized as an arbiter of quality for exceptional design and is one of the most important design prizes in the world. Each year, it honors design achievements in all manufacturing product disciplines. This year, the winners were chosen from almost 11,000 entries submitted from 56 countries.
Since 1999, Yamaha has received the iF DESIGN AWARD for 21 of its designs, and these two new awards now bring the total to 23.
TW-E7B True Wireless Earbuds
Concept Models for "Stepping Out of the Slate"
TW-E7B True Wireless Bluetooth® Earbuds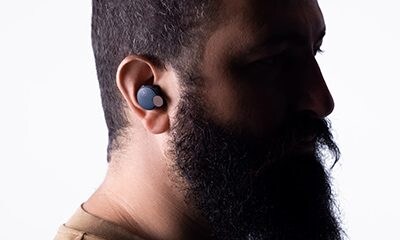 These flagship wireless earbuds combine Yamaha acoustic and electronic technologies to achieve an unparalleled level of sound and comfort. Features include active noise-cancelling technology, Ambient Sound to help maintain awareness of your surroundings while listening to music, Advanced Listening Care to dynamically optimize loudness based on analysis of audio content and environmental noise, and much more.
The distinctive design features two perfect circles that are not only visually iconic, but functional as well. The smaller circle serves as a tactile indicator that helps the user position the earbud inside the ear without needing to see it, using only the fingertips to easily adjust the angle for a perfect fit.
"Stepping Out of the Slate" Concept Models
Stepping Out of the Slate is a collection of four concept models with designs inspired by attempts to imagine new music devices that work in symbiosis with smartphone apps. While music experiences and music accessories have increasingly come to be offered in the form of smartphone apps in recent years, these prototypes were intentionally designed to preserve an element of tactile interaction when using the associated apps. The designs explore the feasibility of a new functional beauty that offers experiential value in the form of physical interaction combined with the convenience of information technology.
(as pictured above, left to right)
TurnT: A device inspired by the record player (turntable), designed to be used in conjunction with an app to listen to music. The smartphone screen works as a kind of magical record. Place the stylus on it and it starts playing.
Winder: A key, dedicated to just one song, like a music box. When the key is wound up, the song from the connected smartphone begins to play.
MusicLight: Listen to music as you gaze into a candle flame. Light a candle to start playing music from your smartphone. When the flame goes out, the music fades away.
RhythmBot: A metronome consisting of four small robots that play acoustic sounds. They can be linked to your smartphone to play rhythms to the tempo you are playing, accompanying you in a live jam session.
Yamaha Design Official Website:
iF Design Award Official Website:
TW-E7B True Wireless Earbuds and "Stepping Out of the Slate" Concept Models Chosen for iF DESIGN AWARD