[I Play Yamaha - Xavier Muriel]
Biography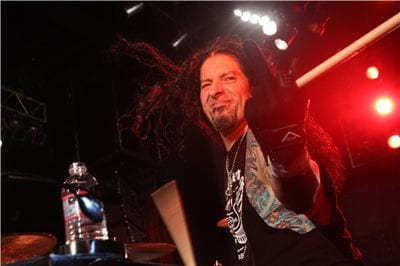 Xavier was born in San Antonio, Texas and at an early age, Xavier's family moved to Beaumont, Texas. It was there that he developed his passion for motocross, music and the drums.
By his teenage years, Xavier's family had moved to Round Rock, Texas, a suburb of Austin. It was here in the live music capital of the world that he found an outlet for his musical aspirations. By 1987, while still in high school, Xavier had already been in more than ten local rock acts. Most notable at the time was the female-fronted band Onyxx. Xavier and former Onyxx guitarist Julian Mandrake (Blue October, Canvas) have maintained a friendship to this day.
Shortly after Onyxx disbanded, Xavier moved to Los Angeles where he landed his first notable drumming gig with American Man, a Tommy Thayer (KISS, Black N' Blue) project that was being managed by the legendary Gene Simmons of KISS. Subsequently, he performed on the album Harlow with members of American Man and DORO, which was Doro Pesch's debut solo album post-Warlock.
After several stints with various bands in the Los Angeles area, Xavier eventually made his way back to Texas to appear in such groups as Saucer with Bruce Castleberry of Vallejo and Cadillac Voodoo Choir. It was during this time that Xavier's Austin and Los Angeles lives seemed to merge as friends he made in Los Angeles were touring through Austin and they would arrange for Xavier's current project to open for them.
In 2005, one of those connections paid off when Keith Nelson of Buckcherry called Xavier and offered him to become a part of Buckcherry's return to the rock arena. Within days, Xavier was in Los Angeles as part of the new Buckcherry line-up and began recording the album 15. After a year of touring and supporting the album 15, the song "Crazy Bitch" from the album garnered a Grammy nomination for Best Rock Performance.
Xavier is currently on tour with Buckcherry and Mötley Crüe as part of the lineup for Crue Fest 2008.