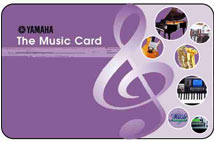 Be a Yamaha Music Card Member today! You can now sign-up at our retail stores or register at Yamaha E-shop to become our YMC member instantly!
Membership Requirements:
Open to all individuals who are at least 13 years old
No membership fee
2 year membership
Members' Privileges:
8% discount on selected musical instruments and Pro Audio products at any Yamaha Music (Asia) retail store in Singapore and at Yamaha E-shop.
5% discount on selected music books at any Yamaha Music (Asia) retail store in Singapore and at Yamaha E-shop.
Invitation to product launches, concerts and events, subject to availability of space and your preferences.
Special offers and free gifts* during your birthday month. Gift redemption is available in all retail branches and Yamaha E-shop.
* Gift redemption is valid during the birthday month only. Gifts are subjected to change and while stock last.
Terms and Conditions:
Yamaha shall grant privileges to each holder of a valid Music Card subject to and on the terms and conditions and rules and regulations set.
The Music Card is issued by and remains the property of Yamaha Music.
An applicant must be an individual and at least 13 years old at the time application.
No corporate person may apply for membership in the Yamaha Music Card program.
Membership is valid for 2 years. Members shall renew their membership online at Yamaha E-shop (http://www.yamaha.com.sg/eshop) or at any Yamaha retail outlet.
All application forms must be completed in full and submitted personally at our retail showrooms and music schools. For online application via the Yamaha E-shop, validation of Singapore Identity Card or FIN number is required. Online applicants have to collect their Music Card from any of our retail showrooms and music schools within 14 days from the date stated in the email confirmation letter. Email confirmation letter and identity card are required for verification at point of collection of Music card. Yamaha may reject any application that is incomplete or revoke any applicant's membership if he fails to collect his/her Music Card within the stipulated time.
None of the Music Card, the privileges attaching thereto, and privileges arising from the program is transferrable. No person other than the person whose name appears on the Music Card may use the Music Card to enjoy the privileges attached thereto.
Yamaha Music may decline to issue a new card or withdraw any existing card at any time.
Each program member shall notify Yamaha Music when his/her card is lost, stolen, or when there is any change in personal particulars. If this is not done, Yamaha Music will not be accountable for any consequences and any loss of benefits or privileges.
An administrative charge of $10 is payable for replacement of the Music Card in the event of loss or theft.
All terms and conditions of sale of Yamaha will apply to all purchases made by the member.
A member who wishes to withdraw from the program shall inform Yamaha Music immediately.
The member must present his/her Music Card to the cashier before payment to enjoy the privileges attaching thereto.
Online members must validate their membership to enjoy member's privileges at the Yamaha E-shop. To make an online purchase for the first time, members must create an online account with user defined User ID and Password.
Yamaha will use the details you provide to administer your membership.
From time to time, Yamaha Music would also like to keep you informed by post, telephone or email about the other Yamaha products and services that may be of interest to you.
If you have any questions about Yamaha's use of information or you wish to let us know about changes to your personal details held by us, or if at any time you wish to stop receiving marketing information from Yamaha, please notify us by submitting an inquiry form found at sg.yamaha.com.
Yamaha reserves the right to alter and amend any of the Terms and Conditions or to terminate the program any time without any prior notice.